There were raucous scenes at Nasa HQ as scientists celebrated the successful flypast of Pluto by the New Horizons spacecraft.
After a nine-year journey, the probe passed within 7,767 miles (12,500km) of the dwarf planet, closer to the surface than any other has ever before.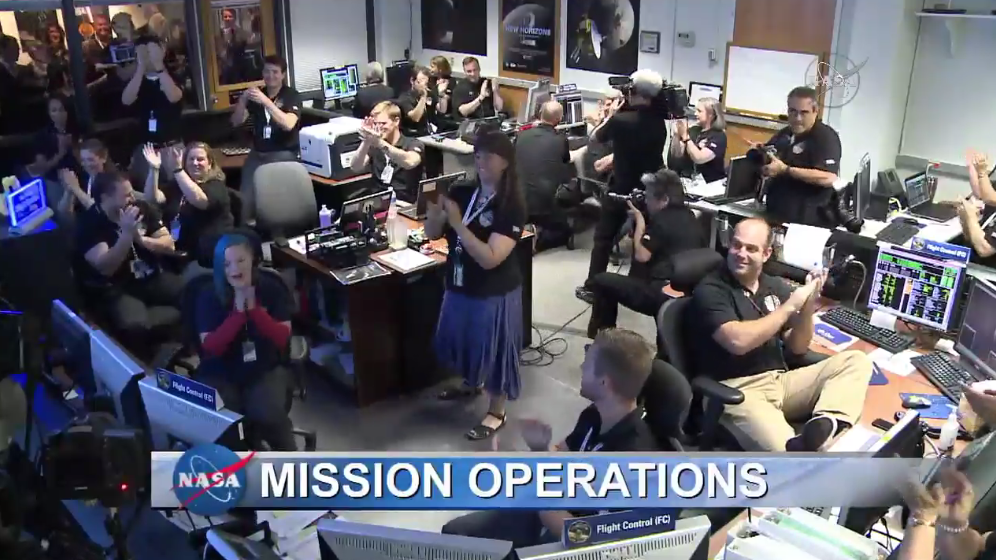 "The thermal operations are nominal. Nothing has overheated, it's all going good. We have a healthy spacecraft, we've recorded data from the Pluto system, and we're outbound for Pluto," said mission operations manager Alice Bowman to huge cheers at the Mission Operations Centre in Laurel, Maryland.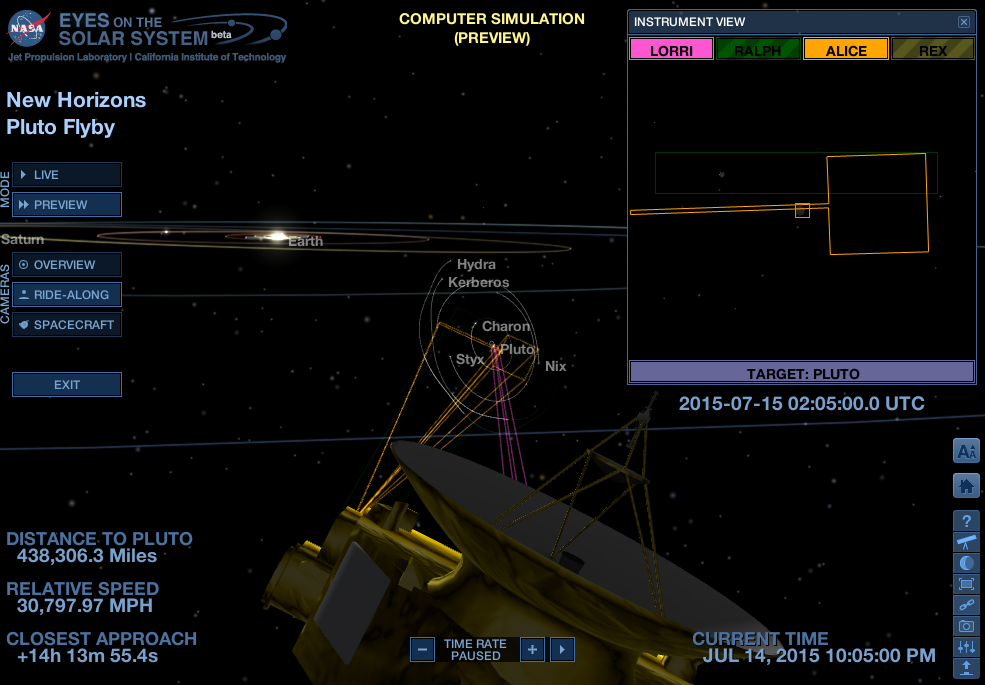 The first lot of data sent back by the New Horizons space probe shows Pluto is larger than scientists thought, Nasa has revealed.
As the craft made history earlier today by passing closer to the dwarf planet than ever before, experts answered questions from people on Twitter about the mission.
The team revealed that not only is Pluto bigger than expected, it definitely has polar ice caps.
@antonious91 Yes. We're scouring data before announcements. So far, it's larger than thought and def has polar ice caps. #PlutoFlyby
Advertisement
Nasa scientists working on the nine-year, three billion-mile journey to examine Pluto cheered, shouted and waved flags as the New Horizons probe made its closest ever approach to the dwarf planet.
The craft will now carry out detailed analysis of the composition of Pluto, as well as capturing high-definition images, in what scientists hope will shed light on the make-up of the solar system.
US space probe New Horizons has reached 8,150 miles (13,116km) of the surface of Pluto - the closest-ever approach to the dwarf planet.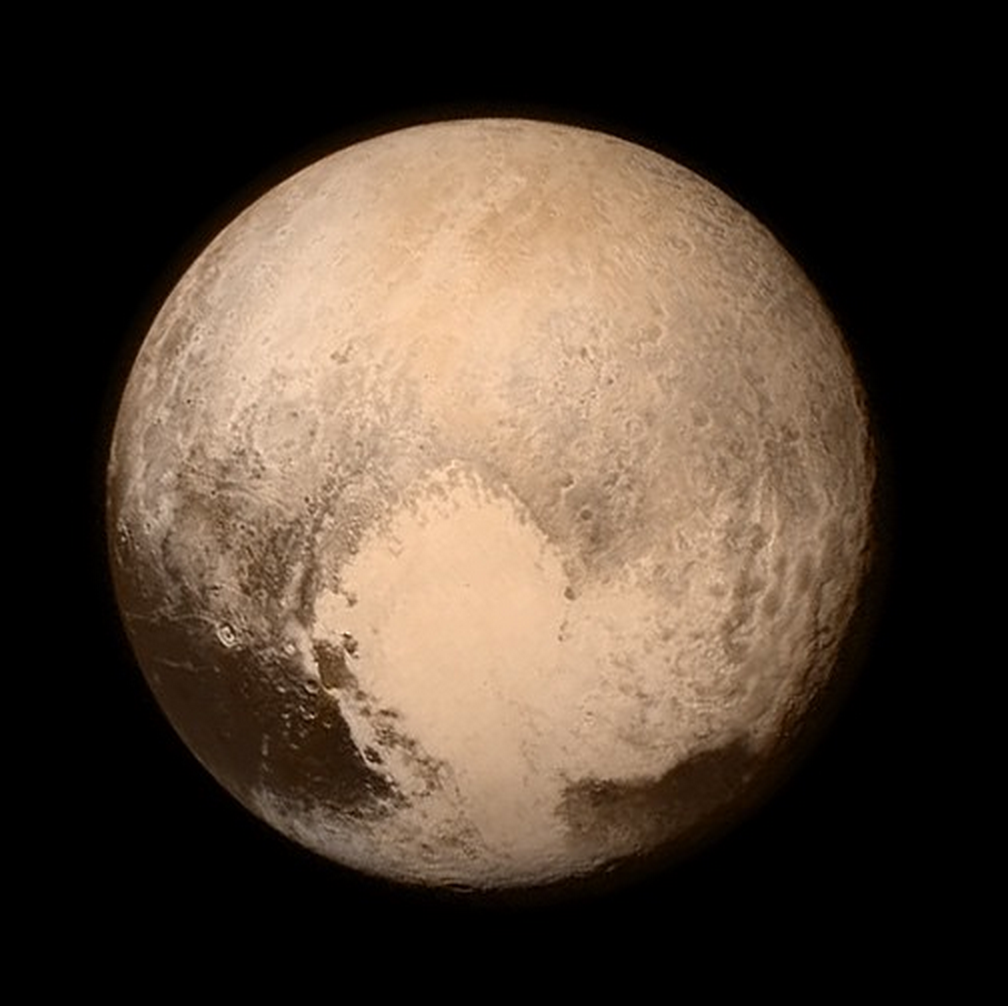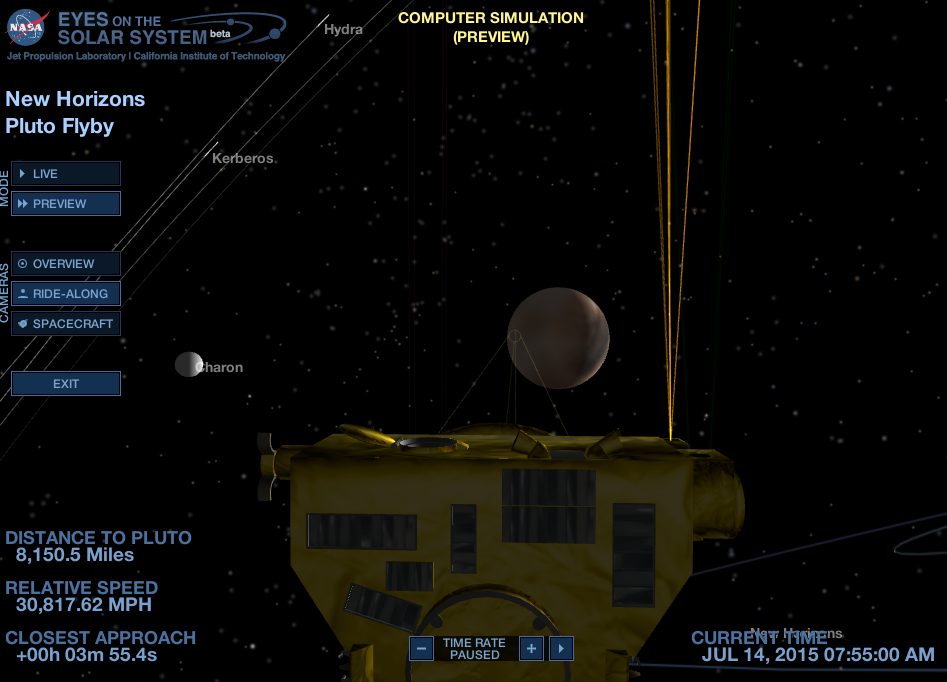 Nasa has released the latest image taken by the probe to coincide with the historic flypast.
A new picture showing Pluto in better detail than ever before - including its distinctive heart-shaped spot - has today arrived back on Earth after being beamed billions of miles through space.
The new image came as US space probe New Horizons makes its closest approach to the dwarf planet in the history of space exploration, coming within 7,767 miles (12,500km) of the surface within the next half an hour.
The nine-year, 3.26 billion-mile mission aims to collect data about the composition of Pluto, downgraded from planet to dwarf planet in 2006.
It has also provided better quality images, replacing the blurry shots previously captured by Nasa telescopes.
This picture was taken yesterday evening at 9pm UK time, at around 476,000m (766,000km) from the surface, and posted to Nasa's Instagram page today.
The closest pictures ever captured of Pluto will be beamed back to Earth today when US spacecraft New Horizons makes its historic fly-by.
Read the full story ›
Advertisement
Nasa's New Horizons spacecraft is just hours away from flying past the last unexplored world in our Solar System.
Read the full story ›
Astronauts will fly commercial vehicles into space from 2017, in a move that Nasa says is bringing us closer to Mars.
Read the full story ›
A rocket exploded two minutes after liftoff from Florida, destroying a cargo ship bound for the International Space Station in the latest in a string of mishaps in supplying the orbiting outpost.
An unmanned Space Exploration Technologies is 208-foot-tall (63-metre) rocket, built and flown by the company known as SpaceX that is owned by technology entrepreneur Elon Musk. It had previously made 18 successful launches since its 2010 debut.
Those included six cargo runs for Nasa under a 15-flight contract worth more than $2 billion.
Load more updates