A stylist from an upscale salon in New York spends his only days off cutting hair for those who live on the city's streets.
Read the full story ›
A couple who have been married for 67 years were selected to re-enact the famous VJ Day kiss in Times Square to mark it's 69th anniversary.
Read the full story ›
Advertisement
A man dressed as Spider-Man has been arrested after punching a police officer in New York's Times Square who told him to stop harassing tourists.
NYPD stepped in when Junior Bishop demanded at least five dollars (£2.95) from a woman he posed for a picture with instead of the one dollar (59p) she offered him.
The officer told the costumed 25-year-old he could only accept tips - not require payment and arrested him.
A yelling, cursing Bishop then broke free after failing to produce identification and punched the officer in the face, leaving him with a cut and swollen eye.
Other officers arrived to take Spider-Man away.
Bishop was charged with assaulting an officer, resisting arrest and criminal mischief.
Sightseers in New York enjoyed an extra-special view at the weekend as the sun set on the city's iconic skyline.
Read the full story ›
A woman accused of abandoning her baby at a New York subway station has told police that she is homeless and felt she could no longer take care of the girl.
The 20-year-old mother has told detectives she came to New York from North Carolina last week.
She added the baby's father had died recently.
NYPD spokesman Stephen Davis said the woman claims she thought she was leaving the baby in a "safe space".
The baby girl is about 10 months old and appears to be in good condition.
A 20-year-old woman suspected of abandoning her baby girl at a New York subway is being held in custody, police have said.
She is being questioned but no charges have so far been filed and the investigation is continuing, the Associated Press reported.
The New York City Police Department (NYPD) tweeted this update.
Advertisement
A baby girl has been abandoned in New York by a woman who pushed the child's pram off a train onto the city's subway platform yesterday afternoon but then stayed on the service.
A passenger on the platform stayed with the child for around 20 minutes, thinking that the woman would return, before alerting the authorities.
Police have released an image of the girl, who is believed to be about six or seven months old, in the hope someone can identify her, NBC New York reported.
The baby was taken to a local hospital and is said to be in a good condition.
A charity rower has sustained serious injuries during his attempt to sail solo from New York to Stornoway in Scotland.
The New York Coast Guard used a helicopter to evacuate Niall Iain MacDonald from his 24-foot ocean rowing craft, Alliance Trust, which was more than 50 miles south of the city's Shinnecock.
They were alerted to the rower's distress by the Maritime Rescue Coordination Centre in Falmouth.
Mr MacDonald, 39, was aiming to row 3,400 miles on a three-month trip across the North Atlantic to raise awareness of mental health issues.
Friends who bought a second-hand sofa from a charity shop found $41,000 (£24,000) stuffed inside the cushion covers.
Calli Guasti told local news station KTVU, "Our neighbours thought we won the lottery or something 'cause we were just screaming."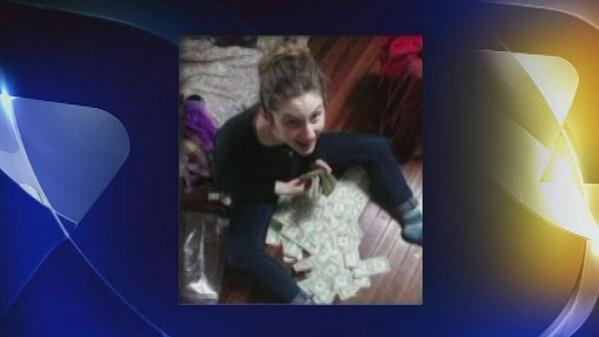 But that was not the end of the story - realising the envelope that contained the hidden treasure had a name on it, the pair successfully contacted the rightful owner.
The haul belonged to a retired woman who had stashed her life savings in the sofa, before her unwitting family donated it to the Salvation Army.
The woman, who has not been named, gave the roommates a $1,000 (£600) for their honesty.
More than 12 years after the horrifying 9/11 attacks, the National September 11 Memorial and Museum has opened its doors at Ground Zero.
Read the full story ›
Load more updates