Seven children believed to be from the same family have died in a house fire in Brooklyn, New York.
The New York Fire Department said the children were aged between 5 and 15. Two people are also in critical condition following the blaze.
More than 100 firefighters were sent to tackle the fire at a house in the Midwood area in the early hours.
The cause of the blaze is being investigated.
New Yorkers were feeling the cold as temperatures plummeted to as low as -15C causing the Hudson River to freeze over.
Read the full story ›
Advertisement
The US National Weather Service (NSW) has admitted it made an error when it predicted a "potentially historic" storm would hit New York.
Despite severe warnings from forecasters, New York escaped the worst of the storm.
New York City Mayor Bill de Blasio has had to defend himself against claims he overreacted ahead of the storm.
"The result is much less snow than previously predicted," the NSW said on Facebook.
"Rapidly deepening winter storms are very challenging to predict."
New York has downgraded the blizzard they thought was about to hit to a "winter storm".
However, the streets of the city remained practically deserted after a travel ban was lifted.
More than 7,000 flights were cancelled and gusts of 70mph were felt in New York's Long Island district - but the worst could be yet to come.
ITV News Correspondent Emma Murphy reports:
A 17-year-old boy has died after snow-tubing down a New York street and crashing into a lamppost.
Suffolk County police named the teenager as Sean Urda and said he was one of three youngsters taking turns snow-tubing in Long Island on Monday night.
He was taken to a hospital, where he was pronounced dead.
Long Island was under a blizzard warning at the time of the crash.
The "crippling" snow predicted to fall in the US is not as bad as expected.
A blizzard did come, but instead of dropping 3ft (90cm) of snow across the north east of America dumped 1ft (30cm).
Travel bans were imposed, schools were closed and cities effectively shut down in anticipation of the snowfall.
John Davitt, a meterologist on New York's NY1 news channel said: "When you hear the word 'crippling' and you look out your window this morning, it is not there."
Parts of Connecticut and Massachusetts saw the heaviest snow while just 6 inches fell in New York City's Central Park.
And some visitors to the city appeared to be enjoying the snow.
However travel was still snarled with more than 4,500 flights cancelled at US airports, according to FlightAware.com.
Advertisement
British Airways has suspended or delayed flights to several cities across the north east of America this morning due to heavy snowing.
Heavy snow in the east coast USA is affecting some flights. Check your flight status here http://t.co/rst0XX4NEi [08:01 27JAN]
More than 7,700 flights have been cancelled to and from cities across the area hit by heavy snowing and blizzard conditions.
More than 7,700 flights in and out of the north east of the US have been cancelled due to adverse weather conditions.
The cancellations come as forecasters predict the snow storm that has already battered many US cities including Boston, New York and Philadelphia will built into a blizzard.
The brunt of the storm is expected to hit this morning. Many of the cancelled flights will not take off again until tomorrow. New York mayor Bill de Blasio urged people to go home and stay home.
This will most likely be one of the largest blizzards in the history of New York City
– Bill de Blasio
Commuter and railway stations across the US state of New Jersey appearred empty this morning, after a state of emergency was declared last night.
Cities and towns across the north east of the US have shut down ahead of a monster storm expected over the next few hours.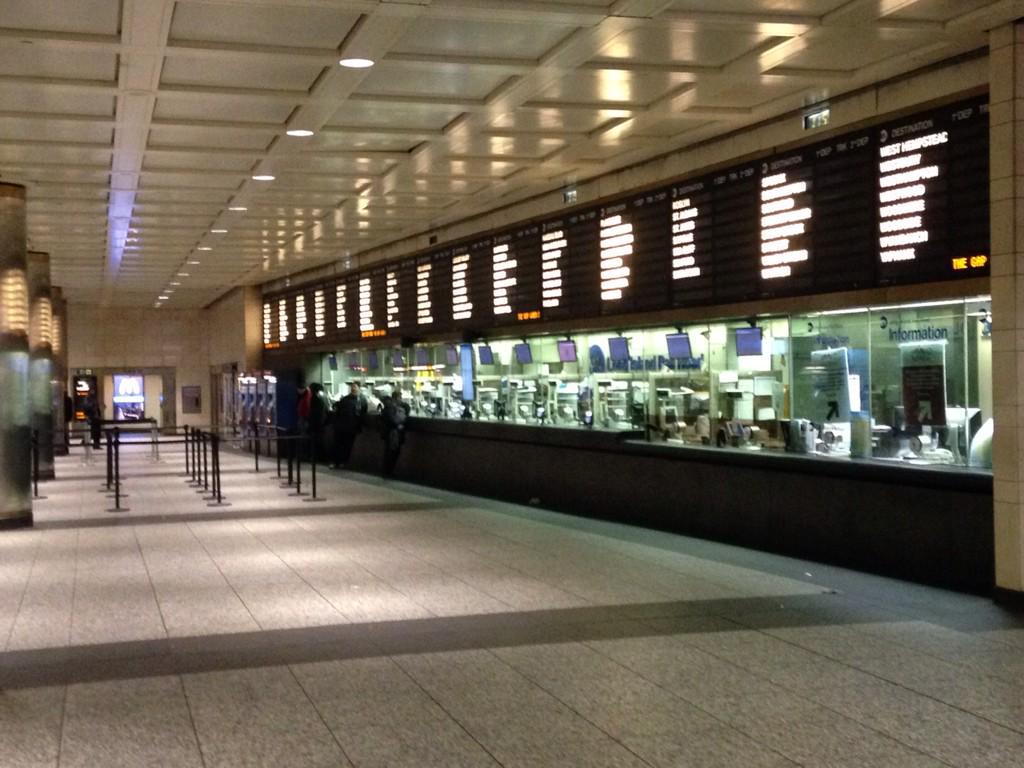 New York's City's subway systems and buses shut down completely at 11pm last night. Commuter trains across the north east stopped overnight.
Airlines have cancelled around 3,000 US flights as a "life-threatening" blizzard arrives in the north-east of the country.
New York authorities said "virtually all" flights at LaGuardia Airport would be cancelled on Tuesday and cancellations at John F Kennedy International Airport would be "significant."
Load more updates