A dog has been found with its paws frozen to the ground in a New York park after being chained to a tree.
Read the full story ›
Pictures showing the destruction caused after a large crane collapsed in New York have been shared online by the city's fire department.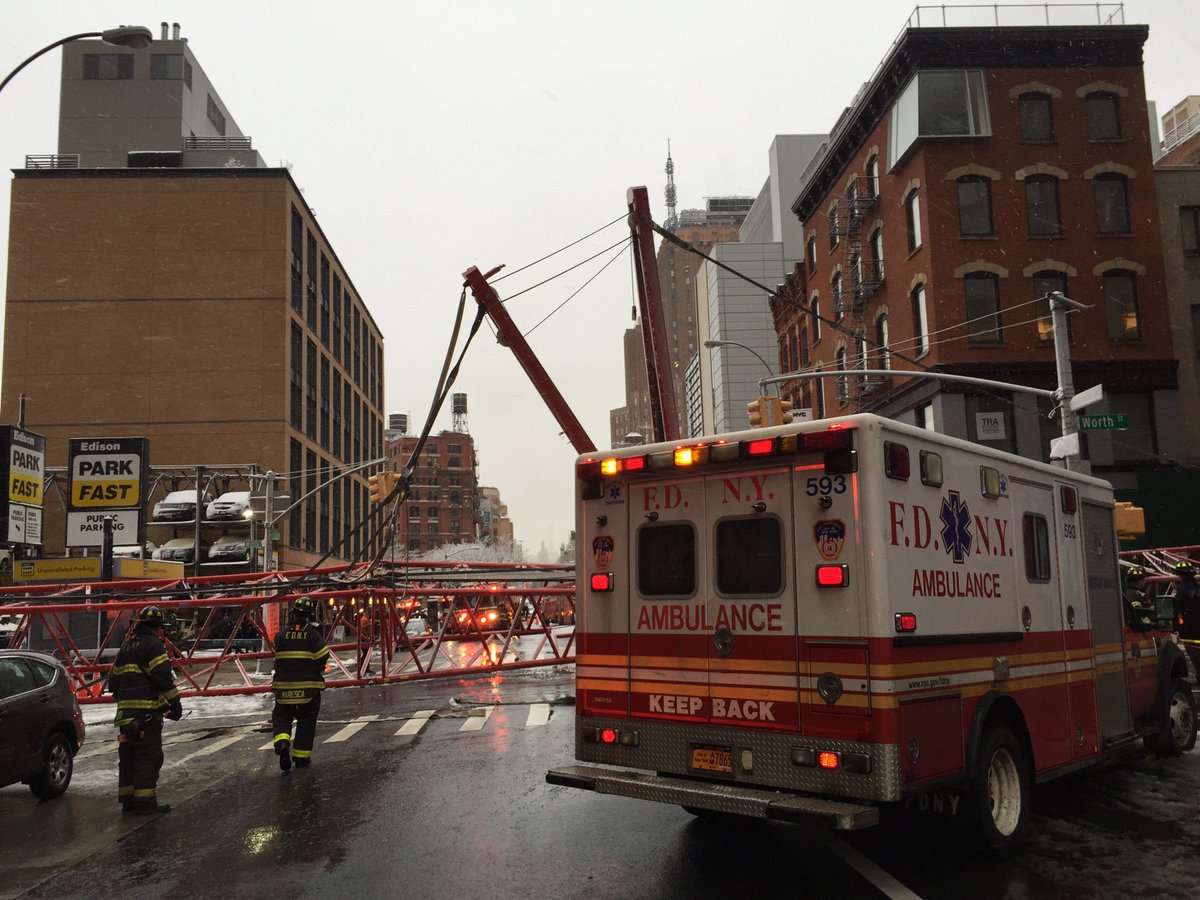 The images which show the crane lying across a closed off Manhattan street were released by the FDNY as officials confirmed the shocking accident had killed at least one person and left two others in a serious condition.
The crane collapsed at 40 Worth Street and West Broadway in the Tribeca area of lower Manhattan, but no cause has yet been established.
Advertisement
Stephen Hewett-Brown became trapped in a faulty lift in a Manhattan apartment building.
Read the full story ›
A New Year's Eve terror attack has been foiled by police in New York state.
According to officials 25-year-old Emanuel Lutchman, who has been charged with attempting to provide material support to so-called Islamic State, was allegedly plotting a machete attack on diners at a restaurant in the city of Rochester in the name of ISIS.
FBI special agent Adam S. Cohen said in a statement: "The FBI thwarted Emanuel Lutchman's intent to kill civilians on New Year's Eve.
"The FBI remains concerned about people overseas who use the Internet to inspire people in the United States to commit acts of violence where they live."
The massive Toys R Us store in Times Square, New York, closed its doors for the final time on Wednesday.
The store, which featured a 60-foot indoor Ferris wheel, a 20-foot animatronic T-Rex and a life-size Barbie dollhouse, closed after 14 years wowing shoppers in the heart of the US city.
The company decided not to renew its lease, which expires in January, because of the high cost of renting the space.
Toys R Us spokeswoman Elizabeth Gaerlan said the company is searching for another Manhattan flagship store and will try to find positions for those among the more than 350 employees who want to keep working for it.
Footage of an armed burglar crawling on the floor of a couple's bedroom while they slept just feet away has been released by police.
Read the full story ›
Advertisement
A 13-year-old autistic boy has credited the cartoon SpongeBob Squarepants with giving him the knowledge to save a classmate from choking.
Read the full story ›
An unknown busker's knockout performance of Sam Cooke's A Change Is Gonna Come on a New York subway platform has gone viral.
Read the full story ›
Lucas Leonard was allegedly beaten for hours "in the hope he would confess to prior sins and ask for forgiveness", police said.
Read the full story ›
An 18-year-old model with Down's Syndrome stole the show at New York fashion week when she walked the catwalk twice.
Read the full story ›
Load more updates