The Rolling Stones have said they "are deeply sorry and disappointed" to postpone the rest of their tour of Australia and New Zealand following the death of Sir Mick Jagger's partner, the designer L'Wren Scott:
The band has said they are planning to reschedule the shows at a later date.
As New Zealand considers dumping the union flag, see if you can name the flags that still fly the British insignia.
Read the full story ›
Advertisement
New Zealand prime minister John Key has announced plans for a referendum on whether to change the national flag.
He said he wants a nationwide vote in the next three years.
The nation's current flag depicts the Southern Cross star constellation in red and includes Britain's Union Flag in the top left corner.
Mr Key has said he favours a silver fern set against a black background, but opponents say that would associate the flag too much with sports teams, which often use it, and is too reminiscent of a pirate ensign.
The Maori King has pulled out of a meeting with the Duke and Duchess of Cambridge during their New Zealand tour.
His officials suggested the engagement was not long enough to do justice to the status of the royal visitors.
"They were offered a 90-minute slot, that was longer than pretty much any other engagement that they have, and King Tuheitia's people decided that wasn't long enough and on that basis they rejected him attending," New Zealand Prime Minister John Key said in statement.
The Cambridges were due to meet King Tuheitia, a former truck driver who ascended to the throne in 2006, on the country's North Island at Turangawaewae, his official residence and reception building.
The Maori King's office issued a statement which reportedly quoted a senior official who said the monarch was "not some carnival act to be rolled out at the beck and call of anyone, and nor should we be prepared to compromise our tikanga to fit into a pre-determined schedule".
US rap group Odd Future have been banned from entering New Zealand after immigration chiefs decided the group posed a threat to public safety.
The group, also known as Odd Future Wolf Gang Kill Them All, were due to perform with Eminem in Auckland on Saturday.
Group member Tyler, The Creator expressed his frustration on Twitter: "They said we were 'terrorist threats and bad for the society' or whatever. Sick," he wrote. He later tweeted; "I love NZ tho."
Border operations manager Karen Urwin said authorities decided to decline visas to six group members after becoming aware of a 2011 incident in Boston in which some witnesses accused the Los Angeles group of inciting fans to attack police officers.
A New Zealand man fought off a shark attack, stitched up his own wound and then went to the pub for a beer before eventually going to hospital.
James Grant, 24, was spearfishing with friends near Colac Bay, South Island, on Saturday when he was attacked by what he believed was a sevengill shark.
The junior doctor was in two metres of murky water and felt a tug on his leg, which he initially thought was a friend playing a trick on him.
He told radio New Zealand: "I looked behind to see who it was and got a bit of a shock. [I thought] bugger, now I have to try and get this thing off my leg."
Grant, who already had a knife in his hand, stabbed at the shark before quickly making it on to the rocks on shore and then stitched up his wound.
He and his friends then went to a pub, where he was given a bandage because he was dripping blood on the floor, before heading to hospital. He was back at work on Monday.
Advertisement
An earthquake has caused a giant model eagle to fall from the ceiling at Wellington Airport in New Zealand.
The structure was being used to promote the Lord of the Rings films, which were shot on the islands.
Just experienced an earthquake at Wellington AirPort. Giant eagle from Lord of the Rings fell from the roof. http://t.co/IsEEqDzU6q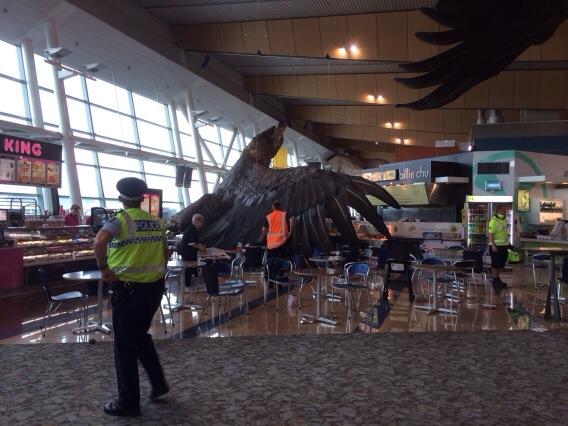 Luckily, nobody got hurt.
The earthquake, measuring 6.3 magnitude, struck New Zealand's north island at 02:52 GMT on Monday, 640 miles south-east of the town of Palmerston, the U.S. Geological Society said.
The pilot of a light aircraft has two lucky escapes in one day after first making an emergency landing on a New Zealand beach.
Read the full story ›
Mountain rescuers searching for a British hiker in New Zealand have said they are "confident" the body they recovered at the bottom of a 100 metre cliff is him.
Andrew Ian Wyatt was last seen leaving a lodge in Nelson Lakes National Park near the city of Nelson in the country's south island on December 15.
Search co-ordinator Constable Dave Cogger said Mr Wyatt, from Penryn, Cornwall, had an "unsurvivable" fall from Lake Constance Bluff.
"Police say they are confident the body recovered from Nelson Lakes National Park on Friday afternoon is that of missing British man Andrew Ian Wyatt," a New Zealand police spokesman said.
Andrew Ian Wyatt was last seen leaving a lodge in Nelson Lakes National Park near the city of Nelson in the country's south island on December 15.
Mountain rescuers have recovered a body from below Lake Constance Bluff - part of Mr Wyatt's intended path.
Wyatt arrived in New Zealand on November 21 with the intention of walking the Te Araroa Trail, a 1,860 mile tramping trail which links routes from Cape Reinga to Bluff.
On the day he went missing he left the Blue Lake Hut about 6am local time to walk to Waiau Pass.
The search coordinator Constable Dave Cogger said authorities were in daily contact with Mr Wyatt's parents in the UK who are extremely concerned for their son's welfare.
Load more updates