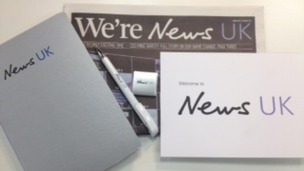 The rebranding exercise suggests how keen the company is to put the embarrassment of prosecutions of former staff behind them.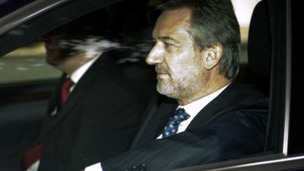 News International chief executive Tom Mockridge is to quit his role at the end of the month, News Corporation has announced.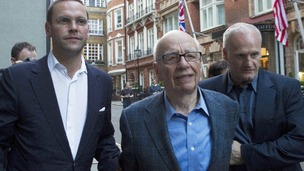 The actual, true story of today was that the Murdochs escaped relatively unscathed. Not that you'd know it from most of the reports.
Live updates
News Int chief to step down
Tom Mockridge, chief executive of News International, will leave the company at the end of the month, News Corporation has announced.
Leveson urges new press rules
"We are grateful to Lord Justice Leveson for his thorough and comprehensive report, and will be studying its recommendations and comments in detail.

As a company we are keen to play our full part, with others in our industry, in creating a new body that commands the confidence of the public.

We believe that this can be achieved without statutory regulation – and welcome the Prime Minister's rejection of that proposal.
We accept that a new system should be independent, have a standards code, a means of resolving disputes, the power to demand prominent apologies and the ability to levy heavy fines.

We have spent 18 months reflecting upon these issues and are determined to move on as soon as possible with others in our sector to set up a new body that will ensure British journalism is both responsible and robust.
– Tom Mockridge, News International Chief Executive
Advertisement
Leveson urges new press rules
In a statement, News International says it accepts a new independent system with prominent apologies & heavy fines.
It welcomes the PM's rejection of statutory regulation.
Leveson urges new press rules
News International is considering the report carefully and is not making any immediate comment.
– news international spokesperson
Former News of the World employees are looking into whether News International could be forced to pay their legal fees after the newspaper's former editor Andy Coulson won an appeal on the issue, the Guardian reports.
On Wednesday, the court of appeal ruled that News International was liable to pay Mr Coulson's legal costs relating to alleged illegal activity while he was editor of the paper.
The case may become a precedent for other employees who are also facing charges.
The newspaper's former deputy editor Neil Wallis reportedly said he had told his lawyers to "urgently" look into the possibility of launching a challenge himself.
Ex-NI legal boss hacking arrest
The solicitor of former Legal Manager at News International Tom Crone has issued a statement on his behalf, after he denied he was involved in a cover-up over hacking at News of the World. Henri Brandman said:
My client has fully assisted the police in their enquiries. He categorically denies the commission of or involvement in any criminal offence. Neither he nor I will be making any further public statement.
Mr Crone has been released on bail until mid-October.
Advertisement
Ex-NI legal boss hacking arrest
News International's former legal adviser Tom Crone is the 25th person to be arrested under Operation Weeting, the Metropolitan Police's investigation into allegations of phone hacking.
Ex-NI legal boss hacking arrest
Tom Crone is a British Barrister and former legal affairs manager for News International.
He resigned from that role during the News International phone hacking scandal last year.
The 60-year-old was reportedly arrested in connection with the phone hacking scandal today.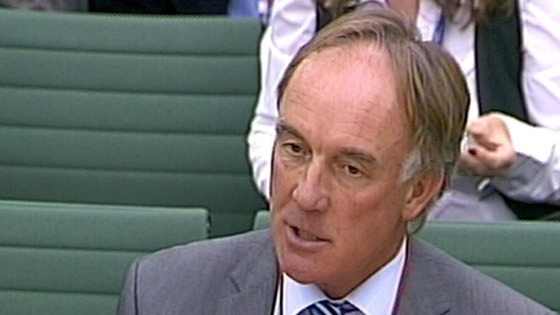 Ex-NI legal boss hacking arrest
Former News International legal manager Tom Crone was arrested this morning by police investigating alleged phone hacking, sources said.
Ex-NI legal boss hacking arrest
A man has been arrested today by officers investigation phone hacking, Scotland Yard said. The 60-year-old man was arrested at his home in south west London tat 6.45am.
He was held on suspicion of conspiring to intercept communications and is being questioned at a south London police station.
Load more updates
Back to top