British Medical Association council chairman Dr Mark Porter has dismissed David Cameron's speech on the NHS as being "empty headline-grabbing".
Earlier, the Prime reaffirmed his commitment to "transform" health services and "become the first country in the world to deliver a truly seven-day NHS".
Crucially, the £8 billion promised by the Prime Minister is the bare minimum needed for the NHS to simply stand still and will not pay for extra services. The real question for the Government is how they plan to deliver additional care when the NHS is facing a funding gap of £30 billion and there is a chronic shortage of GPs and hospital doctors, especially in acute and emergency medicine, where access to 24-hour care is vital.

Without the answer to these questions this announcement is empty headline-grabbing and shows that, even after polling day, politicians are still avoiding the difficult questions and continuing to play games with the NHS.
– British Medical Association council chairman Dr Mark Porter
The Prime Minister has pledged to deliver a seven day-a-week health service in his first major speech since returning to Downing Street.
Read the full story ›
Advertisement
The chief executive of the NHS trust which runs the hospital where a nurse murdered two patients has apologised to the victims' families for "the distress they suffered".
Ann Barnes of Stockport NHS Foundation Trust said: "These were shocking and appalling crimes that took place when the patients should have been receiving nothing but the highest quality care."
"This has been an extremely difficult time for the victims and their families and our thoughts have been with them throughout this time."
She added: "Whilst no hospital's systems and processes can offer a complete guarantee against the actions of a determined criminal, additional measures are now in place which go beyond standard practice.
"What is clear from the evidence is that an extremely dangerous criminal has been brought to justice. In part this was due to staff identifying the problems quickly and also fully assisting the police investigation. We would like to thank our staff for showing great professionalism throughout this time."
David Cameron has said the accusation that the NHS would not be safe in his hands is what "hurt me the most".
My love of the NHS, my respect for the NHS, my commitment to the NHS runs through every sinew of my body.

The NHS is safe in my hands and I don't want anyone to ever tell you otherwise.
– Prime Minister David Cameron
Mr Cameron was speaking as he outlined plans for "a truly seven-day NHS" which he said would cater for "every generation to come".
The prime minister has reaffirmed plans for a 7-day health service during a speech at a GP's surgery in the West Midlands.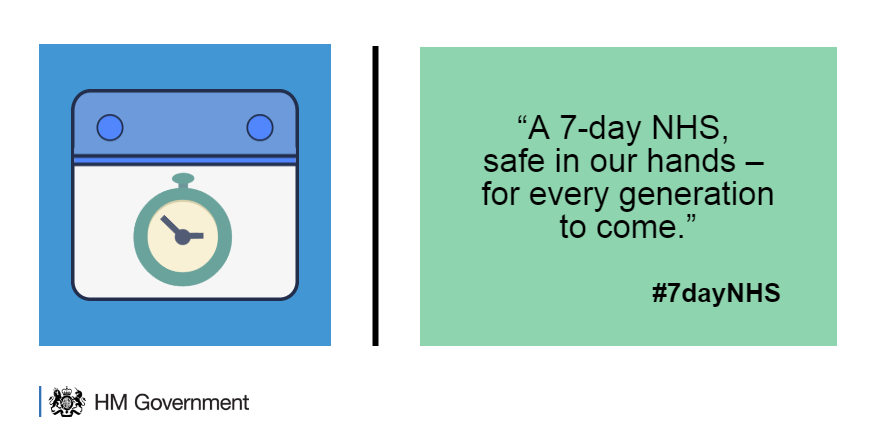 Prime Minister David Cameron has renewed his pledge to boost NHS funding and create a "seven-day" health service in his first major speech since the Tory's election victory.
Speaking at a GP surgery in the West Midlands, he said: "During the election campaign, a lot of rubbish was talked about my plans. So first of all today, I just want the record straight loud and clear.
"They said that we would cut the NHS, we haven't and we won't. In fact we increased spending in real-terms every year in the last parliament and we'll increase it in real-terms every year in this parliament too rising to at least an extra £8bn a year by 2020".
Advertisement
The extra £8bn of funding pledged for the NHS will not fund all the promises the Tories have made for a seven-day service, an influential health think-tank has said.
Professor Chris Ham, chief executive of the King's Fund, told the Today programme: "That's welcomed but that will really help to keep existing services running, it won't fund all the new commitments we have heard of during the election campaign, including seven-day working".
"We must make sure there's enough cash in the system to pay for the extra staff to deliver a seven-day service.
"Secondly we've got to pay much more attention to workforce planning and training,ensuring we've got enough doctors, nurses and other staff coming through to deliver.
"But the third thing is it's not just about more, it's about doing things differently.
NHS nurses could strike if the Government threatens payments they receive for working anti-social hours and weekends as part of the drive to create a seven-day service, a nursing leader has warned.
Royal College of Nursing chief executive Peter Carter told the Independent: "I would particularly give a really strong warning to the Secretary of State: any attacks on unsocial hours, weekend working payments, would be strongly resisted.
"The membership is quite clear: unsocial hours, weekend working, Christmas Day and bank holidays - they get a very modest higher level of remuneration. Any attack on that and I do fear it would result in industrial action."
In response, the Health Secretary Jeremy Hunt, accused the body of "jumping the gun".
"We haven't made any proposals about nurses pay and conditions", he told GMB's political editor Sue Jameson.
The Health Secretary Jeremy Hunt has said the government has a "real passion to deliver the highest possible standards of care", ahead of a speech by the Prime Minister to reaffirm commitments for the NHS.
He told GMB's political editor Sue Jameson: "We need to do everything we can to support doctors and nurses on the frontline.."
"Andy Burnham (Labour's shadow health secretary) said David Cameron's promises on the NHS expire on the 8th May, the day after the election, and here the Prime Minister is in his first speech saying no 'I'm going to honour those commitments because that's how important the NHS is to this government'".
In a speech later today, the PM is expected to renew Tory promises to boost NHS funding and create a "seven day service" for patients.
Read the full story ›
Load more updates