Owners of second homes in rural beauty spots could face paying double the rate of council tax under Liberal Democrat plans to ensure local residents are not priced out of the property market.
Nick Clegg is in St Austell this morning launching his party's countryside charter, with plans to create 300,000 new jobs in rural areas.
He spoke to ITV News Political Correspondent Emily Morgan:
Clegg told me people with second homes would only be too happy to 'chip in' to rural communities by paying more council tax #GE2015
A source said "we are not saying this will be imposed" but local authorities in areas including Cumbria, Cornwall and Devon have said they would be interested in higher council tax rates to "discourage" second home ownership.
Rural areas play a large part in Britain's economy with the rural economy worth £210 billion. The Liberal Democrats want to unlock this potential so rural areas and the rest of the UK can thrive.

In order to prosper, rural areas need good local services, appropriate infrastructure and more housing.
– Nick Clegg
Nick Clegg has admitted there would be a "greater wariness" from the Liberal Democrats about entering a coalition for a second time.
Mr Clegg revealed he had "words" with party candidate Andrew George, who reportedly said a new coalition between the Tories and the Lib Dems was not going to happen.
Speaking to reporters before arriving in Cornwall, Mr Clegg acknowledged there would be concerns about another post-election agreement with David Cameron's party.
He said: "I think if we were to enter into coalition again of course there would be much greater wariness. Of course there would be. It would be bizarre if people weren't wary after the loss of MEPs and councillors and so on. Of course people are wary.
"But wariness is one thing. Imposing some pre-emptive fatwa on any coalition arrangements before people have their say is entirely another and we're not doing that."
Advertisement
Nick Clegg has said suggestions he chose not to join other party leaders in last week's "challengers' debate" were "a nonsense".
"I wanted to go and I'd been telling the BBC endlessly, and I was very irritated when they said that I chose not to go," he told ITV's Lorraine.
"Of course I wanted to be there because I thought, to be honest, it was quite a lop-sided debate to have no one there to speak up for what we've done in government".
Nick Clegg has ruled out entering a coalition with either the SNP or Ukip, saying he's "not in the slightest bit interested."
The Lib Dem leader told ITV's Lorraine, "I'm not going to have an alliance, I'm not going to have an arrangement, not a coalition with Ukip or the SNP."
"As for the other two larger parties, it's for ... the millions of other people watching this to decide through their vote in the ballot box," Clegg said.
"There are some people who don't like the fact that I stepped up to the plate and the Liberal Democrats stepped up to the plate to create the coalition", he added.
David Cameron and Nick Clegg are set for a footballing showdown just three weeks after the General Election, with both leaders' teams facing off in the FA Cup final.
After today's shock semi-final win over Liverpool, the Prime Minister, an Aston Villa fan, tweeted his congratulations to his team.
The victory means Villa will play Nick Clegg's favoured side, Arsenal, at Wembley on 30 May - by which point it will be clear whether the PM and his deputy are still political colleagues.
Nick Clegg has challenged David Cameron to rule out "cutting a deal with Nigel Farage" in the event of a hung parliament.
Appearing earlier on the BBC, Mr Cameron refused to rule out on a potential deal with Ukip, saying he was focused solely on securing a majority.
Mr Clegg said the Prime Minister should stop "treating people like they are stupid", telling activists in Portsmouth: "They know and you know that you won't win a majority.
"Tell us, why won't you rule out cutting a deal with Nigel Farage and his friends on the right wing of your party? I've ruled out a deal with UKIP or the SNP - why won't you?"
The Liberal Democrat leader said Britons should vote for his party to "stop a Labour/SNP government dragging us off to the left or a Conservative/UKIP government dragging us off to the right".
Advertisement
Nick Clegg said going to a pub in his constituency was a better use of his time than listening to "that shower" in the debate.
Asked why he had not listened to Mr Miliband, a potential coalition partner, he told reporters on his campaign battle bus:
You are not seriously suggesting whether or not there is a Liberal Democrat-Labour coalition depends on whether I should spend an hour and a half listening to that shower yesterday?

Come on. Give me a break. What a ridiculous thing to say. Why would that have any bearing on how a government is composed or functions after the election?
– Nick Clegg
He added that from what he had seen of the debate "it delivered no surprises whatsoever."
I didn't see it, I admit. I was talking to constituents in my constituency, because I want to get re-elected.

That is more important to me frankly than listening to Nigel Farage with his loopy, loopy stuff at one extreme and Ed Miliband dithering about how not to balance the books, and three other other politicians saying can we wave a magic wand and borrow lots of money we don't have. My use of time was spent much more productively.
– Nick Clegg
Ed Miliband garnered a chuckle during his youth manifesto launch today when he was asked whether he would "do a Nick Clegg".
"Definitely not," the Labour leader said shaking his head as the audience laughed.
Referring to the Liberal Democrats U-turn on abolishing tuition fees while in government, Miliband said, "It didn't just damage Nick Clegg ... it damaged everyone in politics".
"These are promises that I intend to keep", he added.
Nick Clegg aims to galvanise those referendum "No" voters and squeeze the SNP so the Lib Dems win. It might sound simple, but will it work?
Read the full story ›
Liberal Democrats leader Nick Clegg has said on Twitter that he would take part in a one-on-one debate with Labour's Ed Miliband 'any time, any place, any where'.
His comments came as five party leaders took part in a challengers' TV debate on the BBC without the Prime Minister or Mr Clegg.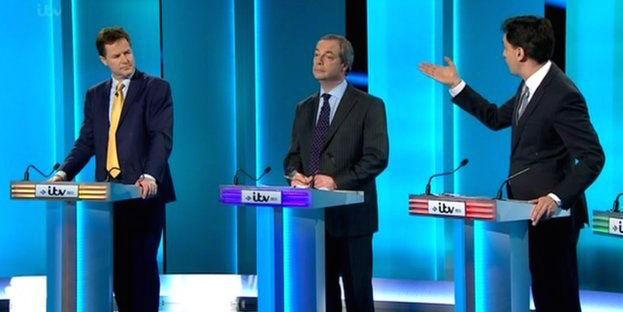 As I said earlier, I was not invited to #BBCDebate. I would have happily taken part and proudly defended our strong record in government.
Load more updates