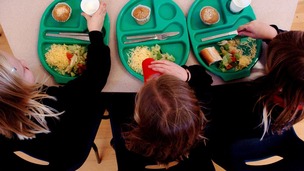 Even by the standards of past disagreements, the row over free school meals is pretty splenetic.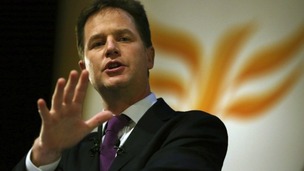 Nick Clegg has accused his Tory partners of letting "ideology" get in the way of education, but insists the coalition is not in crisis.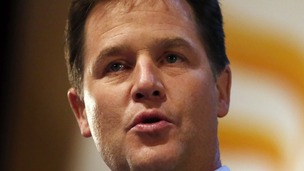 Nick Clegg believes that his party's place is in government and coalitions should be a permanent fixture in British politics.
Live updates
Miliband criticises childcare cost
Nick Clegg defended the Government's record on social mobility and claimed the most deprived members of the next generation would have their chances improved through free childcare.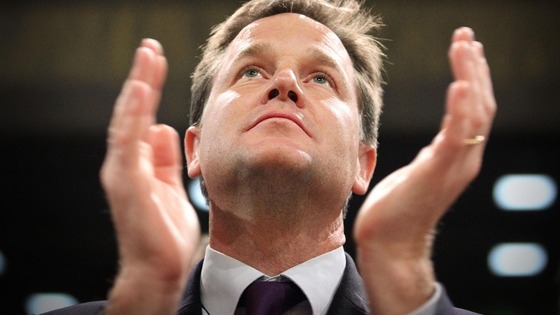 Speaking on the Andrew Marr show, the Deputy Prime Minister reiterated his pledge for 92,000 of the UK's poorest toddlers to have 15 hours of free childcare per week.
One of the "most important things" to improve social mobility is to "start early", he told Mr Marr.
Clegg continued: "For the 20% lowest income families, for the first time ever their two-year-olds will get 15 hours pre school support.
"Their three-four-year-olds will receive 15 hours of pre-school support."
Age of consent calls rejected
Nick Clegg said he was "not in favour" of lowering the age of consent from 16 to 15 following calls from a leading health expert.
The Deputy Prime Minister told the BBC's Andrew Marr Show, "The age of consent has been in British law for generations in order to protect children.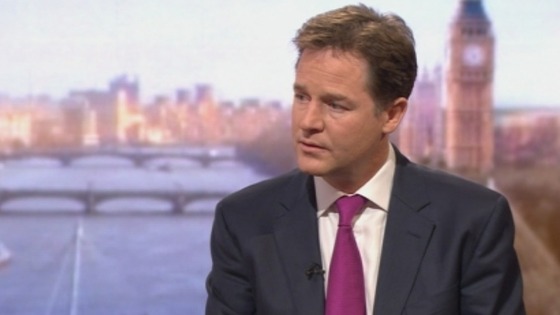 I think this health expert is right in saying there's a problem - we have far too high levels of teenage pregnancy.
"Do I simply think that a blanket reduction in the age of consent is the answer to this difficult dilemma? No".
Advertisement
Clegg pledges £1bn tax giveaway
Deputy Prime Minister Nick Clegg said his plan to raise the income tax threshold above £10,500 before the next election was "certainly no secret" but it had not been "agreed yet" with David Cameron.
The Liberal Democrat leader told the BBC's Andrew Marr Show: "It's not agreed yet, it is something that I would like to see us deliver as a Coalition Government in the next budget.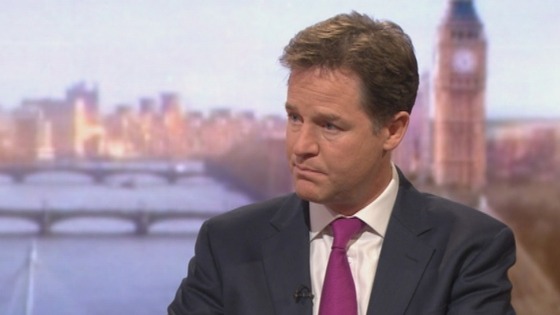 "I've had to argue very strongly for each step of the increase in the allowance ... I've insisted all along that it is affordable because I think it's a fair thing to do".
However, Mr Clegg said the measure would not be seen in the Chancellor's upcoming Autumn Statement.
"Of course I need to persuade my Conservative Coalition partners - that's normal in a Coalition Government," he added.
Clegg pledges £1bn tax giveaway
Shadow treasury chief secretary Chris Leslie dismissed Nick Clegg's call for a raise in the income tax threshold, saying the coalition's changes had left working families worse off overall.
"Working people facing a cost-of-living crisis need help right now, but Nick Clegg's Government has instead prioritised a huge tax cut for those earning over £150,000," the Labour MP said.
"When it comes to people on middle and low incomes, the Government is giving with one hand but taking away much more with the other," he said.
"The Lib Dems need to explain how their proposal would be paid for and why they refuse to back Labour's plan to freeze energy bills and reform the market."
Clegg pledges £1bn tax giveaway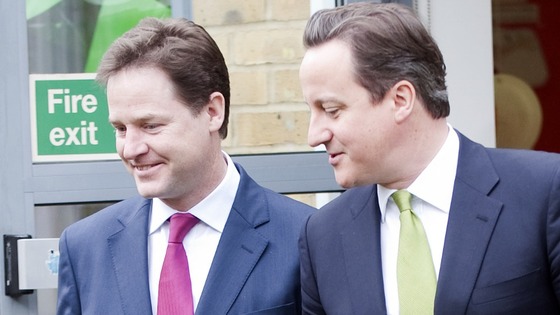 Nick Clegg is keen to claim political credit with another raise in the income tax threshold, a source close to the Lib Dem leader has said.
"Our polling shows that raising the tax allowance is both strongly associated with the Lib Dems and popular," the source said. "We know that we are on to a vote winner here."
Lib Dems said David Cameron argued in the televised debates before the last general election that raising the personal allowance to £10,000 would not be possible, though it has since occurred.
"The Tories once said this policy wasn't affordable but now they like to claim credit for it," the source said. "Will they now join the Lib Dems in going further and faster?"
Clegg pledges £1bn tax giveaway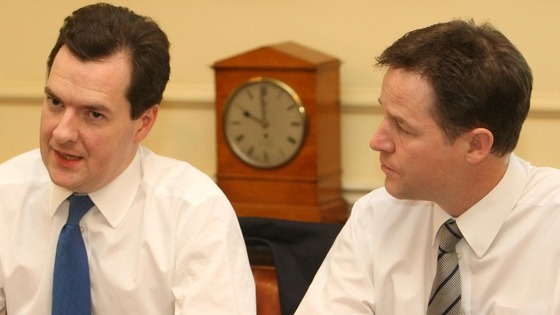 The Liberal Democrats want the coalition to raise the income tax threshold above £10,500 by 2015, which could effectively mean a £100-a-year tax cut to 24 million basic rate payers.
The move, which would take half a million people out of income tax altogether, would represent a £1 billion tax giveaway before the next general election.
The Lib Dems have already seen the coalition achieve their manifesto commitment to raise the personal allowance to £10,000 - which was finally reached in the last Budget in March.
Lib Dem leader Nick Clegg will write to party activists next week calling for a "workers' bonus" to reward voters for the financial sacrifices they have made during the years of austerity.
Advertisement
Tributes to storm death victims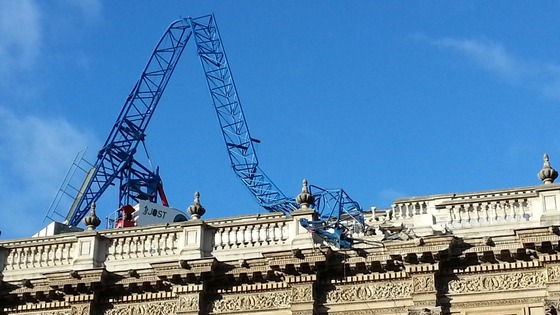 Deputy Prime Minister Nick Clegg has cancelled a press conference after a crane on top of the Cabinet Office collapsed due to the storm battering Britain.
The Cabinet Office is likely to be closed all day, police told ITV News.
Economy grows by 0.8%
'Champion' heads to save schools
Deputy Prime Minister Nick Clegg unveiled plans to encourage headteachers to shun the "bright lights" of London in favour of taking up posts in struggling schools in seaside towns and rural areas.
A "champions league" of top performing heads and deputy heads will be recruited centrally then dispatched to primaries and secondaries across England that are failing, struggling to recruit staff or based in areas of deprivation.
ITV News political correspondent Carl Dinnen reports:
'Champion' heads to save schools
Labour are to call for a vote in the Commons next week to capitalise on Nick Clegg's speech that free schools should employ only qualified teachers.
Load more updates
Back to top