A mother whose heroin-addicted son committed suicide told Good Morning Britain a bit of her "wishes" he had gone to prison.
Elizabeth Burton-Phillips, who has written a book about her experience and set up charity DrugFAM, spoke out against Nick Clegg's Lib Dem manifesto pledge, announced today, to abolish prison sentences for drug possession.
Lib Dem leader Nick Clegg has explained why his party has pledged to call for drug users to avoid jail if caught in possession of illegal substances.
Advertisement
Lib Dem leader Nick Clegg is committing his party to abolishing prison sentences for the possession of drugs, including heroin and cocaine.
Read the full story ›
Nick Clegg has called Boris Johnson a "conventional" politician who "treats his political ambition a bit like he treats his hair."
Clegg said the Mayor of London, who announced his intention to stand at the next General Election, liked to pretend he did not care about his appearance or career - but was actually "fixated" with them.
"The thing about Boris Johnson is despite all the kind of clumsiness and bumbliness, he's actually a really, really ambitious politician," the Deputy Prime Minister said on his regular LBC radio phone in.
"He wants everyone to think that he doesn't really care, but he actually really, really does care."
Some future new members of the EU should be made to wait for more than the current limit of seven years before their citizens gain the right to settle and work in the UK, Deputy Prime Minister Nick Clegg has said.
And countries like Britain need to be given the right to "put on the brakes" if excessive numbers of migrants arrive after the lifting of so-called "transition controls".
Mr Clegg also said that a loophole allowing early entry for entrepreneurs should be scrapped, to stop immigrants posing as self-employed businessmen to get into the country only to take up low-paid work in restaurants or farms.
Teachers, doctors and social workers will be given extra training to identify and help girls who might be at risk of becoming victims of female genital mutilation (FGM).
The measures will see new guidance for professionals become part of compulsory training in public sector organisations.
Deputy Prime Minister Nick Clegg will set out a package of measures to tackle FGM at a summit tomorrow.
The plan will involve supporting a small network of "community champions" to encourage volunteers who want to provide help in areas affected by FGM.
Advertisement
Nick Clegg has launched an attack on Prime Minister's Questions, calling the weekly debate a "complete farce" that ordinary people find "totally off-putting".
Speaking on Channel 4's Sunday Brunch programme, the Liberal Democrat leader said: "It's just people... shouting at each other, it's a very concentrated, gladiator, sort of spectacle.
"There are some people who might like it, my own view is most normal people - and most normal people don't follow the ins and outs of politics - find the whole thing totally off-putting," he argued.
The Deputy Prime Minister also made broader criticisms of Parliament, which he said was "stuck in the past".
"Some of the pomp and ceremony is all right but some of it is just so out of date. This is a place which had a 19th-century shooting gallery but didn't have a creche until quite recently," he said.
Deputy Prime Minister Nick Clegg has poked fun at the Daily Mail by posting a photo on Twitter of what he is wearing today.
What I wore to the office today. Fingers crossed the Mail approves. Hope I don't look too '80s cabin attendant'. http://t.co/bVy7wCkfrG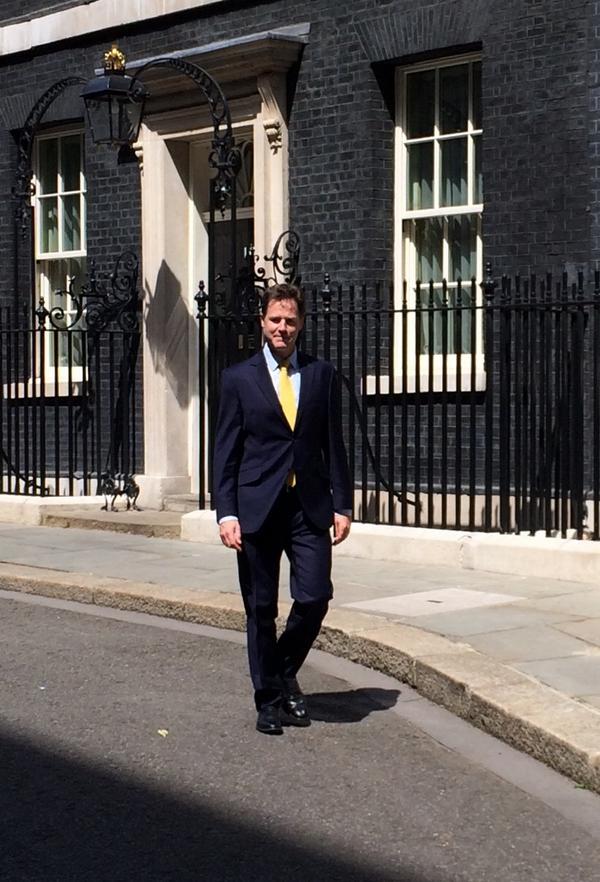 Mr Clegg said he hoped his attire wasn't too "80s cabin attendant" after the Mail did an article on what promoted female MPs were wearing.
The Mail websiteis well known for commenting on what celebrities and public figures are wearing.
Deputy Prime Minister Nick Clegg said Britain will remain "anchored in the heart of European Union" under the coalition Government as he rejected claims yesterday's reshuffle created a Eurosceptic Cabinet.
The Liberal Democrat leader said: "The Conservatives are talking to each other rather than to the country or even to the rest of Europe about Europe.
"What I want to see is a reformed European Union - more competitive, more open, less bureaucratic, more open trade - but with Britain always leading in Europe.
"If the Conservatives want to constantly change their own policy or stance on the way they talk about Europe, that is up to them.
"This Government, a coalition Government because of the Liberal Democrats in it, will remain anchored in the centre ground with Britain anchored firmly in the heart of the European Union."
Increased security at UK airports is not just a "blip for a week", but part of an evolving review of the UK's terror defences, the Deputy Prime Minister says.
"I don't want people to think this is a blip for a week; this is part of an evolving and constant review about whether the checks we have in airports keeps up with what we know from intelligence about the nature of the threats we face," Nick Clegg said on LBC.
"People should not be unduly panicked or concerned but this is the world we now live in. This won't be the last time that further adjustments are made because we are having to constantly evolve our own defences in view of the evolving way people want to attack us."
Load more updates