Nick Clegg has issued a warning that he is not prepared to tear his party apart in order to enter into a second coalition with the Tories.
Read the full story ›
A student who accidentally dropped his trousers to Nick Clegg said he only wanted a picture to add to his "celebrity selfies" collection.
Read the full story ›
Advertisement
Deputy Prime Minister Nick Clegg has congratulated the Duke and Duchess of Cambridge on the birth of their daughter:
Congratulations to the Duke & Duchess of Cambridge on the birth of their new baby. Miriam & I wish them all the best as their family grows
Deputy Prime Minister Nick Clegg has wished the Duchess of Cambridge the "best of luck":
Best of luck to the Duchess of Cambridge today, as she gives birth to her second child. The thoughts of the whole country will be with her.
Nick Clegg has reacted with humour after a young man lost his trousers while trying to take a selfie with the Deputy Prime Minister.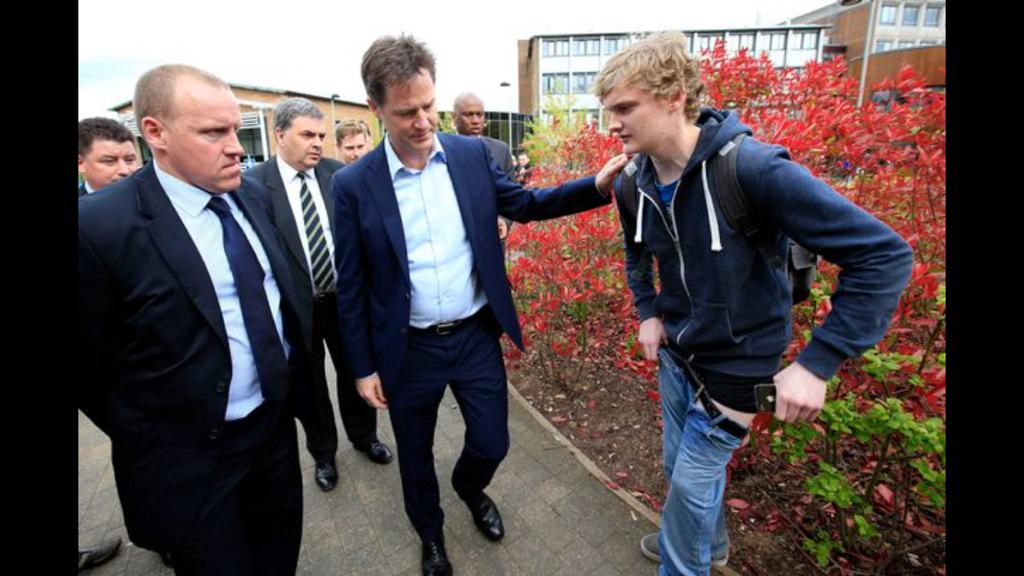 You can watch the moment the young man lost his cool again here:
Nick Clegg's visit to Solihull College hit a bum note when a young man lost his trousers as he approached the Deputy Prime Minister for a selfie.
It was unclear whether the incident was the result of a wardrobe malfunction or a deliberate attempt to embarrass the Liberal Democrat leader.
Mr Clegg patted the teenage boy on the shoulder and continued to board his campaign bus, which was preparing to leave following the visit.
Advertisement
Nick Clegg said he has no plans for a new career after a member of the Question Time audience asked whether he had "plans for a new job next week when you become unemployed".
"Charming," he shot back. "No I don't."
The Lib Dem leader has insisted opinion polls that show him in danger of losing his Sheffield Hallam seat do not reflect the reality on the ground.
The Liberal Democrat leader has said he "very much enjoyed" tonight's leaders' Question Time.
Very much enjoyed taking part in that special @bbcquestiontime. Great format, great questions, great audience, great show. #bbcqt
While discussing possible coalition deals both Ed Miliband and David Cameron spoke about negotiations with Nick Clegg 'in a dark room.'
Responding to a question about the behind a scenes deal Mr Clegg said: "If either of them still think they're going to win a majority, they need to go lie down in that darkened room."
Nick Clegg is doing well as the third party leader on Question Time, ITV News Political Editor Tom Bradby says, but is getting less of a grilling from the audience.
This is like the most testing kind of X Factor. Nick Clegg doing quite well, so far, though he has had an easier ride than Ed M.
A few too many party lines, but he's generally making his points well.
Load more updates