Nick Clegg, the Liberal Democrat leader and deputy prime minister, has held onto his Sheffield Hallam seat.
Nick Clegg is currently the most talked about leader on Twitter after the Lib Dems lost many key figures, including Vince Cable and Simon Hughes.
Join in the conversation on Twitter and Facebook using the #opinionroom hashtag.
Advertisement
A Liberal Democrat source has told ITV News' Emily Morgan that it is "close, bloody close" in Nick Clegg's seat Sheffield Hallam.
Lib dem source says Sheffield Hallam is 'close, bloody close' #GE2015
As the election campaign draws to an end, the Liberal Democrat leader says that voters face "the biggest political decision" of their lives.
Read the full story ›
Nick Clegg predicted that the UK will face another General Election before Christmas if the Liberal Democrats do not form part of a coalition government following this week's poll.
The Lib Dem leader said it would be impossible for a minority government to pass key legislation without signing off controversial concessions to the SNP and Ukip.
A party statement said a second election in 2015 would be "almost inevitable" without the Lib Dems in parliament.
Everybody knows that no one will win this election – even if David Cameron and Ed Miliband won't admit it publicly.

If they try to stagger through with a messy and unstable minority government instead of putting the country first then they will risk all the hard work and sacrifices people have made over the last five years.

The last thing Britain needs is a second election before Christmas. But that is exactly what will happen if Ed Miliband and David Cameron put their own political interest ahead of the national interest.

The only party that will ensure stability is the Liberal Democrats.
– Nick Clegg
The Liberal Democrats will work with the party with the biggest mandate in the event of a hung parliament, Nick Clegg has said.
However, Mr Clegg did not specify whether this meant the party with the most number of seats or the largest share of the votes.
Asked whether he preferred to work with Labour or the Tories, Mr Clegg told BBC Radio 4: "The party which gets the biggest mandate...[it] seems to me right to give them the space and time to try and form a government."
He accused David Cameron and Nick Clegg of "preposterously charging around the country saying they're going to win an outright majority", adding that the Lib Dems want a "stable, decent and united government" after Thursday's vote.
Advertisement
Nick Clegg said his "epic journey" across the UK shows how much he "cares" about the country.
As he embarks on a 1,000-mile trip ahead of Thursday's election, the Liberal Democrat leader said: "It's just an illustration of how much I care for our wonderful country and want to communicate to as many people as I can that we need to remain stable and decent and united as a country, not lurch this way or that."
Amid mounting speculation about potential post-election deals, Mr Clegg insisted he had not engaged in talks with either the Conservatives or Labour, saying he was waiting for the "judgement of the British people".
The Liberal Democrat leader has said his party will not enter into coalition government again "unless we get an approach to balance the books and do so fairly".
Nick Clegg, who was speaking at Land's End as he began a tour to John O'Groats, said: "For instance that means not asking millions of public sector workers to have any more cuts to their take home pay."
Nick Clegg is embarking on a Land's End to John O'Groats campaign marathon in a last ditch effort to save as many Liberal Democrat seats as possible at the General Election.
In a final push aimed at defying national opinion polls which suggest his party could suffer a mauling at the hands of the electorate on Thursday, Mr Clegg will take his battle bus on a 1,000 mile journey across Britain.
ITV News' Emily Morgan is travelling with the Liberal Democrat leader: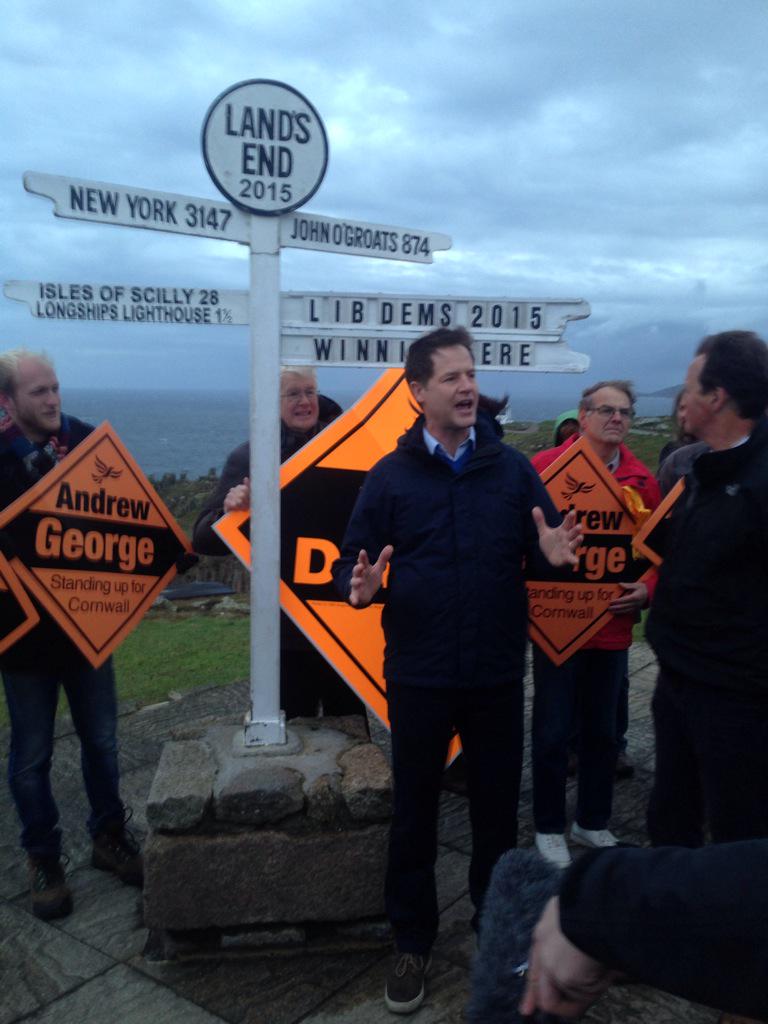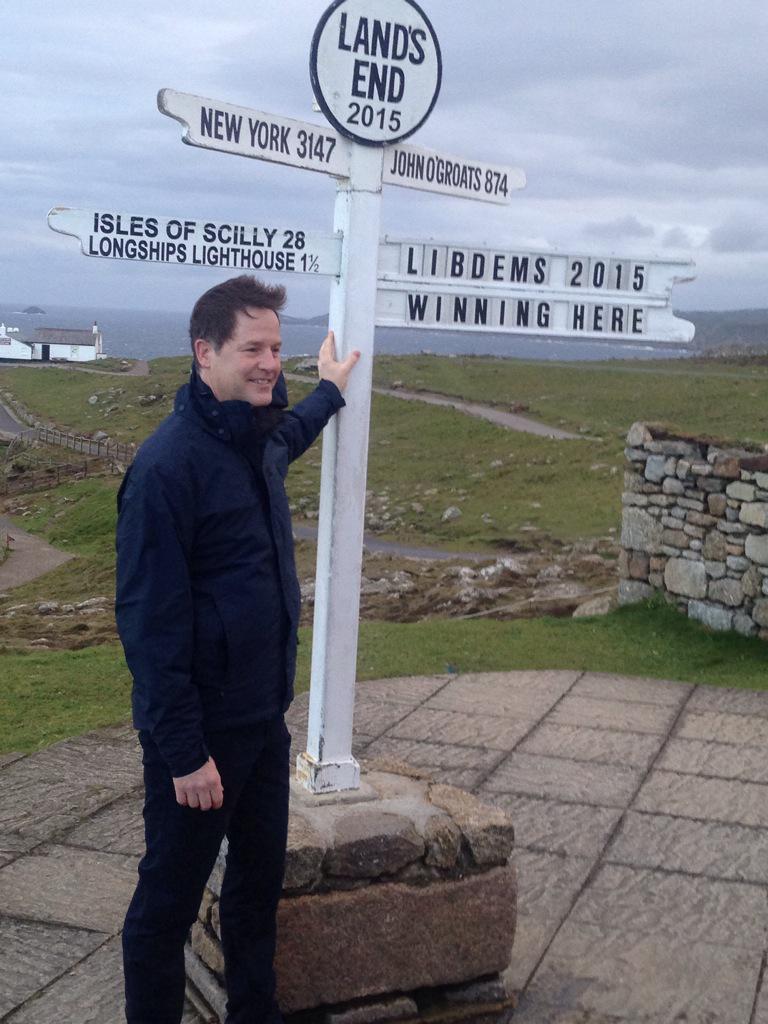 Nick Clegg is on course to retain his Commons seat at the General Election - thanks in large part to Conservatives voting tactically to keep out Labour, a new poll suggested.
A series of surveys have shown the Liberal Democrat leader trailing in Sheffield Hallam and in danger of being booted out by voters in the South Yorkshire seat he has held since 2005.
The party said the ICM research for The Guardian - which showed Mr Clegg seven points ahead of his Labour rival Oliver Coppard by 42% to 35% - confirmed its contention that the Deputy Prime Minister performed more strongly in polls where voters were given the names of the candidates. Without the names being given, Labour was ahead by 34% to 32%.
But the results also suggested Mr Clegg was reliant on tactical voting by Tories on what one ICM pollster called "a breathtaking scale". A full 48% of those who said they were Conservative backers nationally intended to back him, the figures suggested.
Polling by Lord Ashcroft has previously shown little evidence of active campaigning by the Tories in the seat, which Mr Clegg held with a majority of 15,284 in 2010
Load more updates