Deputy Prime Minister Nick Clegg has told reporters that he believes there is "no need" for the £9,000 limit on university fee's to be changed again.
Speaking while on his campaign bus today Clegg said: "I see no need to change the limit again. Labour, perhaps by their own admission, have concocted this new approach - as a politician I understand it - to exacerbate the Liberal Democrat embarrassment.
"They want to catch headlines, they want to score points, but nobody remotely serious - Vince Cable's been very articulate on this - thinks that the Labour policy does anything in real terms other than provide a more generous repayment schedule for the wealthiest graduates."
Nick Clegg raised a glass to the royal baby while out on the last few days of his campaign trail.
The deputy prime minister made the toast while visiting the Hush Heath Winery in Kent.
He said: "I think before we should sip we should raise a glass to the royal baby with some proper English sparkling. To the royal baby."
Advertisement
We now know what the Lib Dems are not prepared to back down on in the event of coalition trading.
Read the full story ›
Nick Clegg has set out his final conditions for any coalition involving the Liberal Democrats, with increasing public sector pay a priority.
Read the full story ›
With just four days to go until the election, Nick Clegg has been speaking at a "passionate" rally in Bermondsey, south London.
ITV News Political Correspondent Emily Morgan reports:
This is the most passionate rally I've heard Nick Clegg speak at. Sleeves rolled up, very forthright #GE2015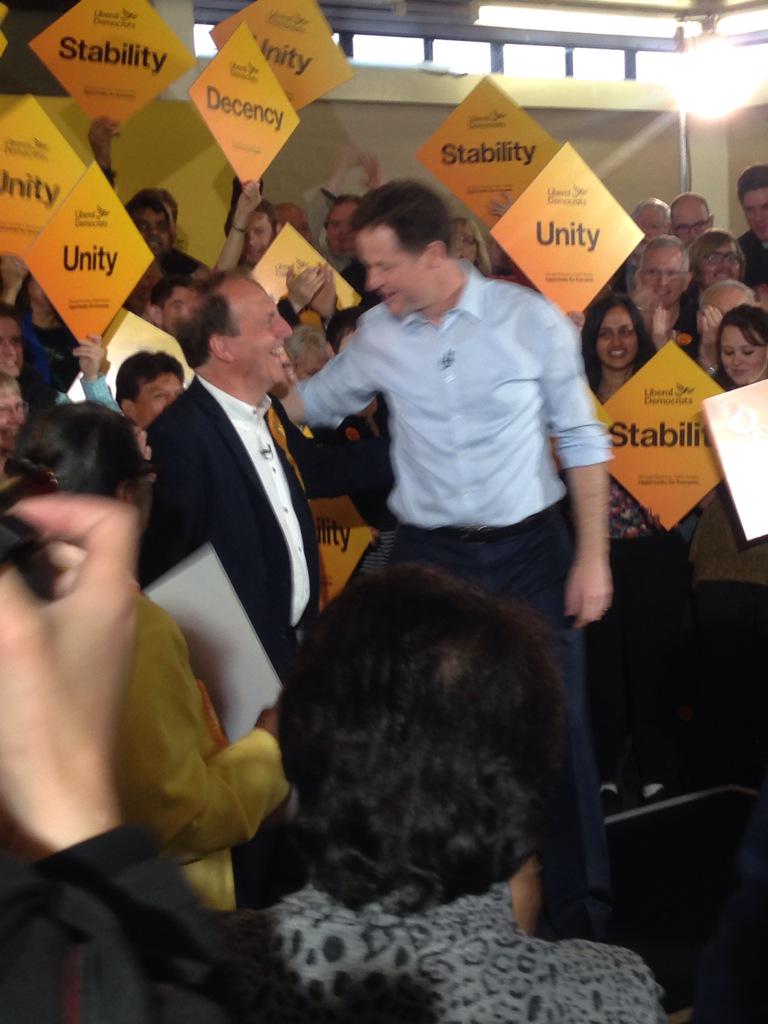 Nick Clegg refused to clarify what his position would be if the Tories demand an in/out EU referendum in 2017 as part of a future coalition.
Speaking on the BBC's Andrew Marr Show, the Liberal Democrat leader said: "The Conservatives constantly flip-flop on this....it's about as cast-iron as what he said about the Lisbon Treaty", he added.
When Marr asked if he would agree to David Cameron having his referendum on Europe in 2017 in any further coalition deal, Mr Clegg said: "Before I address anyone else's red lines, I would address mine".
"I personally think that for many many people...ensuring fair tax cuts for low and middle incomes, that we properly support the NHS, that we don't close their local nursery schools and colleges is much more important than some of the other red lines that other parties have chosen".
Advertisement
Nick Clegg has issued a warning that he is not prepared to tear his party apart in order to enter into a second coalition with the Tories.
Read the full story ›
A student who accidentally dropped his trousers to Nick Clegg said he only wanted a picture to add to his "celebrity selfies" collection.
Read the full story ›
Deputy Prime Minister Nick Clegg has congratulated the Duke and Duchess of Cambridge on the birth of their daughter:
Congratulations to the Duke & Duchess of Cambridge on the birth of their new baby. Miriam & I wish them all the best as their family grows
Deputy Prime Minister Nick Clegg has wished the Duchess of Cambridge the "best of luck":
Best of luck to the Duchess of Cambridge today, as she gives birth to her second child. The thoughts of the whole country will be with her.
Load more updates