Nick Clegg has become the least popular party leader in modern British political history, according to a poll.
YouGov research for the Sunday Times found just 13% thought the Deputy Prime Minister was doing a good job - compared to 78% who said the opposite.
The Liberal Democrat's -65% rating is even worse than Gordon Brown's -62% at the height of the credit crunch crisis in 2008.
The figures are a remarkable turnaround since the 2010 general election, when Mr Clegg had 74% approval and was hailed as the most popular leader since Churchill.
Deputy Prime Minister Nick Clegg has called the sentence of a pregnant Sudanese woman to death for abandoning Islam "abhorrent", saying it was a "flagrant breach of international human rights".
"This case is a grave violation of the basic right and freedom to practice one's religion," he told The Times (£).
Advertisement
Nick Clegg saw Lord Rennard's apology to four women weeks ago, but it was not released as the former Lib Dem chief executive did not want to damage the party in the run-up to last week's elections, a friend of the peer has claimed.
Lord Carlile told BBC Radio 4's The World At One: "Lord Rennard was absolutely very concerned personally not to do any possible damage to the party in the run-up to last week's local and European elections.
"So although this apology was seen for example by the party leader [Mr Clegg] weeks ago now it was held back until the elections were over."
Asked if Mr Clegg told Lord Rennard to hold the apology back, Lord Carlile replied, "No, no, no, absolutely not. Chris Rennard went absolutely out of his way to ensure and try and make it absolutely clear that nothing further should happen in this case until after the elections."
Nick Clegg has sent out a defiant message that he will "fight back" as he is pictured in a "political storm" on the front page of Sheffield's The Star newspaper.
The Star tweeted a preview of the dramatic front page a day before it hits the news stands:
Read the exclusive interview with Nick Clegg on his 'tough week' and his election reaction only in tomorrow's Star http://t.co/1QbK0ZTAEz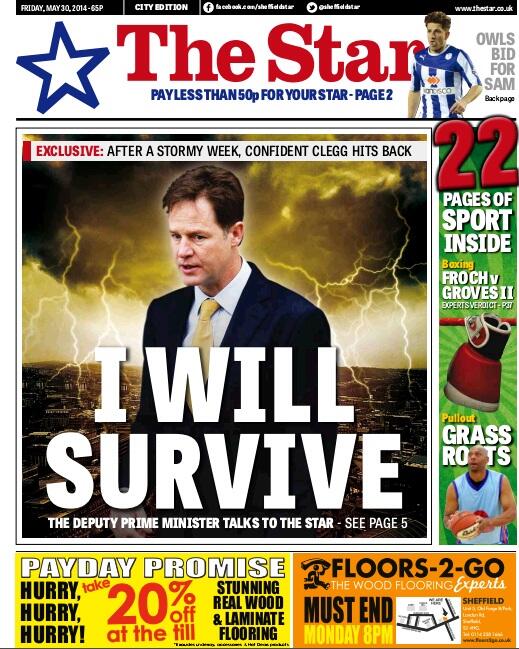 Mr Clegg has faced a failed attempt to oust him as Liberal Democrat leader in the aftermath of the party's dreadful showings in the recent local and European elections, amid doubts he can retain his own Sheffield Hallam seat at next year's election.
By Chris Ship, ITV News Deputy Political Editor
Within the Liberal Democrats, Nick Clegg personally is pretty safe. His chief potential rivals - Vince Cable, Tim Farron and perhaps Danny Alexander - have all had to row in behind Mr Clegg and say how much they support him.
Where does it leave the Liberal Democrats in the country after the terrible showing in the local and European elections last week?
I don't think they are in a very good place at all.
David Cameron has said that he only judges Vince Cable by "the results he delivers", as he does all his ministers.
The Prime Minister was speaking in the wake of a failed leadership coup against his Liberal Democrat Deputy PM Nick Clegg.
Advertisement
Liberal Democrat leader Nick Clegg has said that he will not sack his Business Secretary after insisting that he had no part in a failed plot to oust him.
The Deputy Prime Minister said the Business Secretary was fully supportive of his leadership and insisted he did not believe "for a second" the Cabinet minister had been behind the plot to force him out of the party's top job.
During his regular Call Clegg show on LBC he said: "He was absolutely not aware of polls elsewhere. He has made it very, very clear that he, for instance, didn't want any questions about leadership in the poll which he did have some control over in his own constituency.
Nick Clegg has played down suggestions that Vince Cable knew about a controversial poll commissioned by Lord Oakeshott in the Deputy Prime Minister's constituency.
The peer, who has now resigned from the Liberal Democrats, privately commissioned surveys in several constituencies that showed a collapse in support for the party since 2010.
But Mr Clegg insisted the Business Secretary, once seen as an ally of Lord Oakeshott, was unaware of a survey in the Lib Dem leader's Sheffield Hallam seat.
"Vince Cable clearly didn't know a thing about a poll being conducted in Sheffield," the Deputy Prime Minister told BBC Radio Sheffield.
Vince Cable has insisted he has remained loyal to Nick Clegg, saying "there was no disloyalty whatever".
Speaking to the BBC in China the Business Secretary denied he was involved in secret polls undermining Mr Clegg's leadership, and said he wanted to make it "absolutely clear" he was backing the Deputy Prime Minister.
He added: "People are putting round the story that there is some division on that, there is not. I made it absolutely clear from the beginning of this week that there is absolutely no leadership issue."
He said that although "lots of polls" were carried out, he "knew nothing" about the ones that Lord Oakeshott ran, which indicated the party's general election performance would improve were Mr Clegg to resign.
Lord Oakeshott has since resigned from the Liberal Democrat party.
Nick Clegg has questioned Ukip's political intentions, saying that their leader Nigel Farage was "ploughing on with a politics of blame."
Load more updates