There would be "hard conditions" for Labour if they wanted to woo the SNP into a coalition pact after the next election, Scotland's First Minister has told Good Morning Britain.
SNP leader Nicola Sturgeon said the SNP wanted reassurances that Trident nuclear weapons would not be renewed, more powers for the Scottish parliament and a change to the austerity agenda.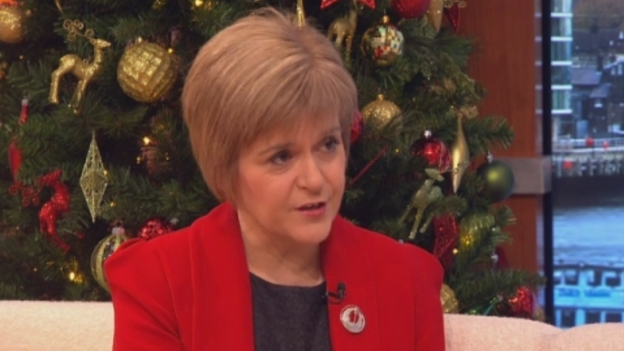 The new leader of the SNP Nicola Sturgeon has said she welcomes all new powers but that the Smith report on devolution does not go far enough.
Advertisement
Scotland's new First Minister, Nicola Sturgeon said her party would team up with others across England and Wales to build an alliance against "austerity economics".
Speaking to supporters in Glasgow, Sturgeon said her party would "seek to build alliances with progressive forces across these islands" if there is a hung parliament after next May's general election.
The SNP's new leader Nicola Sturgeon has insisted that the party's battle for independence remains "unwon".
"But friends, know this," she told a packed conference hall in Perth.
"It will be won. Scotland will become an independent country."
Nicola Sturgeon has taken over the leadership of the Scottish National Party (SNP) and will become Scotland's new first minister next week.
Sturgeon, currently the Deputy First Minister, was confirmed as the new SNP leader at the start of the party's annual conference in Perth.
She takes over the reins after Alex Salmond announced he was stepping down as both party leader and First Minister in the wake of the referendum defeat.
Dundee MSP Stewart Hosie will replace Sturgeon as the party's new Deputy First Minister.
Advertisement
Scotland's incoming First Minister Nicola Sturgeon has said she would "tend away" from a formal coalition with the Labour party and would prefer an arrangement that was "issue by issue".
Speaking to Good Morning Britain, she said the SNP would "never ever" put the Tories into government and would seek "the best deal, the greatest influence, the strongest voice for Scotland".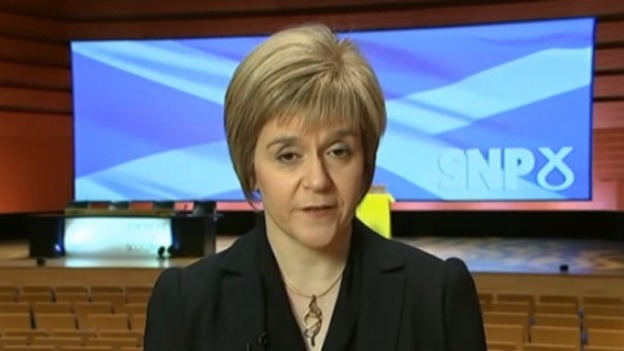 Nicola Sturgeon is today expected to formally announce her bid to become leader of the SNP and Scotland's First Minister.
Ms Sturgeon, who has been Deputy First Minister since the nationalists came to power at Holyrood in 2007, has emerged as the overwhelming favourite to take over the post from Alex Salmond.
He announced his intention to step down on Friday after Scotland voted against independence in last week's referendum.
Nicola Sturgeon has paid tribute to her "friend, mentor and colleague" Alex Salmond calling his achievements as First Minister "second to none".
Deputy First Minister Nicola Sturgeon said she "can think of no greater privilege than to seek to lead" the SNP after Alex Salmond's resignation.
Load more updates