Nigel Farage told Good Morning Britain there is "not one ounce of complacency from me" after he was selected to stand in the South Thanet seat for Ukip at next year's general election.
"I'm not pretending for one moment that it's going to be easy, but Ukip is offering something different and distinctive," Farage said.
Asked if he would stand down as leader if the party fails to win a single seat at the election, Farage reiterated his comments from last night.
"If we'd failed in the European elections I would have stood down, if we fail next year the party will pick someone better than me, but do you know what? That ain't going to happen," he said.
UKIP leader Nigel Farage also moved a step closer to Parliament tonight, when he was formally chosen as the party's candidate for South Thanet at the general election.
Staking his position in the party on the line, he told supporters, UKIP would win seats next year or he will have failed as leader, and would quit.
ITV News Political Correspondent Carl Dinnen Reports:
Advertisement
The Labour Party has said that Ukip "doesn't share" Britain's values, as Nigel Farage has been announced as his party's choice to stand for Parliament in South Thanet, Kent.
Ukip don't share Britain's values. Whoever's name they put on the ballot paper, the truth about Nigel Farage and his party is that they would go even further than the Tories, with policies which would be bad for hardworking people. A vote for them is a vote for higher taxes for working families, huge giveaways for the rich, scrapping rights at work and charges to see your GP."
– Labour Party Spokesman.
After accepting the Ukip local party officials nomination as candidate to stand in the South Thanet seat in next year's general election, Nigel Farage told the audience:
We can't for one moment afford to be complacent because we swept the board in 2013 and we swept the board here in 2014.

We did and that was magnificent. But don't think that the heavy artillery from the Conservative and Labour parties will not be fired on this constituency.

They will, they will, they will try very, very hard. They don't want Ukip breaking through into Parliament and they most certainly do not want me breaking through into Parliament.

Somebody said I'm David Cameron's worst nightmare. Well, that's not good enough. I want to be Ed Miliband's worst nightmare, too."
– Nigel Farage
Following his speech, Mr Farage smiled broadly as he walked past branch members to applause and chants of "Nigel, Nigel, Nigel".
Ukip leader Nigel Farage has been selected by local party officials as their candidate to stand in the South Thanet seat in next year's general election
Nigel Farage has arrived at the South Thanet hustings where Ukip members will decide who they want to represent them for the 2015 General Election in the ward.
Advertisement
ITV News political correspondent has tweeted this picture from the Oddfellows Hall in South Thanet.
Waiting for Nigel Farage and UKIP's other South Thanet candidates. We're in the right place. http://t.co/USkE8E2i3B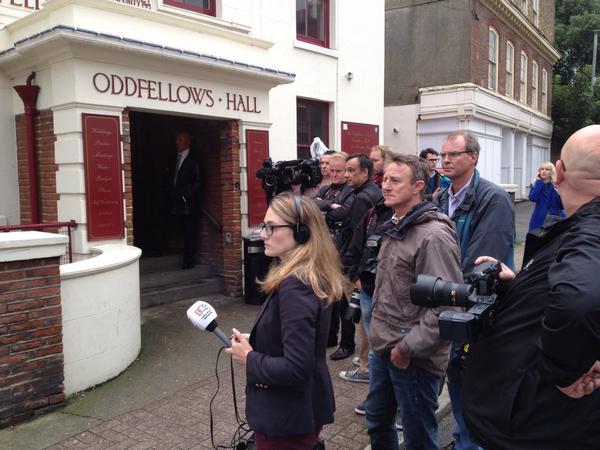 Nigel Farage has tweeted that he is "looking forward" to tonight's hustings in South Thanet, where he hopes to be selected as a UK Independence Party candidate for next year's General Election.
I am very much looking forward to tonight's hustings in South Thanet. Wish me luck!
Earlier this month, Mr Farage confirmed he had thrown his "hat in the ring" to stand for the South Thanet seat at next year's General Election but insisted, "I'm no shoo-in".
Ukip leader Nigel Farage confirmed he has thrown his "hat in the ring" to stand for the South Thanet seat at next year's General Election, but insisted, "I'm no shoo-in".
Farage, who previously hinted he would stand for election "somewhere near the sea," wrote in The Independent, "There will be hustings in the constituency the week after next at which the branch will decide who they wish to represent them".
"It may seem silly to some that the leader of a party would have to go through the process of being approved and selected but, I assure you, rank means nothing in Ukip," he said, adding, "I think I stand a good chance of winning".
Ukip leader Nigel Farage has claimed that if Britain voted to leave the European Union, MPs would deserve a 50% pay rise.
During a radio phone-in on LBC, he said if Parliament "actually ran this country", he would support an increase in MPs pay from the present £67,060 to £90,000, or even £100,000.
"If we had a sovereign parliament that actually ran this country and was directly responsible for the rules and regulations that controlled our industries, that determined whether we succeeded or failed in the world, I would have no problem in paying MPs more," Mr Farage said.
He said the increase would bring MPs wages closer to those earned by a local comprehensive headmaster and further suggested GPs' wages should be capped.
The politician will announce within a few weeks which Commons seat he will fight at the 2015 general election.
Load more updates