Channel 4 drama Ukip: The First 100 Days has attracted nearly 1,000 complaints, with viewers suggesting the show was politically "bias".
Read the full story ›
Ukip may be consistently polling very well - but that is still no guarantee of a breakthrough on May 7.
Read the full story ›
Advertisement
Both Labour and the Conservative parties "fear" Ukip, leader Nigel Farage claims.
Mr Farage said they feared that general election will return a hung parliament leaving his party with the balance of power.
Farage, writing in the Daily Telegraph, outlined Ukip's major policy areas ahead of his first major speech of the campaign in Essex today.
He reiterated his claim that the party would not enter "any coalition deals with the establishment parties" and said the campaign had been "incredibly dull so far".
No-one will have a majority after this election. They all know it. But the thing they fear most is a sizeable number of Ukip MPs holding them to account for you.

When we say we believe in Britain, we believe in the whole of Britain. We are the only party with representation in all four corners of the UK.
– Nigel Farage
Ukip leader Nigel Farage was forced to withdraw from a public event in Rotherham today after crowds of protesters gathered outside the party's new office.
Despite the demonstrations, Mr Farage said Rotherham was a "key national target" for the party in May's General Election.
The party said the timing of the visit, just two days after a damning report into the Rotherham abuse scandal , was purely coincidental.
Breastfeeding mothers are among the anti-Ukip demonstrators gathered outside the party's campaign office in Rotherham.
Ukip leader Nigel Farage came under fire in December after he said that mothers breastfeeding their babies should "perhaps sit in the corner".
Nigel Farage denied he has been exploiting the Rotherham abuse scandal for political gain after he was forced to cancel an appearance in the city due to crowds of protesters.
Farage said Ukip was "the one party that's warned consistently against division within society and multiculturalism".
"We want interculturalism. We've got different religions and faiths but we have to mix together and we have to live under one law," he continued.
"So I think to accuse us of exploiting it is not fair. We have warned for years that things have been going wrong with increasing divisions within society."
Advertisement
Ukip leader Nigel Farage has abandoned a public appearance in Rotherham after crowds of protesters gathered outside his party's local office.
Farage was due to cut the ribbon on the campaign office of Ukip's general election candidate Jane Collins, but his team said he was not coming out on police advice.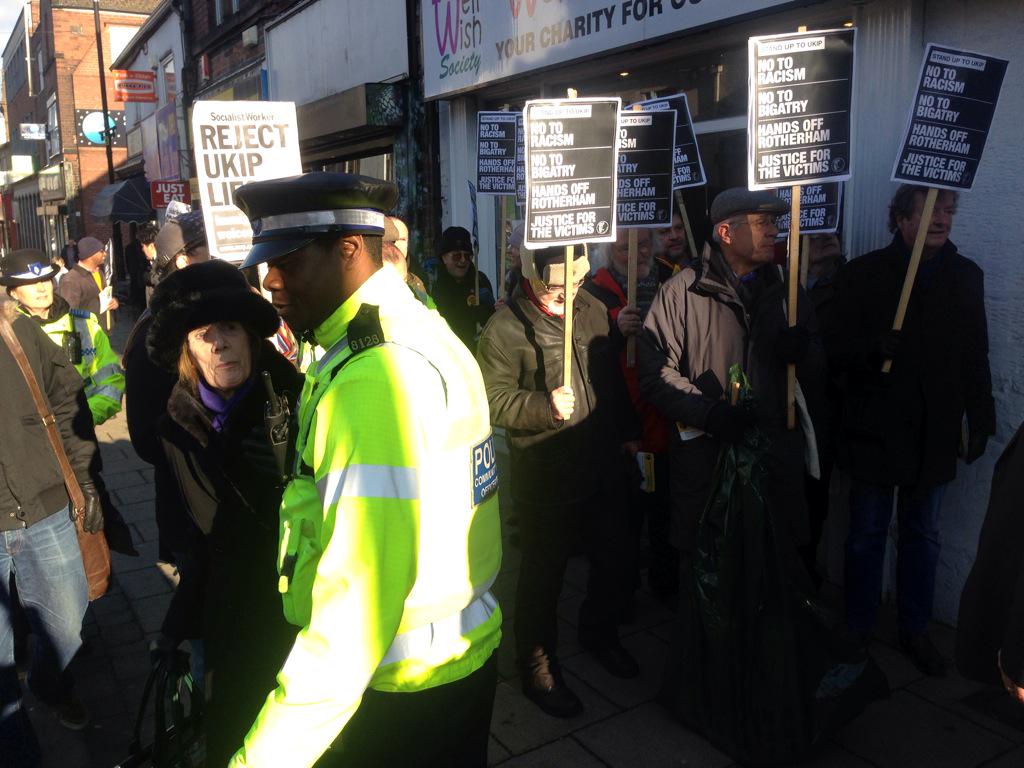 The Home Secretary has said comments by Ukip leader Nigel Farage about the Charlie Hebdo attack in Paris were "irresponsible."
Mr Farage said the attack was the result of "having a fifth column" living in Western countries opposed to their ideals.
He told Channel 4 News:
There is a very strong argument that says that what happened in Paris today is a result - and we've seen it in London too - is a result I'm afraid of now having a fifth column living within these countries.

We've got people living in these countries, holding our passports, who hate us.

Luckily their numbers are very, very small but it does make one question the whole really gross attempt at encouraged division within society that we have had in the past few decades in the name of multiculturalism.
– Nigel Farage
Theresa May said it was "irresponsible to talk about a fifth column."
When asked about Ukip leader's comments, David Cameron said: "Today is not the day to make political remarks or arguments.
"Today is the day to stand four-square behind the French people."
Load more updates