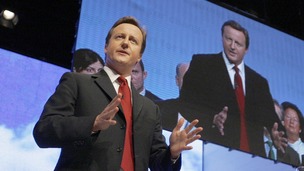 David Cameron is travelling to Japan and south-east Asia in a bid to boost investment in UK businesses.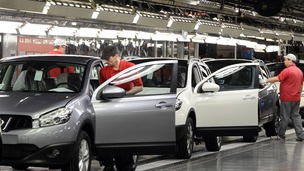 A new model will roll off the production line at the largest car plant in the country. It will boost job prospects and the local economy.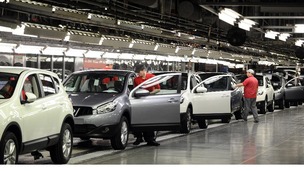 Japanese car giant Nissan has delivered a huge boost to the economy by announcing plans to build a new model, creating 2,000 new jobs.
Live updates
Japanese car company Nissan has unveiled what is says is the world' first 'self-cleaning car'.
The new Nissan Note model comes coated in a special repellent paint which keeps off mud and dirt and may make trips to the carwash a thing of the past for some drivers.
The Sunderland-built Nissan Qashqai has been named Car of the Year for 2014 by What Car?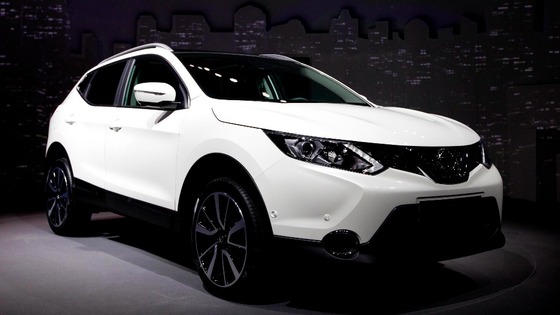 The car also took home the best small sports utility vehicle (SUV) award, with the results being announced at a ceremony in London sponsored by Warranty Direct.
What Car? editor-in-chief Chas Hallett praised Nissan for thinking "of every last detail" as the Qashqai had "excellence," "polish" and delivered "first-class levels of comfort".
The Qashqai was the sixth best-selling car in the UK in 2013, with sales passing 50,000.
Nissan Motor GB managing director Jim Wright said: "We're thrilled. A huge amount of effort has gone into the design and engineering of the new car, and we're all extremely excited about creating the template for the second-generation crossover."
Advertisement
Nissan has warned that it would "reconsider" its future in the UK if it left the European Union.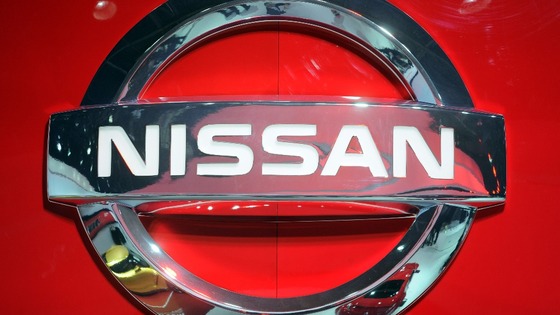 The head of Nissan Carlos Ghosn, told the BBC it would re-evaluate its position if the UK was to leave the EU.
Speaking at the launch of Nissan's new Qashqai model, he said: "If anything has to change we (would) need to reconsider our strategy and our investments for the future."
But he added that he considered such an exit unlikely.
Nissan recalls Micras over fault
Nissan has said it is recalling thousands of cars in Britain due to a potential steering wheel problem:
Over time, the nut that holds on the steering wheel can become loose.

Drivers could start notice some wobbling of the wheel and if this is ignored there is the possibility that it could come completely off.

There have been a few incidents of steering wheels becoming loose, but there have been no accidents.
– Nissan Motor GB spokesman
Nissan recalls Micras over fault
Nissan is recalling thousands of cars in the UK due to a potential steering wheel problem.
The recall affects 133,869 Nissan Micras made between December 2002 and May 2006 and is part of a worldwide recall of 841,000 Micras.
3.4m cars recalled over airbag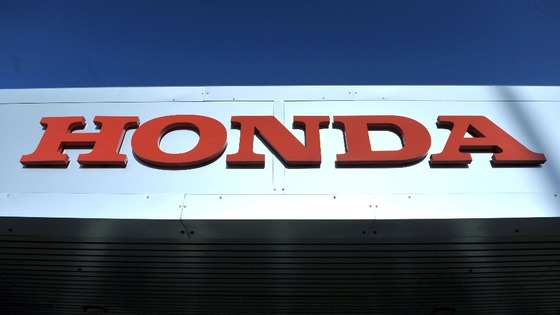 More than one million Honda vehicles are being recalled following concern over the airbags received from Japanese parts maker Takata Corp.
The firm confirmed 1.14 million cars will be called back globally.
Nissan has also been affected, with the company confirming 137,000 cars in Japan will be recalled.
Advertisement
David Cameron came face-to-face with an old Japanese tradition today, completing a ceremony started by former Prime Minister Margaret Thatcher in 1986. The 'Daruma Doll' is used to motivate people and help them complete goals.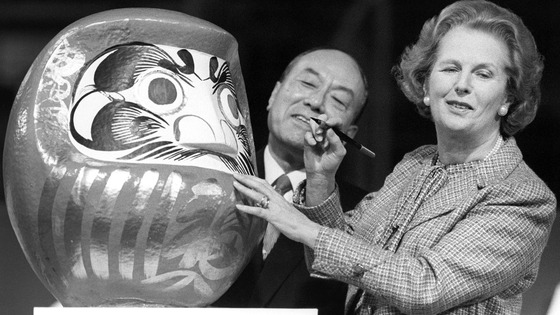 When the goal is set, one eye is coloured in. When the goal is complete, the remaining eye is coloured in. Margaret Thatcher filled in the first eye during the official opening of Nissan's car plant in Tyne and Wear in 1986.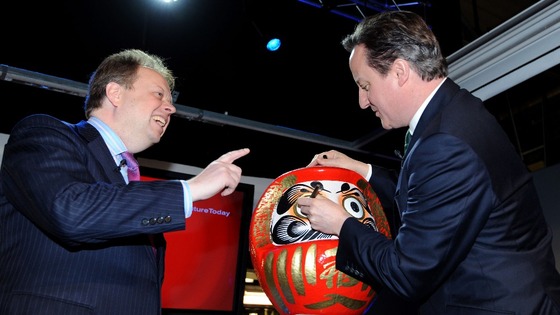 Today, David Cameron filled in the other eye to mark the production launch of Nissan's electric LEAF car.
Nissan creates 1,000 new jobs
Today's news is a strong endorsement of the quality of Britain's car industry which is creating jobs, taking on apprentices and contributing to building a stronger economy.

The auto sector is living up to being one of the great success stories of our industrial strategy and a testimony to government and private sector working together in close partnership.
– Business Secretary Vince Cable
Nissan creates 1,000 new jobs
This investment is excellent news for the North East and another vote of confidence for UK manufacturing.

The continued success of Nissan in the UK demonstrates the strength of the car industry here, and its importance as we rebalance and grow the economy.

This announcement shows how the car industry in partnership with the Government continues to win important long term investment projects in a tough competitive sector, helping the UK to get ahead in the global race.
– Prime Minister David Cameron
Nissan creates 1,000 new jobs
Production started at Nissan Sunderland Plant in September 1986.
Total investment made and announced since then is over £3.5bn and total plant volume stands at more than 6.9 million units.
80 per cent of production is exported to 97 international markets.
Its current model line-up is Qashqai, Qashqai+2, Juke and Note.
Forthcoming production at the plant includes the 100% electric Nissan LEAF, the new Nissan Note and the next-generation Nissan Qashqai.
Load more updates
Back to top