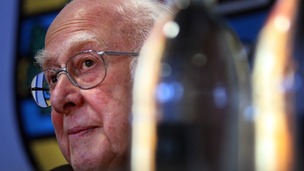 Britain's Professor Peter Higgs was today announced as joint-winner of the 2013 Nobel Prize for Physics.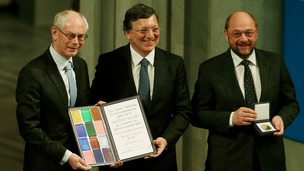 The European Union's three presidents collected the Nobel Peace Prize today in Oslo.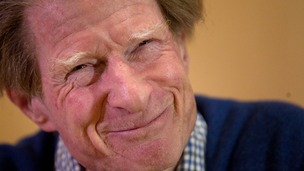 Nobel Prize winner Sir John Gurdon told ITV News he was dissuaded from studying science at Eton by his teacher.
Live updates
Nobel Laureate Gabriel Garcia Marquez dies aged 87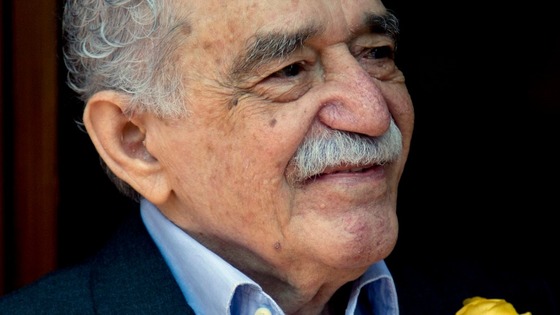 Known affectionately to friends and fans as 'Gabo', Garcia Marquez had just returned from hospital after suffering a bout of pneumonia, doctors have said.
Although "One Hundred Years of Solitude" was his most popular creation, other classics from Garcia Marquez included "Autumn of the Patriarch", "Love in the Time of Cholera" and "Chronicle of a Death Foretold".
Nobel Laureate Gabriel Garcia Marquez dies aged 87
Colombian President Juan Manuel Santos on death of Gabriel Garcia Marquez has said on Twitter:
'One thousand years of solitude and sadness at the death of the greatest Colombian of all time'
Mil años de soledad y tristeza por la muerte del más grande colombiano de todos los tiempos! Solidaridad y condolencias a la Gaba y familia
Los gigantes nunca mueren
Translation: The Giants never die
More: Marquez 'out sold everything in Spanish but the Bible'
Advertisement
Nobel Laureate Gabriel Garcia Marquez dies aged 87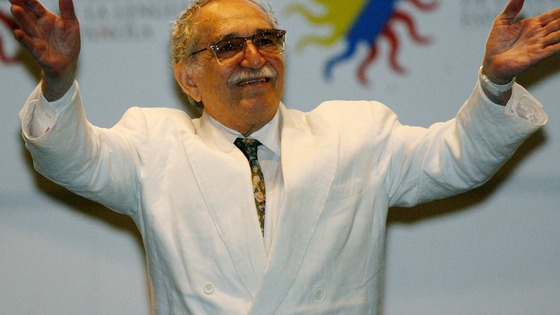 The works of Colombian writer Gabriel Garcia Marquez, who died today at his home in Mexico, outsold everything published in Spanish except the Bible.
Marquez was widely considered to be the greatest Spanish-language writer since Miguel de Cervantes in the 17th century, and was often compared to literary giants like Mark Twain and Charles Dickens.
His epic 1967 novel One Hundred Years Of Solitude sold more than 50 million copies in more than 25 languages.
Nobel Laureate Gabriel Garcia Marquez dies aged 87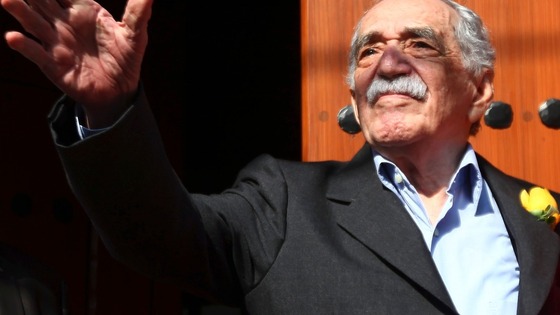 Nobel Laureate Gabriel Garcia Marquez has died at his home in Mexico at the age of 87, a source close to his family has confirmed.
The Colombian writer's magical realist novels and short stories exposed tens of millions of readers to Latin America's passion, superstition, violence and inequality.
Nobel Laureate Gabriel Garcia Marquez dies aged 87
Nobel Prize-winning Colombian novelist Gabriel Garcia Marquez has died, Reuters has said.
British scientist Peter Higgs received his Nobel Prize from Sweden's King Carl XVI Gustaf in a ceremony at the Stockholm Concert Hall.
The Edinburgh University emeritus professor was awarded the prestigious prize alongside Francois Englert for their work on the theory of the Higgs boson, but was unable to collect the prize in October.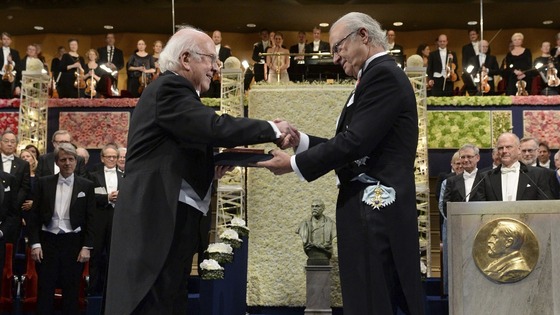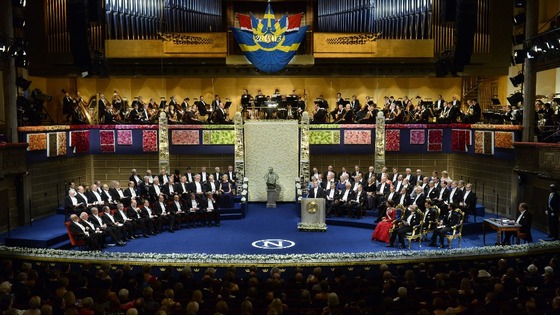 Advertisement
Nobel Prize winning scientist Professor Peter Higgs has revealed plans to retire next year at the age of 85.
Professor Higgs, who travels across the world to give lectures in his role as a emeritus professor at the University of Edinburgh, said:
"I'm proposing to retire at the age of 85 next year. Flying around the world giving lectures is a fairly recent phenomenon because of the build up to this discovery at Cern but for many years I had a quiet time in retirement."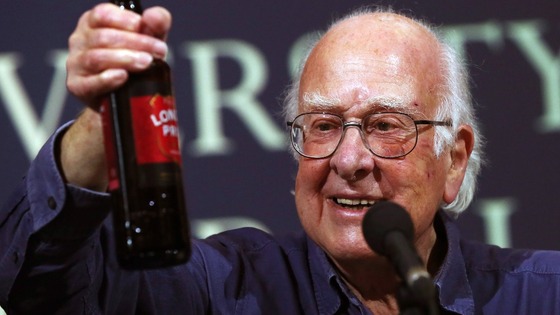 The 84-year-old, who was recognised for his achievements on the theory of the the Higgs Boson particle last week, also revealed that he had turned down a knighthood in 1999.
Speaking to BBC Scotland, the Professor said: ""I got the offer from Tony Blair in November 1999. I would have been included in the millennium honours and I said no thank you.
"I thought anything of that sort was premature and anyway I didn't want that sort of title thank you. I actually didn't want any sort of title."
Read: Peter Higgs discovered he had won award after conversation with former neighbour
Chemical watchdog Nobel Prize
Malala Yousafzai, who had been favourite to land the Nobel Peace Prize, has issued a statement congratulating the eventual winners and thanking her supporters.
The OPCW (Organisation for the Prohibition of Chemical Weapons), the body overseeing the destruction of Syria's chemical weapons, earlier landed the prestigious award.
The statement from the Pakistani schoolgirl, who has continued to campaign for education after being shot by the Taliban, read:
The OPCW is an important organisation working on the ground to help rid the world of chemical weapons.

I would like to congratulate them on this much-deserved global recognition.

I would also like to thank the people and media in Pakistan, and those from all over the world, for their support, kindness and prayers.

I will continue to fight for the education for every child, and I hope people will continue to support me in my cause.
Chemical watchdog Nobel Prize
US Secretary of State John Kerry has praised the work of the Organisation of the Prohibition of Chemical Weapons, who beat favourites Malala Yousafzai to win the Nobel Prize for Peace. In a statement, Mr Kerry said:
"I want to congratulate the Organisation for the Prohibition of Chemical Weapons for winning the Nobel Prize. The world will never forget the loss of the more than 1,000 innocent Syrians senselessly killed with chemical weapons on Aug. 21.
"There could be no more stark reminder why for almost 100 years, the international community has deemed the use of these weapons far beyond the bounds of acceptable conduct.
"Since that horrific attack, the OPCW has taken extraordinary steps and worked with unprecedented speed to address this blatant violation of international norms that shocked the conscience of people around the world."
Nobel Prize-winning scientist Professor Peter Higgs has revealed that he first learned of his award when a former neighbour stopped him on the street to tell him.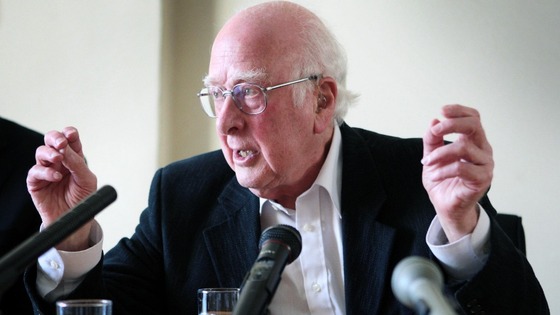 "She congratulated me on the news and I said 'oh, what news?" he said.
"She told me her daughter phoned from London to alert her to the fact I had got this prize. I heard more about it obviously when I got home and started reading the messages."
Higgs was awarded jointly for his work on the Higgs boson, the so-called "God particle" which gives matter its mass. Its existence was proved in 2012, 50 years after his work.
"Obviously I'm delighted and rather relieved in a sense that it's all over," Higgs said. "It's been a long time coming."
Load more updates
Back to top