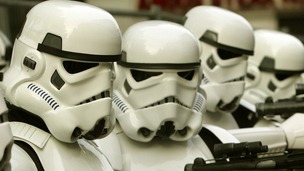 Police were called to a sci-fi convention following a confrontation between rival fan clubs in Norfolk.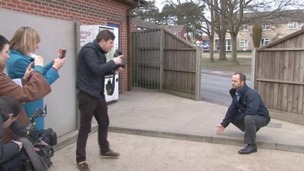 A Norfolk police officer is to continue legal action against a garage after she tripped on a kerb while on an call-out.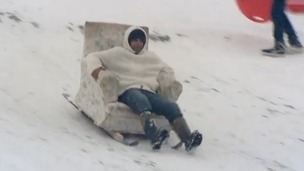 A man today transformed an armchair into a toboggan to take full advantage of the winter snow in Norfolk.
Live updates
Second claim for kerb fall PC
Police chief's 'disappointment' at compensation claim
Norfolk's police chief has expressed his "disappointment" at a compensation claim by one of his own officers. Pc Kelly Jones is suing a garage owner after she allegedly tripped over a kerb when investigating a suspected break-in.
ITV News Reporter Richard Pallot reports:
Police chief hits out at Pc's legal bid after 'trip'
A police chief has spoken of his "disappointment" after one of his officers began legal action to seek damages from a petrol station owner after she reportedly tripped on a kerb while attending a suspected break-in.
Chief Constable Phil Gormley said the claim by Pc Kelly Jones did not represent the "approach and attitude of the overwhelming majority" of staff at Norfolk Constabulary.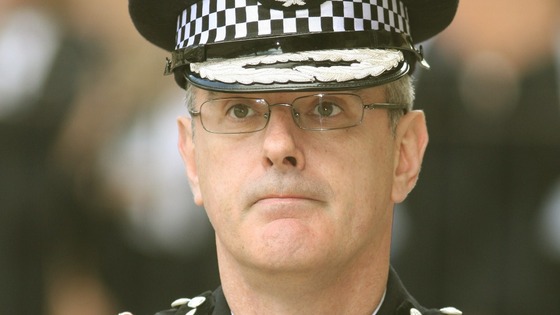 Ch Const Gormley said: "This type of claim does not represent the approach and attitude of the overwhelming majority of our staff who understand and accept the risks inherent in policing and which they willingly confront to keep the public they serve safe.
"It is a disappointment that this is potentially undermined by a private compensation claim."
Pc Jones' lawyers claim the property owner is at fault after she injured her leg and wrist when she was called to Nuns' Bridges Filling Station in Thetford, Norfolk, in August last year.
Advertisement
Second claim for kerb fall PC
Police Federation funding officer suing 'burglary victim'
The Police Federation have confirmed to ITV News that they are funding the legal costs of PC Kelly Jones, the officer suing a petrol station owner after she fell on her property.
Second claim for kerb fall PC
Norfolk police officer 'sues burglary victim'
A police officer from Norfolk is suing a petrol station owner after tripping on a kerb on his property, the Daily Mail reports.
PC Kelly Jones is said to be seeking compensation after claiming the owner failed in his duty to keep her safe. Petrol station owner Steve Jones is furious, telling The Mail:
I thought nothing of it - other than she must have been a bit embarrassed, and I helped her up. Then we carried on with the search.
I am incredulous that I am being sued by a police officer whose duty is to protect the public.

How can anyone feel safe calling the cops if they size you up for compensation while they're fighting crime?

Surely policing has elements of both public service and risk. Isn't that what officers sign up for when they put on the uniform - chasing villains and keeping us safe?
Second claim for kerb fall PC
Anglia
Garage owner sued after policewoman trips on kerb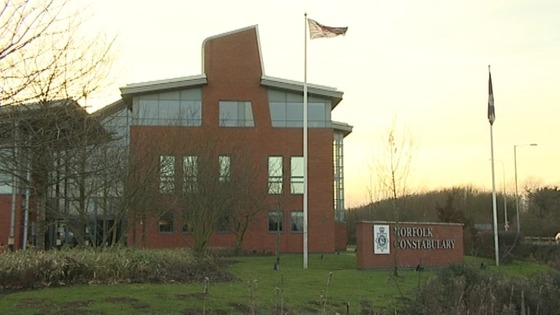 A policewoman from Norfolk is suing the owner of a filling station at Thetford after she allegedly tripped on a kerb while answering an emergency call.
It's been reported the officer is claiming up to £50,000 in damages from Steve Jones, who owns the Nun's Bridges filling station, for injuries to her leg.
He had dialled 999 last summer after an alarm went off. Norfolk Police has said the force is unaware of the legal action which appears to have been taken privately by the officer.
Anglia
Power cut leaves 2,500 in the dark
Around 2,500 people lost power yesterday and early this morning after a section of overhead power cables came down in the Wymondham and Long Stratton area.
UK Power Networks are still working to repair power supplies to 511 customers in the Silfield area.
The cables came down around 4.20am today but yesterday in Long Stratton another cable fault caused more problems including cuts and flickering lights.
UK Power Networks say this damaged another cable on the network supplying villages in the Wymondham area. Engineers are currently out in Norfolk trying to fix the problems.
Advertisement
Anglia
Alan Partridge meets fans in Norwich
The new Alan Partridge movie is being shot in Norwich and features what is perhaps the world's slowest police chase through the city centre.
Click below for some video featuring Steve Coogan meeting some of his fans in character
Anglia
Bodies of man and woman found in Norfolk
A man and a woman have been found dead inside a house in Caister-on-Sea in Norfolk.
Norfolk Police forced entry into the house in Upper Grange Crescent yesterday lunchtime following concerns for the safety of those inside.
The deaths are being treated as unexplained and the house has been sealed off.
A post-mortem will take place today.
New MRI unit to be opened by the Queen today
The Queen is to open a new MRI unit today at the Queen Elizabeth Hospital in West Norfolk.
She is expected to meet staff and patients, as she takes a tour of the building.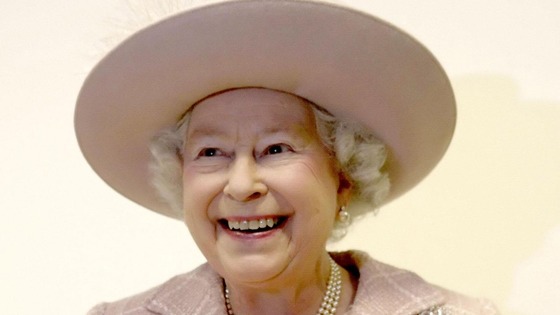 The Queen will meet a patient who has benefited from the MRI process, used to diagnose health conditions.
She will also unveil a plaque to mark the occasion.
Second World War RAF station for sale on eBay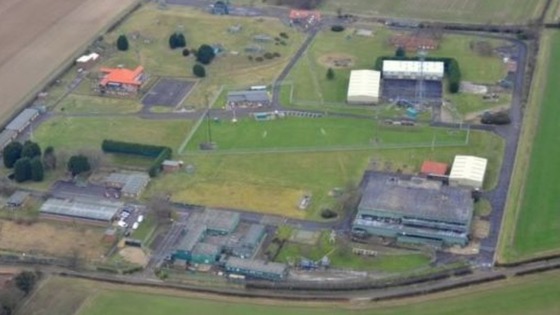 A former RAF station - complete with high-security fence, underground bunker and a helipad - has been put up for sale on eBay for £2.5m.
The Neatishead radar base in Norfolk opened in 1941 and played an important role in monitoring Britain's skies during the Second World War and the Cold War.
The 25-acre site was decommissioned in 2006, and sold to a private company.
It's been rarely used since, and has been on the market for some time.
There are 16 buildings on the site, including former radar rooms, tennis and squash courts, station headquarters and the old officers' mess.
The RAF still carries out communication work for aircraft on a small part of the site.
That work would continue, alongside the RAF Air Defence Radar Museum, which was established on the air base 14 years ago.
The page has attracted more than 5,000 hits so far - but no offers have been made.
Bidding ends on Friday 8th February.
Load more updates
Back to top