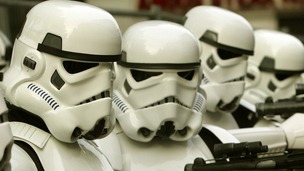 Police were called to a sci-fi convention following a confrontation between rival fan clubs in Norfolk.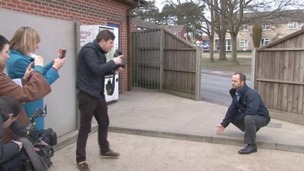 A Norfolk police officer is to continue legal action against a garage after she tripped on a kerb while on an call-out.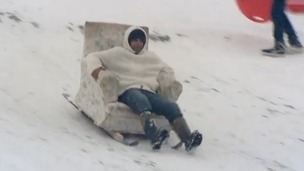 A man today transformed an armchair into a toboggan to take full advantage of the winter snow in Norfolk.
Live updates
Three held after man attacked by 'Oompa-Loompas'
Three men have been arrested following an assault involving two people dressed as Oompa-Loompas.
Norfolk Police had called for witnesses to the attack on a man by four people, including two dressed as the fictional characters from Charlie And The Chocolate Factory on December 27.
Two of the attackers were described as wearing hooded tops, with dyed green hair and painted orange faces.
A spokesman said: "Two men in their late teens and one man in his early 20s, all from the North Walsham area, were arrested on Saturday on suspicion of GBH."
Oompa-Loompas were created by Roald Dahl in the 1964 children's book, before appearing in two film versions of the book.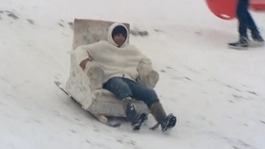 A man today transformed an armchair into a toboggan to take full advantage of the winter snow in Norfolk.
Read the full story
Advertisement
Anglia
Norfolk Gangnam Style! Teenager's YouTube parody
Two teenagers from Norwich have become internet sensations after posting a spoof version of the hit song 'Gangnam Style' on YouTube.
Wyll James and Mateo Jarvis, who are both 16, filmed a video - called Norfolk Style - which makes a joke of local stereotypes often associated with the county. In just five days, the video has been viewed more than 260,000 times around the world.
Anglia
Car crash kills girls aged 7 and 10
A police investigation is under way into a fatal car crash on the Norfolk-Cambridgeshire border that killed two girls aged seven and 10.
The children died after the black Ford Focus they were travelling in crashed on the A47 near Wisbech, in Cambridgeshire, at 6.40pm yesterday, Norfolk Police said.
Both girls were taken to the Queen Elizabeth Hospital in King's Lynn, but later died from their injuries.
Sisters killed in crash named
Police: Two girls injured in Norfolk car crash
Two girls aged seven and 10 have been killed, and three other people injured, after a car crash in Norfolk this evening, police said.
Council chief and wife dead
Council leader death 'a massive loss'
The death of Keith is a tragedy and a massive loss to Cromer and North Norfolk, too. Keith has been a real public servant throughout his life and will be sorely missed by the whole community. He was much respected across the political spectrum. Our thoughts are with Keith's friends and family at this time.
– North Norfolk Labour Party STATEMENT
Advertisement
Council chief and wife dead
Neighbours shocked after 'lovely couple' die in shooting
Derek Houlston, whose garden backs on to the couple's property, said:
She was bubbly and really friendly. We used to see her walking her dog.

He was always very friendly too but we saw him doing his paper round - which she got him to do to keep fit - on Saturday and he seemed really depressed.

I said hello but he just kept his head down and didn't respond. It's really sad because they seemed like such a lovely couple.
David Stow, who lives nearby, said he heard a single gunshot on Sunday.
We're in the country so we hear a lot of gunshots so at first I didn't think anything of it. But then I saw the police arrive and realised it must be something serious.

I knew them to speak to and they always seemed a very nice couple.
Council chief and wife dead
Council leader found shot dead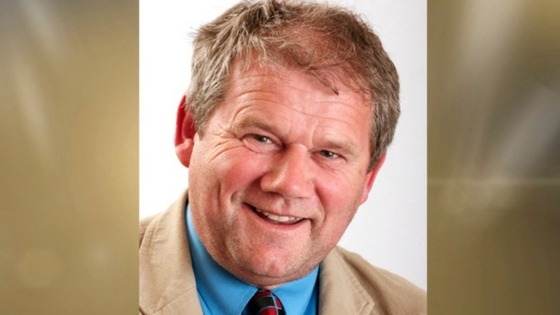 Council chief and wife dead
MP 'deeply shocked' council leader and wife found shot
North Norfolk MP Norman Lamb said he was "deeply shocked" by the news.
I've known Keith for some years through his work on the council and we both attended the wedding of a mutual friend a few years ago.

We've always been on very good terms despite the fact I'm Lib Dem and he was a Conservative.

I didn't know Andrea beyond seeing them both at civic events but she was always good for a friendly chat.

I share the community's sense of disbelief and my heart goes out to all of their family and friends.
Council chief and wife dead
'Terrible shock' council leader and wife found shot
The couple were described as "prominent and much-loved" figures in their community.
Mr Johnson, elected as council leader earlier this year, had helped organise the town's Christmas market, launched at the weekend as part of a series of festive events.
On Friday he attended the opening of a Waitrose store in nearby North Walsham along with other signatories.
Mr Johnson's close friend, Benji Cabbell-Manners, had been away for the weekend and told the Eastern Daily Press of his "terrible shock" at hearing the news.
Load more updates
Back to top