The FBI said three key elements of the Sony Pictures cyber attack led them to identify the administration in Pyongyang as the culprits.
Read the full story ›
The FBI said it has enough information to conclude the North Korean government is responsible for the hacking of Sony Pictures and is "deeply concerned" by the "destructive nature" of the attack.
The agency said there is a "significant overlap" between the systems used in the Sony breach and other cyber attacks linked to North Korea, including an assault on South Korea's banks and media in 2013.
The FBI announcement came after a US official, speaking anonymously, said the probe into the hacking had also identified a possible link to China - either through host servers or use of actors.
The Chinese Embassy in Washington said China does not support "cyber illegalities" committed on its soil and called on the US to share its evidence to support the claims.
Advertisement
Sony's hackers have reportedly told the company they will protect its stolen data after the "very wise" decision to cancel the release of movie The Interview - as a US official claimed an investigation has found North Korea was behind the hacking, with possible help from within China.
Sony Pictures pulled the film about the assassination of North Korean leader Kim Jong Un earlier this week after hackers apparently threatened to launch terrorist attacks on cinemas that showed the film.
A US official, speaking anonymously, said an investigation has found North Korea was behind the hacking and may have either collaborated with Chinese actors or used Chinese servers to mask the origination of the hack.
According to CNN, the hackers' message to Sony read: "It's very wise that you have made a decision to cancel the release of The Interview. We ensure the security of your data unless you make additional trouble."
US investigators are looking at the possibility that Iran helped North Korea in a 'state-sponsored' cyber attack on Sony's film division, government officials have said.
Speaking on condition of anonymity, the official told Reuters news agency that the code used to attack the studio bore striking similarities to malware known as 'Shamoon'.
Shamoon is believed by the US to have been used by Iran to target tens of thousands of computers at Saudi Arabia's national oil firm, Saudi Aramco, in an attack in 2012, and against banks and broadcasting companies in South Korea last year.
Cinemas in the United States who had planned to responded to the cancellation of The Interview by showing another movie that pokes fun at North Korea in its place have been told not to do so by its distributor, Paramount Pictures, it is claimed.
The Alamo Drafthouse Cinema's branch in Dallas had planned to show a free screening of Team America: World Police, the 2004 satirical comedy co-written by South Park creators Trey Parker and Matt Stone, but have since tweeted that that have now cancelled the show due to "circumstances beyond their control".
Due to to circumstances beyond our control, the TEAM AMERICA 12/27 screening has been cancelled. We apologize & will provide refunds today.
Another theatre that had planned to show the same movie, claimed in a tweet that Paramount Pictures was preventing them from doing so.
Please note: Our Late Shift screening of Team America: World Police has been canceled by Paramount Pictures. http://t.co/TlPVzIeICW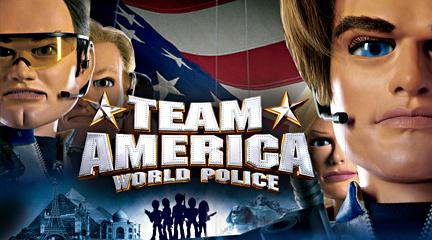 Team America: World Police, which features an all-puppet cast, focuses on American anti-terror unit tries to save the world from an attack led by North Korea's former leader Kim Jong-il.
Sony has taken the unusual step of deciding not to release the film The Interview following an online backlash and threats to attack cinemas where it is shown.
While the circumstances are unusual, it is certainly not the first film to be effectively banned. Take our quiz and test your knowledge of banned films.
Advertisement
The US has lost its first cyber war and North Korea has won, says one of America's top Republicans, after a cyber attack on a film studio led to a film about North Korea being pulled from release.
Today many in both Washington and Hollywood have been criticising the decision to cancel the film.
ITV News Washington Correspondent Robert Moore reports.
The massive cyber attack on Sony Entertainment is being treated as a "serious national security matter", the White House has confirmed.
But White House spokesman Josh Earnest told reporters that he was unable to confirm if North Korea was responsible for the attack, and said a federal investigation was "progressing".
US officials also said that the National Security Council is now considering a "proportionate response" to the hack.
The United States is considering its possible options in response to a major cyber attack on Sony Pictures that has be blamed on North Korea, Reuters has reported.
US experts say options for the Obama administration could include cyber retaliation and financial sanctions but the effect of any response could be limited given North Korea's isolation.
The decision by Sony to not release controversial comedy film The Interview is concerning some cyber experts, who believe it could send out the wrong message.
Caroline Baylon, a computer expert at Chatham House, told ITV News: "We don't want other countries or groups to be looking at this and seeing, 'OK, if we launch a very successful cyber attack on a company we can actually cause films to be pulled, we can affect freedom of speech'."
Load more updates