The Shadow Secretary of State for Northern Ireland said Theresa Villiers was right to apologise at the Northern Ireland Affairs Committee today, describing a 'catastrophic' error in the John Downey case.
[Secretary of State for Northern Ireland Theresa Villiers] was right to apologise to the family and friends of the Hyde Park victims following the catastrophic error made in the John Downey case. I am also pleased that she was very robust in making it clear that these letters never offered any of their recipients an amnesty from prosecution. This was also the conclusion of the Hallett review. However, at a time when stability in Northern Ireland is so fragile it is essential the government is clear and unambiguous about its response to sensitive issues
– Shadow Secretary of State for Northern Ireland, Ivan Lewis MP
Letters were given to almost 190 republicans suspected of crimes who had fled Northern Ireland
They gave assurances that their recipients were not wanted by police
The system was agreed between the last Labour administration and Sinn Fein from 2000
In February, a case against 62-year-old John Downey fell apart when it emerged he had been given a letter in error
In July, a judge-led inquiry found they were systematically flawed in operation but not unlawful in principle
Northern Ireland Secretary Theresa Villiers has promised to clarify their status in the coming days
Advertisement
Northern Ireland Secretary Theresa Villiers has said that individuals with so-called 'letters of comfort' would be treated by the authorities in exactly the same way as individuals who did not have one.
No one should take any comfort from these letters. No one should rely on them ...

Decisions of the independent police and prosecuting authorities on whether individuals are prosecuted will be on the basis of decisions made now, not decisions made at some point in the past. And those decisions will be made on the basis of all the available evidence.

To all those who have a letter I say - if the police or prosecuting authorities have evidence which is available today or becomes available in the future to pursue you, they can and will pursue you.
– Northern Ireland Secretary Theresa Villiers
Ms Villiers said she would make a fuller written statement to Parliament in "the coming days".
The Northern Ireland Secretary has said that republicans suspected of crimes committed during the Troubles should "no longer draw comfort" from letters informing them that police were no longer pursuing them.
Theresa Villiers told a Westminster committee that she had to clarify the status of the so-called 'letters of comfort' after a judge-led review called their accuracy into question.
The issue came to light in February when the case against a man accused of the 1982 Hyde Park bombing collapsed because it emerged he had been sent one of the letters in error.
In July, an inquiry found that the letters were flawed and "did not amount to an amnesty" for terror suspects.
What will be on the menu for us by 2050? And will we even need to eat at all? The Tonight programme investigates.
Read the full story ›
An IRA man who escaped prison more than 50 years ago was given a royal pardon by Margaret Thatcher's government, official records from 1985 revealed.
Donal Donnelly fled Belfast's Crumlin Road jail - which he dubbed Europe's Alcatraz - on Boxing Day 1960 while serving a sentence for membership of the armed group during its 1950s border campaign.
Former Northern Ireland secretary Lord Hurd, part of a Conservative government scarred by republican violence, agreed to use the Royal Prerogative of Mercy in May 1985.
His decision was made ahead of landmark political talks on British co-operation with the Irish Government.
Afterwards Donnelly lived openly in the Irish Republic - and even wrote a book about his escape.
Advertisement
The Tonight programme investigates the fresh and frozen food supply chains to find out if quality really is being maintained.
Read the full story ›
The Tonight programme investigates which 'superfoods' actually live up to their billing - can they make us healthier?
Read the full story ›
Four people have been arrested in Londonderry by detectives investigating a spate of attempted letter bomb attacks in Northern Ireland and England, including on a number of Army recruitment offices, the Police Service of Northern Ireland said.
A reporter for Chard and Ilminster News has tweeted this photo purporting to show the closed service station at Southfield roundabout.
A large heavy goods vehicle can be seen in the background surrounded by police and ambulances.
The scene at Southfields Roundabout services. Police cordoned off a HGV. Appears to be around 20 people inside it. http://t.co/aUTBj5wVHG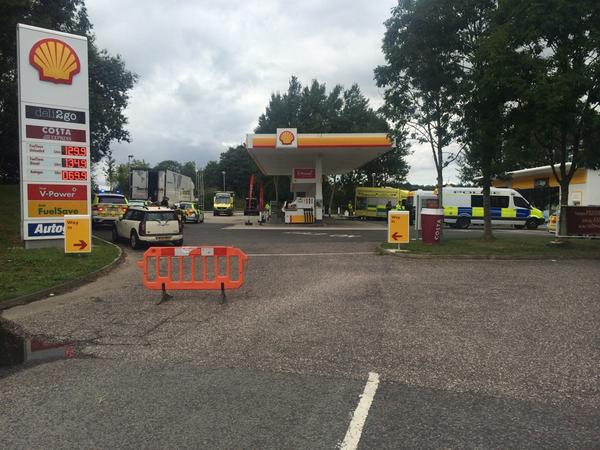 Load more updates