Whether it's because we don't know how, or we don't have time, fewer of us are cooking from scratch. The Tonight programme investigates.
Read the full story ›
As millions of patients struggle to get a GP appointment within 7 days, the Tonight programme investigates a service under pressure.
Read the full story ›
Advertisement
More than 200 people have been returned to shore after 87 sailing dinghies were hit by stormy weather in Strangford Lough, Northern Ireland.
The Bangor and Portaferry Coastguard Rescue Teams, the Portaferry and Newcastle RNLI lifeboats, the Irish Coast Guard helicopter along with the helicopter from RAF Valley were sent to the scene, along with PSNI and ambulance crews.
We have now been told by our rescue units on scene that everyone has safely returned to shore and that no one is missing. We believe 20 people ended up in the water after their boats capsized this afternoon, 10 of them requiring medical attention. The weather conditions on scene have been pretty treacherous, with winds gusting up to 60mph.
– Liam Colquhoun, Watch Manager at Belfast Coastguard.
Some 10 people were injured, with some of them showing signs of hypothermia.
Belfast Coastguard was contacted just before 2pm reporting that some of the boats had capsized, while others were struggling to cope in the strong winds and squally showers.
Newcastle RNLI has confirmed that all sailors caught in a squall in Strangford Lough have now been accounted for.
Everyone is accounted for and all units now stood down
Around 80 dingies in the water when the squall hit
97 people fell into the water
10 people were injured, most showing signs of hypothermia
6 people have been transported to hospital
(Source: South Eastern Health and Social Care Trust in Northern Ireland, Maritime and Coastguard Agency)
UTV report Judith Hill has just tweeted this image of Strangford Lough, adding that several ambulances have just left the scene.
A group of ambulances has just taken off with some casualties - rescue helicopter in the sky above lough http://t.co/zMKexpD3jU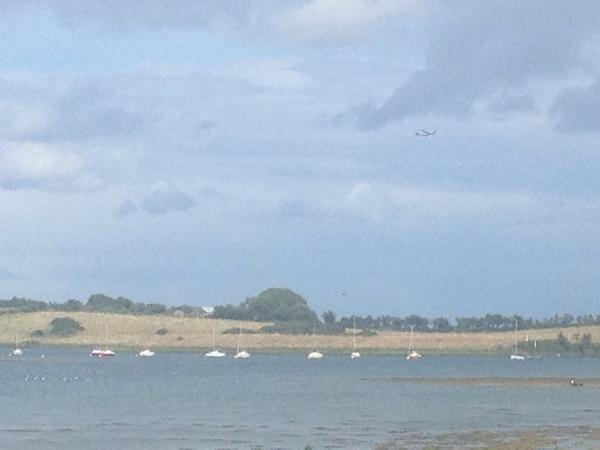 The South Eastern Health and Social Care Trust in Northern Ireland said that casualties were being brought to the Ulster Hospital (Dundonald).
Advertisement
A website tracking the movements of the Coastguard helicopter shows the part of the lough that is being targeted in the search and rescue operation.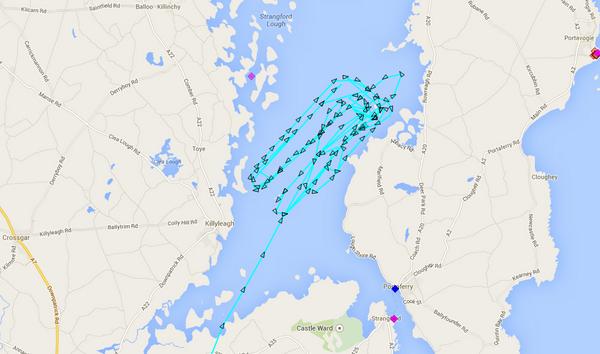 An update from the Maritime and Coastguard Agency says that 10 people have been injured, and that most are showing signs of hypothermia.
The statement continued: "It's believed that all those in the water have been accounted for. However rescue units on scene, including the helicopters and lifeboats, are carrying out further searches to make sure."
Strangford Lough is an area affected by powerful tides from the sea. It is a short distance south west of Belfast in Co Down.
It is popular with all sorts of watersports enthusiasts and a dedicated canoe trail has been laid out along its waters.
The ambulance service responding to the incident in Strangford Lough has said that some people are suffering from hypothermia, UTV reporter Aidan Kennedy has tweeted:
BREAKING NEWS - AMBULANCE SERVICE SAYS A NUMBER OF PEOPLE WITH HYPOTHERMIA AFTER 100 PEOPLE FEEL INTO WATER DURING KILLYLEAGH BOAT RACE
Load more updates