An energy firm has apologised to customers who received automated phone calls in the middle of the night to warn them bad weather was on the way.
Electricity North West scheduled the calls to people on its 'priority services register' yesterday afternoon, but a technical fault meant some were not received until the early hours of today.
A spokeswoman for Electricity North West said:
We sincerely apologise for the text messages and calls that customers received during the night. We can reassure people that we will not be sending any further messages out until we have resolved this issue
– Electricity North West spokesperson
A driver had a lucky escape as his car skidded in icy conditions and ended up nose down at basement level.
Read the full story ›
Advertisement
The snow has created some picturesque scenes across northern England today - as well as creating difficult conditions for anyone taking to the roads.
These helicopter aerials between Leeds and Manchester show villages and fields transformed, and those making the best of a day off school.
A Royal Navy helicopter has been scrambled to rescue an unconscious toddler, snowed in at a remote farmhouse.
Read the full story ›
Severe weather warnings for snow and ice have been issued for almost every part of the UK, with forecasters predicting a week of snow and ice as a cold snap continues to grip the country.
The Met Office has issued the yellow 'be aware' alerts for the rest of today, covering Scotland and Northern Ireland as well as most of England and Wales, with only coastal areas of Wales and the south-west of England escaping.
Up to 15cm of snow - around six inches - is predicted to fall in some highland areas tonight, with some "thundersnow" storms expected in the north.
Yellow warnings of snow are also in force for large swathes of the country over the coming week.
Manchester Airport has reopened after heavy snow forced the closure of its runways, ITV News correspondent Damon Green reports.
Snow ploughs were drafted in to help clear away the snow.
Advertisement
The Prime Minister has asked to be kept up to date with contingency plans as more heavy snow is forecast for parts of the UK.
In a statement, David Cameron urged people to take care during the cold snap.
I have asked for an update on our heavy snow contingency plans. The gritters are out and people should listen to warnings.
– Prime Minister David Cameron
Amid the disruption and warnings of more severe weather on the way, people have been capturing beautiful snowy scenes outside their windows.
Read the full story ›
Heavy traffic is reported on major routes across northern England as heavy snow causes a string of accidents and delays.
Meanwhile, dozens of schools across the country have been forced to stay closed for the day due to the wintery weather.
This is currently J21/22 M62 EB. Long delays, highways working to clear the stuck vehicles to allow ploughs through. http://t.co/OwVF3xJjIb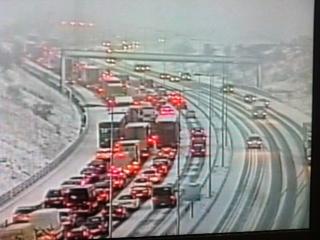 The M65 is currently at a standstill from J1/5 EB, due to RTC's and snow, our patrols and HA are working to clear. Long delays.
More than 130 schools are closed across Northern Ireland, and a total of 34 schools are closed in Cumbria - half of which are in Carlisle.
Twenty schools are closed in Oldham, Greater Manchester, along with 13 in Rossendale, Lancashire, and 25 across Derbyshire.
Manchester Airport has now been closed to allow snow ploughs to clear its runways.
No flights will be allowed in or out of the airport until 10.30am at the earliest - and even then, passengers are warned of delays due to a possible backlog.
It comes after long delays were reported throughout the morning.
We are not accepting any flights in or out due to the weather.

If we open at 10.30 those flights that are ready to take off will be able to do so.

We might experience a small backlog.
– Manchester Airport spokeswoman
Load more updates