A 2.6 magnitude earthquake struck Nottinghamshire this evening, the British Geological Survey has confirmed.
The quake hit near Papplewick between Nottingham and Mansfield around 7.15pm this evening.
Residents across Nottinghamshire reported feeling the tremors.
Read more here: Earthquake reportedly hits Nottinghamshire
Advertisement
The mother of a taxi driver shot in an "execution-style" killing 20 years ago has said her "only wish is to see those responsible brought to justice".
Ethsham Ghafoor, known as Shami, was found dead in his taxi in Nottingham in November 1994.
Police said they have today arrested two men on suspicion of his murder.
A statement from the father-of-two's family said they were "pleased" with the latest developments.
Shami's mother Walayat Begum, who is now in her 70s, added: "I plead to anyone with information to make my suffering lighter. My pain is never-ending. As long as we are here, we will demand justice."
Anyone with any information about the murder is asked to contact the Nottinghamshire police incident room on 0115 8446913.
Two men have been arrested on suspicion of the murder of a taxi driver who was shot dead in an "execution-style" killing 20 years ago.
Ethsham Ghafoor, 26, was found dead in his taxi in the car park of a nursery in Gedling, Nottingham in November 1994.
The suspects, aged 42 and 43, will be held for the rest of the day.
A building at Nottingham University, which was set to be a world-leading research centre, will be rebuilt after it was destroyed by fire.
The £20 million chemistry lab was due to open next year but was completely destroyed by the blaze while still under construction.
The cause of the fire is still under investigation.
Firefighters are working to dampening the still smouldering fire at Nottingham University, after a blaze at a chemistry building ignited yesterday evening. The cause of the incident is not known.
Incident Commander Joanne Wooler-Ward, speaking at the scene last night, said the building was empty when the fire took place, and no one was injured.
Advertisement
These images show what was described as a land mark chemistry building that was destroyed by a fire last night.
The university's website describes the lab as being carbon neutral, built with natural materials, powered by renewable energy and incorporating "state-of-the-art teaching and research laboratories".
It is billed to be a "centre for excellence", with the building work backed by a £12 million grant from pharmaceutical giant GSK.
Firefighters battling a 'major' blaze at the University of Nottingham have managed to contain the fire but they are still working to put it out completely, according to an incident commander at the scene.
In a video posted on the Nottinghamshire Fire and Rescue Service's Facebook page, Group Manager Joanne Wooler-Ward said: "We're on a firefighting operation, so to extinguish the fire and manage any other risks."
She added that they are not in a position to say what started the fire but police and specialist fire investigation officers would be examining the site as soon as possible.
She said: "There is a lot of damage to the building.... It was a fully developed fire and just credit to those that really did pull out all the stops to prevent this fire spreading to other areas."
Pictures of the battle to control a 'major fire' at Nottingham University have been published by the Nottinghamshire Fire and Rescue Service on their Facebook page.
A building that caught fire at Nottingham University has collapsed, according to a station manager at Nottinghamshire Fire and Rescue Service.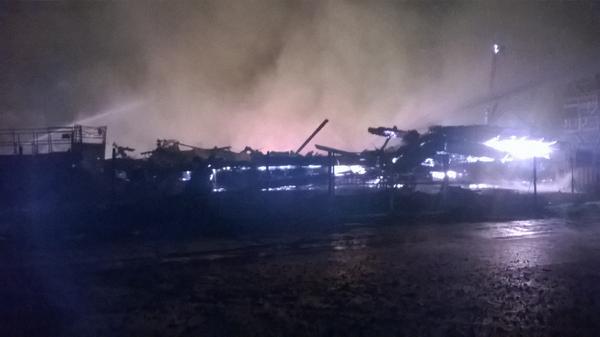 Load more updates