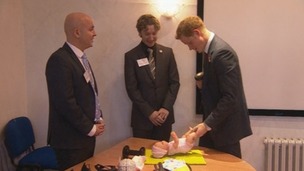 Prince Harry will have to brush up on his nappy-changing skills before he becomes an uncle later this year.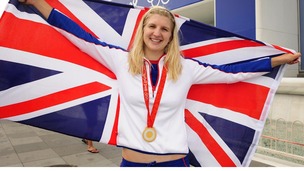 Britain's double Olympic champion swimmer Rebecca Adlington has retired from competition to concentrate on grassroots coaching,.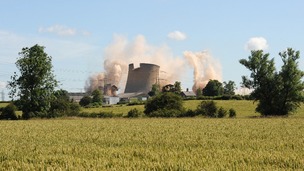 The cooling towers of a former coal fired power station have been demolished after 50 years on the Nottinghamshire skyline.
Live updates
'Culture of neglect' at care home
Police have said they are investigating standards of care at a home which closed last year as elven people have been arrested on suspicion of manslaughter after the death of an 86-year-old woman.
An investigation into the standard of care provided to residents at Autumn Grange is also under way and police are working closely with partner agencies to establish if any criminal offences took place.
– Nottinghamshire Police spokesperson
'Culture of neglect' at care home
Eleven people have been arrested on suspicion of manslaughter following the death of a woman shortly after she was moved from a care home.
Ivy Atkin died on 22nd November last year, shortly after she moved out of Autumn Grange care home in Sherwood Rise.
Nottinghamshire Police said five men, aged between 37 and 77, and six women, aged between 19 and 52, had been arrested.
The home closed in 2012 when its council contract was suspended.
Advertisement
Police are investigating more than 50 allegations of physical or sexual abuse at a former children's home.
Nottinghamshire Police said they are investigating claims that people were abused at the council-run Beechwood Children's Home in Mapperley, Nottinghamshire.
Some of the allegations date back nearly 30 years.
In 2011, six alleged victims came forward saying they had suffered abuse at Beechwood.
Two killed in house gas blast
Central
Residents in odd numbered properties of Wright Street have now gone back to their homes.
People from Private Street and even numbered properties in Wright Street are being asked to get ready for another night away from their homes.
Demolition and forensic work may continue to disrupt utility supplies to these properties.
Residents from affected properties should report to the Information Centre at Charles Street Methodist Church or contact the helpline on 0300 500 80 80.
National Grid will need to get into the properties to restore supply and carry out testing.
Two killed in house gas blast
One line of inquiry suggests that somebody from the family was doing some D.I.Y in the basement – but we're keeping an open mind.
– SUPERINTENDENT MIKE MANLEY, NOTTINGHAMSHIRE POLICE

For more on this story visit ITV Central
Two killed in house gas blast
The man and woman killed when a suspected gas explosion destroyed a house were named locally tonight. The bodies of Jeanette and Leslies Rourke were recovered from the rubble today.
The pair are understood to have died following the explosion on the house on Sunday. A second man, believed to be Nicholas Rourke, is still in hospital. ITV News Reporter Damon Green reports.
Advertisement
Two killed in house gas blast
This photograph has been removed as ITV News no longer has access to it.
Two killed in house gas blast
A man and a woman who died in a suspected gas blast have been named locally as Jeanette and Leslie Rourke.
The pair are thought to have died following the explosion at the terraced house on Sunday, which has left a second man, believed to be Nicholas Rourke, in hospital.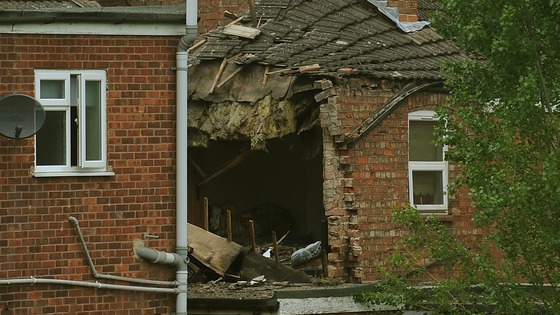 However a four-month old girl had a miraculous escape, after she was rescued from a neighbouring property, with a woman and a seven-year-old boy, Nottinghamshire Police said.
They were taken to the city's Queen's Medical Centre for treatment and have since been discharged.
Two killed in house gas blast
A Nottinghamshire Police spokeswoman confirmed a woman and two men had been in the house where the suspected explosion took place.
She said a woman and two children, a seven-year-old and a four-month-old baby, were taken to hospital from the next door property and later discharged.
The spokeswoman said she was unable to confirm the sex of the children or the ages of the other adults involved at this time.
Two killed in house gas blast
Central
Bryn Coleman from Nottinghamshire Fire and Rescue Service says many residents put themselves in a "dangerous situation" in order to help others trapped in the explosion at Newark, Nottinghamshire.
Load more updates
Back to top