Serbia's world number one Novak Djokovic will return to Davis Cup action after a season's absence when he leads his country against Croatia in the first round in March, he said on Wednesday.
"Novak returns to the Serbia Davis Cup team for the first-round tie against Croatia from March 6-8," a statement on his official website read.
Djokovic, who steered Serbia to the 2010 Davis Cup title, skipped the tournament last season after Serbia fell short in the 2013 final against the Czech Republic, losing 3-2 in Belgrade despite Djokovic winning both his singles rubbers.
The 27-year old finished top of the 2014 world rankings after winning the season-ending ATP World Tour Final in London, which Switzerland's world number two Roger Federer forfeited on Sunday due to a back injury.
Less than 24 hours after Andy Murray's thrashing at the magical hands of Rodger Federer, it was Novak Dokovic's turn to administer his very own London mauling.
Djokovic ensured he finishes 2014 as world number one by dispatching Tomas Berdych 6-2 6-2 to set up a semi-final meeting with Japan's Kei Nishikori at London's ATP World Tour Finals.
Advertisement
Wimbledon champion Novak Djokovic has told ITV news it's up to the men in tennis to "fight" for the wages they deserve.
ITV news sports correspondent Ian Payne asked Djokovic if women should earn the same prize money as their counterparts - even though they play less sets.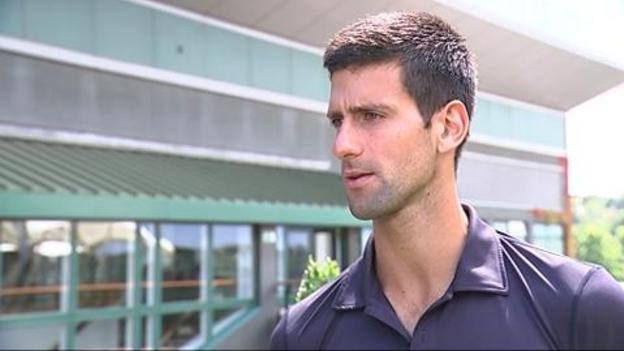 The Serbian who has won Wimbledon twice, acknowledged it was a "sensitive subject."
He added: "Women go through different emotions which you cannot compare to men because they have different bodies.
"It's more a question for us in men's tennis and our associations and fighting for what we deserve. That's where the focus should be."
Both Andy Murray and Novak Djokovic were sent packing in their quarter-final matches at the Western & Southern Open in Cincinnati today.
Defending US Open champion Murray started strongly but faded before crashing to a 6-3, 6-4 defeat against Czech player Tomas Berdych.
World No. 1 Djokovic had the chance to make history this week by becoming the first player to win all nine Masters titles.
However, his hopes of completing the set in Cincinnati were dashed after home favourite John Isner came through 7-6 (7/5), 3-6, 7-5.
An abandoned rescue dog has been rehoused after tennis ace Novak Djokovic took to Twitter to find a new home for the canine.
The Serbian player launched a campaign with his girlfriend Jelena Ristic to place the goldendoodle - a cross between a golden retriever and a poodle - with new owners.
The world number one, who today booked his place in the Wimbledon men's semi finals, tweeted: "My friends from Dogs Trust came to see me and brought along play-date for (my poodle) Pierre. ... Jelena and I named her Bella because she is so beautiful and white (in Serbian white is Bela too)."
He added: "So I committed to help them find her new family... Let's find her home! Everyone deserves to have a family!"
Bella was soon snapped up by a dog-loving family in Kent.
Advertisement
Tennis World No. 1 Novak Djokovic has slammed Lance Armstrong over his doping confession, saying he should "suffer for his lies".
Djokovic said: "I think it's a disgrace for the sport to have an athlete like this. He cheated the sport. He cheated many people around the world with his career, with his life story."
Tennis world number one Novak Djokovic suffered an injury scare at the Hopman Cup in Perth, Australia, when the Serb hurt his leg as fans pushed towards him while he signed autographs.
Djokovic had wrapped up a victory over Italian Andreas Seppi when a barrier holding back autograph hunters collapsed onto his knee.
The Serb left his racquets and bag on the court and limped straight up the players tunnel to receive a medical assessment in the changing room.
Djokovic was unable to complete a television interview he had agreed to after his victory over Seppi, but recovered enough to take part in the concluding doubles match won by the Italians 7-6, 6-4.
The Australian Open, where Djokovic is defending champion, begins on January 14th.
Load more updates