The chief executive of SSE told me that when Hinkley Point is finally completed in 2023 the average bill will go up by around 3%.
Read the full story ›
At "Putting the Customer First" conference last night, Alistair Phillips-Davies told me Hinkley Point will add 3% to every energy bill.
I'm told that the 3% figure is not SSE's but is widely accepted within the industry.
Advertisement
The European Commission has given final approval for the building of a new £16 billion nuclear power station at Hinkley Point, Somerset, Vice-President Joaquin Almunia has confirmed.
Plans to build a new £16 billion nuclear power station in the UK have been given a final approval, Greenpeace has claimed.
European Commission officials are due to meet today to consider the plans for the plant at Hinkley Point in Somerset, but Greenpeace say 16 commissioners have already voted in favour.
The Government said last year that the new plant, due to be built by EDF Energy, could help reduce bills by an average of £77 a year.
But anti-nuclear campaigners expressed "extreme disappointment" at the news, with Greenpeace describing it as a "world-record sell-out" which would harm taxpayers and only benefit big energy firms.
Under the plans, the power station will begin operating in 2023.
The debate has turned to the familiar issue of the Trident nuclear deterrent, which is based at Faslane Navy base on the Clyde.
"Trident is probably the least efficient job creation scheme you can imagine," says Patrick Harvie. "Getting rid of Trident will not close the base, it will continue to have a non-nuclear function, but the opportunity to re-invest in the really socially useful things that we do need," he says.
Ruth Davidson replies: "Faslane is the biggest single-site employer in Scotland and if you go and speak to people in Helensburgh and surrounding areas, they don't want the [nuclear warhead bearing] submarines to go".
The penultimate part of the debate is about international affairs.
Scottish Conservative leader Ruth Davidson argues that the best way of reducing the number of nuclear weapons in the UK and around the world is to work with other countries towards this goal.
Powerful case from Ruth Davidson for working multilaterally to make the world safer. #scotdecides
Scottish Greens co-convener Patrick Harvie says that Scotland is committing to "unilateral rearmament" and a future of "psychopathic weapons" if it remains part of the UK.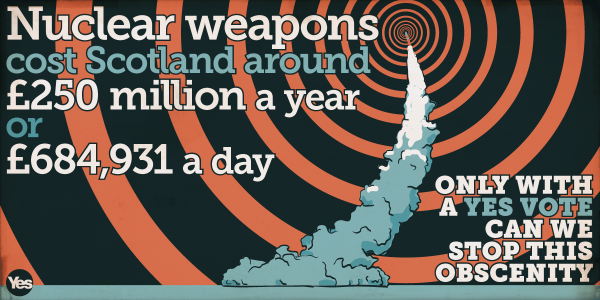 Advertisement
Iran has eliminated its stockpile of enriched uranium gas under a nuclear deal with the six world powers, Reuters has reported.
US Secretary of State John Kerry has arrived in Vienna for talks with foreign ministers about Tehran's nuclear program.
Iran and the six powers- Britain, the US, France, Germany, Russia and China- aim to reach a long-term deal to end the decade-old nuclear standoff by July 20.
A campaign for recognition and compensation for servicemen exposed to UK nuclear weapons during tests in the '50s took a step forward today.
Read the full story ›
Iran's Supreme Leader described Western expectations for his country to curb its missile development as "stupid and idiotic," striking a defiant tone ahead of a fresh round of nuclear talks.
Ayatollah Ali Khamenei called on Iran's Revolutionary Guards to mass produce missiles and said the nuclear negotiations were not the place to discuss Tehran's defence programme.
"They expect us to limit our missile programme while they constantly threaten Iran with military action," Khamenei was quoted as telling the IRNA news agency.
Iran and the United States, France, Germany, Britain, China and Russia will reconvene in Vienna on Tuesday for a new round of nuclear talks.
Load more updates