The debate has turned to the familiar issue of the Trident nuclear deterrent, which is based at Faslane Navy base on the Clyde.
"Trident is probably the least efficient job creation scheme you can imagine," says Patrick Harvie. "Getting rid of Trident will not close the base, it will continue to have a non-nuclear function, but the opportunity to re-invest in the really socially useful things that we do need," he says.
Ruth Davidson replies: "Faslane is the biggest single-site employer in Scotland and if you go and speak to people in Helensburgh and surrounding areas, they don't want the [nuclear warhead bearing] submarines to go".
The penultimate part of the debate is about international affairs.
Scottish Conservative leader Ruth Davidson argues that the best way of reducing the number of nuclear weapons in the UK and around the world is to work with other countries towards this goal.
Powerful case from Ruth Davidson for working multilaterally to make the world safer. #scotdecides
Scottish Greens co-convener Patrick Harvie says that Scotland is committing to "unilateral rearmament" and a future of "psychopathic weapons" if it remains part of the UK.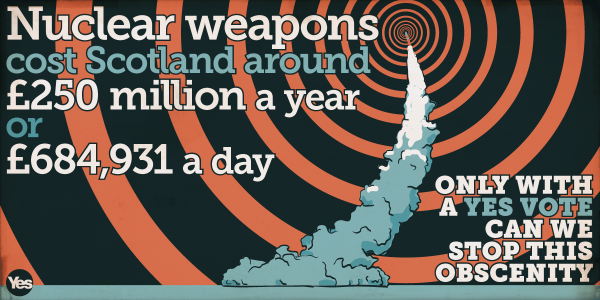 Advertisement
Iran has eliminated its stockpile of enriched uranium gas under a nuclear deal with the six world powers, Reuters has reported.
US Secretary of State John Kerry has arrived in Vienna for talks with foreign ministers about Tehran's nuclear program.
Iran and the six powers- Britain, the US, France, Germany, Russia and China- aim to reach a long-term deal to end the decade-old nuclear standoff by July 20.
A campaign for recognition and compensation for servicemen exposed to UK nuclear weapons during tests in the '50s took a step forward today.
Read the full story ›
Iran's Supreme Leader described Western expectations for his country to curb its missile development as "stupid and idiotic," striking a defiant tone ahead of a fresh round of nuclear talks.
Ayatollah Ali Khamenei called on Iran's Revolutionary Guards to mass produce missiles and said the nuclear negotiations were not the place to discuss Tehran's defence programme.
"They expect us to limit our missile programme while they constantly threaten Iran with military action," Khamenei was quoted as telling the IRNA news agency.
Iran and the United States, France, Germany, Britain, China and Russia will reconvene in Vienna on Tuesday for a new round of nuclear talks.
Advertisement
Opposition politicians have called for a parliamentary inquiry into the handling of a radiation leak at a nuclear test reactor.
Public confidence has been damaged by the incident at the Vulcan Naval Reactor Test Establishment in Dounreay, Caithness, according to shadow defence secretary Vernon Coaker and shadow Scottish secretary Margaret Curran.
UK Defence Secretary Philip Hammond revealed details of a small internal leak of radiation on Thursday as he announced that the nuclear submarine HMS Vanguard is to have its reactor refuelled at a cost of £120 million.
Mr Coaker and Ms Curran said there were "significant questions" about the handling of the incident, particularly the two-year delay in making it public.
Russia may suspend nuclear arms inspections in a treaty with the US in reaction to Western sanctions over Ukraine, Russian news agencies quoted an unnamed defence ministry source as saying.
"The ungrounded threats to Russia from the US and NATO over its Ukrainian policy are regarded by us as an unfriendly gesture and allow us to announce force majeure," the unnamed source was quoted as saying by the state-owned RIA Novosti news agency.
"We are ready to take this step as a response to the Pentagon's statements about suspension of engagements between the armies of Russia and the US," the source added.
A spokesperson for the White House has confirmed that the US will follow through on its commitment to reduce some of the sanctions against Iran as laid out in a recent nuclear deal.
The spokesperson added that the US and its partners will "continue our aggressive enforcement" of the sanctions that remain in place.
A State Department source said that the US was "clear-eyed" about the difficulties that remain in addressing international concerns about Iran's nuclear programme.
Iran has said it will suspend its uranium enrichment in a few hours once talks with the UN nuclear watchdog have ended, the country's Fars news agency has reported, quoting an official.
The International Atomic Energy Agency and our experts are in technical talks ... after that ends, I believe the suspension will start around noon (local time).
– Behrouz Kamalvandi, spokesman for Iran's Atomic Energy Organisation
A landmark deal curbing Tehran's nuclear programme is being implemented by world powers and Iran.
Load more updates