US Secretary of State John Kerry says there has been "real and substantial progress" in coming to an international agreement on Iran's nuclear programme.
He praised the "diligent" approach of his Iranian counterpart Javad Zarif, but warned there remain "significant points of disagreement" that have to be worked through.
Mr Kerry was speaking after the latest round of negotiations in Vienna were adjourned.
He said the talks had been extended for another seven months, with a "very specific goal" of reaching a political agreement within four months.
[The talks] are tough and they've been tough and they're going to stay tough. If it were easier, if views on both sides weren't as deeply held as they are then we'd have reached a final agreement months or even years ago. But in these last days in Vienna we have made real and substantial progress and we have seen new ideas surface.
– John Kerry
Iran and the six powers will resume talks on the country's nuclear programme next month after a second bid to resolve the issue failed today.
British Foreign Secretary Philip Hammond said "some significant progress" had been made but it had not been possible to complete a deal before today's deadline.
It has now been extended until June next year.
Mr Hammond added the expectation was Iran would continue to refrain from sensitive atomic activity during that time.
Advertisement
Talks between six world powers and the Iranian government over the country's nuclear programme are set to adjourn without an agreement, a source close to negotiations has told Reuters.
The talks are expected to restart next month, possibly in the Gulf state of Oman, although details about a resumption are still being worked out, the source added.
They are aimed at securing a deal under which sanctions against Iran would be gradually lifted in exchange for curbs on its nuclear programme.
The chief executive of SSE told me that when Hinkley Point is finally completed in 2023 the average bill will go up by around 3%.
Read the full story ›
At "Putting the Customer First" conference last night, Alistair Phillips-Davies told me Hinkley Point will add 3% to every energy bill.
I'm told that the 3% figure is not SSE's but is widely accepted within the industry.
The European Commission has given final approval for the building of a new £16 billion nuclear power station at Hinkley Point, Somerset, Vice-President Joaquin Almunia has confirmed.
Advertisement
Plans to build a new £16 billion nuclear power station in the UK have been given a final approval, Greenpeace has claimed.
European Commission officials are due to meet today to consider the plans for the plant at Hinkley Point in Somerset, but Greenpeace say 16 commissioners have already voted in favour.
The Government said last year that the new plant, due to be built by EDF Energy, could help reduce bills by an average of £77 a year.
But anti-nuclear campaigners expressed "extreme disappointment" at the news, with Greenpeace describing it as a "world-record sell-out" which would harm taxpayers and only benefit big energy firms.
Under the plans, the power station will begin operating in 2023.
The debate has turned to the familiar issue of the Trident nuclear deterrent, which is based at Faslane Navy base on the Clyde.
"Trident is probably the least efficient job creation scheme you can imagine," says Patrick Harvie. "Getting rid of Trident will not close the base, it will continue to have a non-nuclear function, but the opportunity to re-invest in the really socially useful things that we do need," he says.
Ruth Davidson replies: "Faslane is the biggest single-site employer in Scotland and if you go and speak to people in Helensburgh and surrounding areas, they don't want the [nuclear warhead bearing] submarines to go".
The penultimate part of the debate is about international affairs.
Scottish Conservative leader Ruth Davidson argues that the best way of reducing the number of nuclear weapons in the UK and around the world is to work with other countries towards this goal.
Powerful case from Ruth Davidson for working multilaterally to make the world safer. #scotdecides
Scottish Greens co-convener Patrick Harvie says that Scotland is committing to "unilateral rearmament" and a future of "psychopathic weapons" if it remains part of the UK.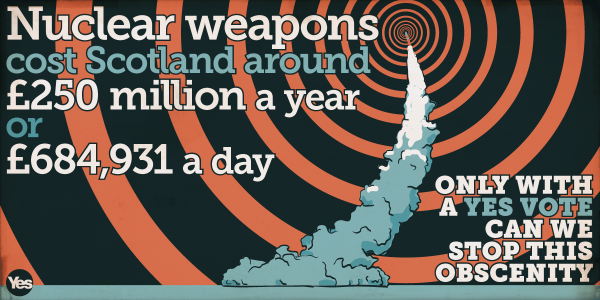 Iran has eliminated its stockpile of enriched uranium gas under a nuclear deal with the six world powers, Reuters has reported.
Load more updates