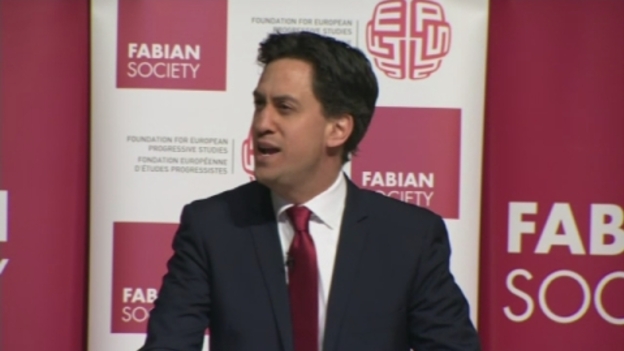 Ed Miliband says Britons has attacked the Conservatives for "denial, complacency and failure" on the British public's standard of living.
After David Cameron suggested companies benefiting from falling oil prices should pass the savings on to staff in pay rises, the Labour leader said the Prime Minister's words would have people "choking on their cornflakes".
"This is someone who has spent months and years telling us there was no cost of living crisis, and then if there ever was one, it had been fixed," he said.
He criticised Cameron for "running from" the planned TV debates, and claimed that "for the first time since the 1920s, working people will be worse off at the end of a government than they were at the start."
Labour says falling oil prices will not solve "deep-seated" problems in the UK economy with stagnant wages.
Shadow treasury minister Shabana Mahmood said working people were "£1,600 a year worse off under David Cameron and said that "wages continue to stagnate".
She also criticised the Conservatives for blocking Labour proposals to give energy regulator Ofgem more control over household bills.
Advertisement
Asked whether he would encourage firms to pass on some of the windfall profits from falling oil prices in higher wages, David Cameron said he wanted firms to increase wages.
David Cameron has said firms should pass on the benefits of falling oil prices to their staff.
The Prime Minister said plummeting costs were a real boost for many businesses and workers should reap the rewards
He called on companies that could afford it to pay staff the living wage, currently set at £7.85.
Mr Cameron was speaking in Washington during a two-day visit to the US for talks with President Obama.
The price of Brent crude oil prices has fallen below $50 (£33) a barrel for the first time since May 2009.
Benchmark Brent crude futures fell more than a dollar to $49.92 a barrel this morning, later rising back above $50.
Analysts said that further price falls were likely because of an excess of supply and sluggish demand
Shippers, airlines and motorists stand to gain from the fall.
Bank of England governor Mark Carney said last month that the oil price slide was a "net positive development" for the UK.
Approximately 10,000 gallons of crude oil has leaked onto the streets of Los Angeles after a high-pressure pipe burst.
It is believed to have covered a half-mile area and is knee deep in some areas.
Locals have tweeted pictures of the flowing oil on the streets:
Advertisement
Approximately 10,000 gallons of crude oil sprayed on to the streets of Los Angeles after a high-pressure pipe burst. The oil was seen shooting up into the sky and onto streets and nearby businesses.
The Los Angeles fire department says the spill covered a half-mile area and is knee deep in some areas.
No injuries have been reported.
Oil prices fell sharply today after world powers struck a landmark deal with Iran to curb its nuclear programme in exchange for an easing of international sanctions.
While Iran will not be allowed to increase its oil sales for six months, any easing of Middle East tensions tends to lead to lower crude prices.
A British oil worker kidnapped in Indonesia has been released, the Foreign Office has said.
Engineer Malcolm Primrose, 61, was ambushed by an armed gang as he travelled home from a drilling site in the Aceh region on Tuesday, local reports said.
The Foreign Office said that the 61-year-old is "safe but tired" after his release, which followed a police search of the local area with the assistance of soldiers.
No arrests are known to have been made at this stage.
Downing Street said that Mr Cameron has not spoken with BP about their concern about the rising compensation costs from the 2010 Gulf of Mexico oil spill, nor did he raise the issue with president Obama or other US authorities during his visit last week. A Number 10 spokesperson said:
Load more updates