West Ham are confident that the deal to move into the Olympic Stadium does not contravene domestic or European legislation
Read the full story ›
The cost refurbishing the Olympic Stadium for West Ham's move could rise by up to £50million due to the complexity of extending the roof
Read the full story ›
Advertisement
Olympic parachutist Mark Sutton's reportedly fatal accident is understood to have happened on the first day of a three-day wingsuit event near Martigny, in the Valais canton, near the French border.
Mr Sutton had been very experienced in using the special jump suits, which increase the surface area of the body and act like a parachute wing, allowing users to glide through the air at high speeds.
A video on Mr Sutton's YouTube account shows him in several wingsuit flights, including this one near Riva del Garda in northern Italy in August last year, which he introduces with a reference to Team GB:
A British stuntman who parachuted into the Olympic Park dressed as James Bond during the London 2012's opening ceremony has reportedly been killed in an accident.
Mark Sutton, 42, crashed into a mountain ridge in the Swiss Alps yesterday and is understood to have died on impact, The Times has reported.
He had been invited to take part in a wing-diving event with 19 other wing-suit pilots, which involved being filmed jumping from helicopters. The cause of the accident is not yet clear.
Mr Sutton took part in one of the most memorable sequences of the Olympics ceremony when, dressed as Daniel Craig's 007, he parachuted into the stadium with a fellow stuntman, who was dressed as the Queen.
David Weir and Hannah Cockcroft were among the British Paralympians enjoying a winning feeling once more at the Anniversary Games in London.
Read the full story ›
David Weir has rounded off the Paralympic Anniversary Games with a repeat of his London 2012 success, clinching the T54 mile by a wide margin of victory.
Weir, who claimed four golds last summer, took the title with a winning time of three minutes and 16.4 seconds at the Olympic Stadium.
The final day had seen other British success with Hannah Cockroft claiming the T33/34 100m title, Dan Greaves winning the F42/44 discus and Richard Whitehead racing home first in the T42 200m.
Advertisement
Jonnie Peacock's bid for the T43/44 100m title at the Paralympic Anniversary Games has fallen short after world record runs by Brazil's Alan Oliveira and the USA's Richard Browne.
Oliveira won the final in a new best time of 10.57, while Browne broke the T44 record with 10.75.
Peacock, though, still achieved a career best time of 10.84 to finish third at the Olympic Stadium as the three-day athletics event comes to an end.
Olympic heptathlon champion Jessica Ennis-Hill has thanked her fans after she made her comeback from injury at the Olympic Stadium.
Such amazing support in the stadium today! Thank you!! Great memories!!
Paralympic athletes have been gearing up for their return to the Olympic Stadium as part of the London Diamond League Anniversary Games.
Gold medal winning sprint runner Jonnie Peacock: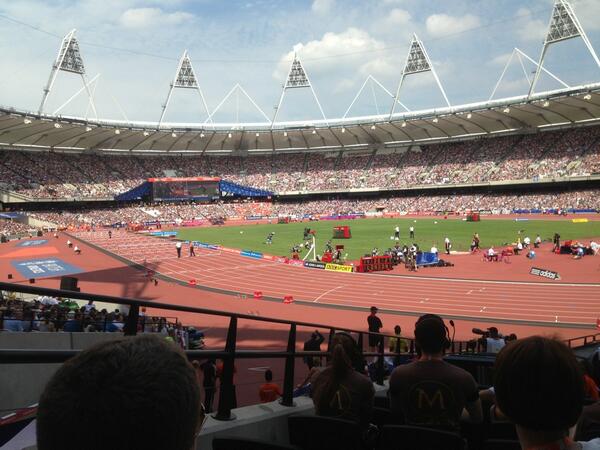 Double Paralympic wheelchair racing gold medallist Hannah Cockroft:
Silver medallist track and field Paralympian Stefanie McLeod Reid:
Phew!! Arrived safe and sound. That was a lot of Paralympic talent on one flight! @c4paralympics
Load more updates