The International Olympic Committee has sent a clear warning to the organisers of the Rio 2016 Games that "every second counts" after visiting the Brazilian city.
With just over two years to go, the IOC said that a "constant, concerted and integrated effort is required for the successful delivery of the Games and its legacy".
It added: "Although progress is being made, each decision that is postponed and each subsequent delay will have a negative impact on delivery. Total focus and dedication are therefore required."
ITV News' Brazil correspondent Nick Ravenscroft, who was at the news conference, tweeted:
IOC presser re Rio 2016. Time + again say they have been "given assurances" that problems and delays in preparations will be resolved (1/2)
Scepticism from assembled hacks. These sound v much like assurances given re preparations for World Cup. And that's dangerously late. (2/2)
Should we be promoting mass participation sports at all costs or should we concentrate on medal-winning niche sports?
Read the full story ›
Advertisement
Comments made by sports and equalities minister Helen Grant have been criticised by anti-sexism campaigners as "discouraging" at a time when female Olympians are leading the glory for Britain at the Sochi games.
Founder of the Everyday Sexism Project, Laura Bates, said: "It's really the wrong approach to suggest that the only way for women to get involved in sports is to be girlie and feminine."It's actually discouraging for a minister to say this.
"With our great athletes performing fantastically at the Olympics, we still see media outlets focusing on the looks and femininity, which the comments seem to do too."
Lizzy Yarnold, 25, won the country's first gold medal at the Winter Olympics in the skeleton while Jenny Jones took a bronze in snowboard slopestyle and so did the female curling team.
Short track speed skater Elise Christie missed out on a silver medal after she was disqualified in the women's 500 metres final at the Winter Olympics in Sochi.
The 23-year-old Scot recovered from a fall to cross the line in second, but judges swiftly dropped her to fourth place after blaming her for the fall.
On her disqualification, Christie told BBC Sport: "I thought she hit me. I was not sure if it would go my way. I did not think it would be me [to be penalised] but it was. You have to respect the decision. I have not watched it back so I cannot comment."
The BBC has admitted that "excitement got the better of" their commentary team during Jenny Jones' bronze medal winning slopestyle final at the Sochi Winter Olympics after more than 300 complaints from viewers.
Ed Leigh, Tim Warwood and fellow snowboarder Aimee Fuller were heard cheering when other competitors fell during Jones' medal pursuit, prompting around 303 complaints from viewers unhappy at the standard of commentary.
Viewers heard Warwood say "I can't look, someone else commentate" as the British hopeful was about to start her run, before Fuller screamed "go on the Jones" after the score for her second attempt initially put her into a gold medal position.
Fuller also cheered when Austrian snowboarder Anna Glasser suffered a bad landing which boosted Jones' medal hopes, before saying: "Are we supposed to do that? Probably not."
All three commentators began crying once Jones' triumph was confirmed.
A BBC spokeswoman said: "This was a truly historic occasion for Team GB and the commentary team were understandably very excited, however we acknowledge that on occasion this excitement got the better of them and this is something that we will work on for future events."
Advertisement
Jenny Jones' bronze medal win led to an "incredible vibe" in the Team GB camp, according to another of Britain's medal hopes.
Shelley Rudman, who is set to compete in the Skeleton event later this week, said the win has increased the positive atmosphere within the team.
Jones won Britain's first medal at the Winter Olympics in Sochi after claiming bronze in the snowboard slopestyle event on Sunday.
The Bristol snowboarder Jenny Jones is celebrating winning Great Britain's first medal of the Winter Olympics.
The former Filton College student is the first Team GB athlete to ever win an Olympic medal in a snow-based sport. She won bronze in the spectacular sport of snowboard slopestyle in Sochi thanks to a brilliant second run in yesterday's final.
Team GB's first Sochi 2014 Olympic medal winner, Jenny Jones, says she feels "very proud" of her achievements in taking out the bronze in the women's snowboard slopestyle.
Jones, a three-time X Games gold medallist, said today's result instilled a different feeling - a "feeling of doing something for your country".
"I think it really hit home when the (British) flag came up," she told the BBC.
"I was just like 'Oh my goodness, this is it. I've done this and it's for Great Britain'."
Jenny Jones has tweeted a picture of herself with her fellow women's snowboard slopestyle Olympic winners, Jamie Anderson and Enni Rukajärvi, ahead of the medal ceremony.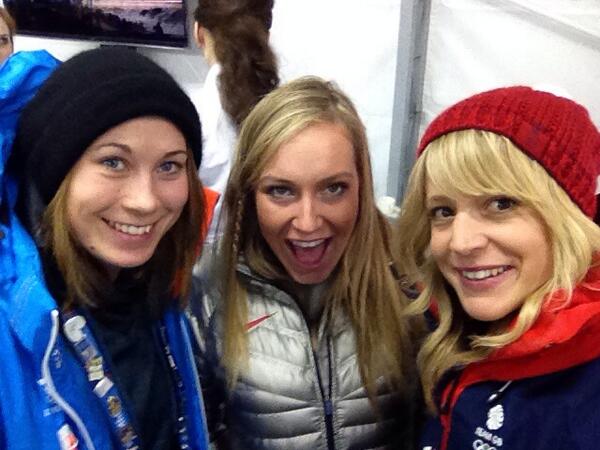 Jones becomes the first Briton to win a Winter Olympic medal in a snow event after her bronze medal-winning performance at Sochi.
Load more updates