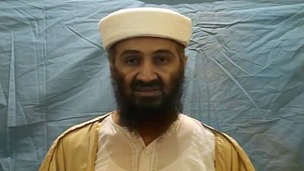 "In that second, I shot him, two times in the forehead. Bap! Bap! ... he was dead, not moving."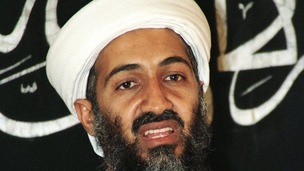 A full list of al Qaeda members and plans to assassinate President Obama have been revealed in documents seized from Bin Laden's compound.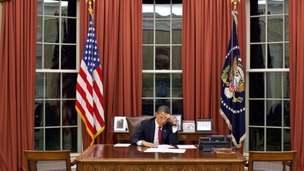 To mark the anniversary of Osama bin Laden's death, the White House has given unprecedented access to NBC to enter its situation room.
Live updates
Bin Laden's spokesman due in court in New York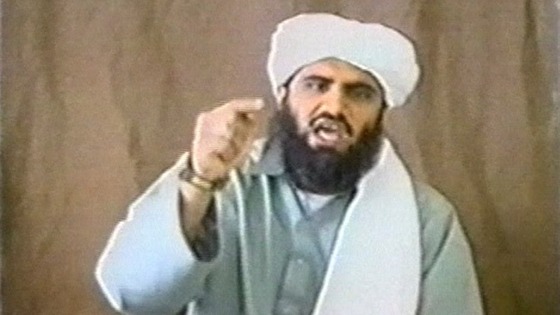 Osama bin Laden's spokesman and son-in-law has been captured by officials in the US in what a senior congressman called a "very significant victory" in the fight against al Qaida.
Sulaiman Abu Ghaith is expected to be in US federal court in New York later today in an initial hearing to face terror charges, according to a law enforcement official.
Abu Ghaith became an international name in late 2001 when he appeared on pan-Arab satellite television urging Muslims everywhere to fight the United States and warning of more attacks similar to those of September 11.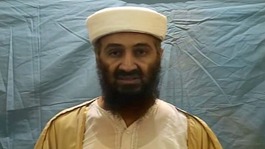 "In that second, I shot him, two times in the forehead. Bap! Bap! ... he was dead, not moving."
Read the full story
Advertisement
Bin Laden death details revealed
Navy Seal reveals details of Osama bin Laden mission
A US Navy Seal has revealed details of the raid that killed Osama bin Laden in his book No Easy Day.
In an extract published in the Mail on Sunday, Mark Bissonnette wrote: "The point man had seen a man peeking out of the door on the right side of the hallway about ten feet in front of him. I couldn't tell from my position if the rounds hit the target or not. The man disappeared into the dark room".
He added: "The man's face was mangled from at least one bullet wound and covered in blood. A hole in his forehead collapsed the right side of his skull. His chest was torn up from where the bullets had entered his body.
"He was lying in an ever-growing pool of blood. As I crouched down to take a closer look, Tom joined me. 'I think this is our boy,' Tom said".
US warning to Bin Laden author
Pentagon threatens legal action against US Navy SEAL
The Pentagon has said tonight that it is considering "all remedies legally available" against former US Navy SEAL Matt Bisonnette and "those acting in concert with him" after he published a book giving a first hand account of the death of Osama bin Laden which contradicted the official version.
The Pentagon warned Bisonnette in a letter that he was in material breach of non-disclosure agreements with his book.
In the judgment of the Department of Defense, you are in material breach and violation of the non-disclosure agreements you signed. Further public dissemination of your book will aggravate your breach and violation of your agreements.
US warning to Bin Laden author
Body of Osama bin Laden 'identified by young girl'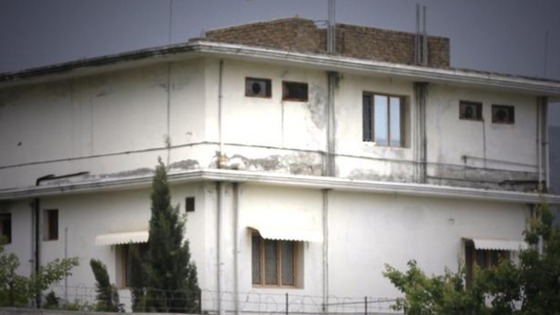 Matt Bissonnette's account of Osama bin Laden's death describes the moments when the US Navy SEALS stormed his compound and shot him in the head. Bisonnette, in his book "No Easy Way" written under the pseudonym Mark Owen, said Osama's bloodied corpse was identified by a child.
Bissonnette said one of the SEALs dressed the wounds of a woman who was shot when she lunged towards the men, and he described a terrified mother clutching her child as a young girl identifies the man in a bedroom of the house as Osama bin Laden, "seemingly unaware of the significance"
US warning to Bin Laden author
US Navy 'not sure' if bin Laden was armed when they fired
Former US Navy SEAL Matt Bissonnette has revealed a different version of events of the death of Osama bin Laden, in a new book due to be published next week called "No Easy Day."
Bissonnette wrote that the SEALs spotted bin Laden at the top of a darkened hallway and shot him in the head even though they could not tell whether he was armed.
US government officials said the SEALs shot bin Laden only after he ducked back into a bedroom because they assumed he might be reaching for a weapon.
Advertisement
US warning to Bin Laden author
First hand account shows Osama bin Laden death up-close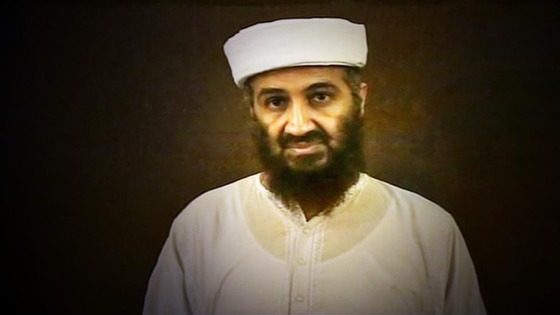 A US Navy SEAL has written a first hand account of the raid that killed Osama bin Laden appears to contradict the key details of his death released by the US government.
Former SEAL Matt Bissonnette's account differs in key details from the account of the raid presented by officials in the days after the raid in May 2011.
Navy Seal to release book on bin Laden raid on 9/11
A Navy Seal who was involved in the mission that killed Osama bin Laden is set to release a book on the historic event.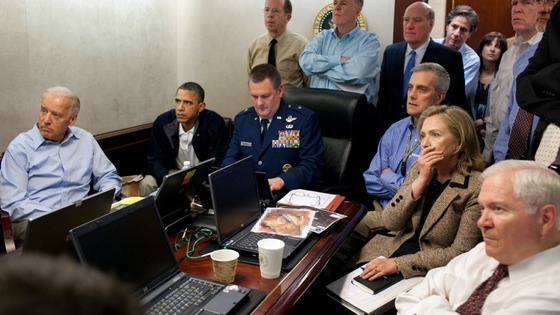 Mark Owen - a pseudonym for the combat veteran who was one of the first fighters to enter bin Laden's third floor hideout - will release the book No Easy Day on September 11.
Publisher Dutton announced that the book would "set the record straight" on the raid in Pakistan in May 2011.
Read our Washington Correspondent Robert Moore's blog: Retired Navy Seals and CIA take aim at Obama as they claim president is taking credit for the killing of bin Laden.
US attack bin Laden Dr sentence
Clinton: Pakistan doctor helped end Osama bin Laden's reign of terror
US Foreign Secretary Hillary Clinton has said that there is no basis to the imprisonment of Dr Afridi and said that his actions were not a betrayal of Pakistan. She also insisted that the U.S. will continue to press the issue with the government of Pakistan.
Ms Clinton said: "His help was instrumental in taking down one of the world's most notorious murders, that was clearly in Pakistan's interest and well as ours and the rest of the world."
Clinton 'regrets' Pakistan's jailing of doctor
The US Secretary of State Hillary Clinton has called Pakistan's jailing of a doctor who helped the US track down Osama bin Laden "unjust and unwarranted".
Dr Shakil Afridi was sentenced to 33 years in prison for high treason. Secretary Clinton said:
The United States does not believe there is any basis for holding Dr Afridi. We regret the fact that he was convicted and the severity of his sentence.
Load more updates
Back to top