Prosecutors appeal to South Africa's Supreme Court to have conviction against Oscar Pistorius changed from 'culpable homicide' to murder
Read the full story ›
An appeal by South African prosecutors to have Oscar Pistorius' culpable homicide charge changed to a murder one has come to an end with judgement reserved until a later date.
#oscarappeal is over. judgement reserved. won;t call it from tone of hearing, but defence were given a very tough time
Advertisement
An appeal court judge has told Oscar Pistorius' lawyer that it "would be a miracle not to shoot someone" if firing repeatedly through a door which someone is behind.
Responding to the lawyer's submission that the original judge in his client's case had not ignored key circumstantial evidence Justice Leach said: "If you put four shoots through that door you must surely foresee that you will shoot someone."
#oscarpistorius appeal court judge Leach; if you fired for times thought the toilet door it would be a miracle not to shoot someone inside
#oscarappeal judge leach giving defence hard time: can't OP be convicted of murder of person in toilet even if he thought Reeve was in bed?
#oscarappeal. judge leach again. Was there anything to show OP that his life was in danger (from imagined intruder)? V tough on defence case
The prosecutor in the Oscar Pistorious case has argued that the judge in the original case should not have thrown out circumstantial evidence which would have made the athlete's version of events "impossible".
Gerrie Nel said: "The court ignored the evidence, the most important circumstantial evidence, that would make the accused version, not reasonably or possibly true, but impossible."
Nel is arguing that Pistorius should have been given a murder conviction.
#OscarAppeal prosecution claims original trial ignored most important circumstantial evidence that would make OP's version impossible
#OscarAppeal prosecution: on objective facts, the accused cannot escape a conviction for murder.
Reeva Steenkamp's mother June has arrived in court this morning as Oscar Pistorius's lawyers appear back before judges in a fresh bid to try to keep their client from returning to jail.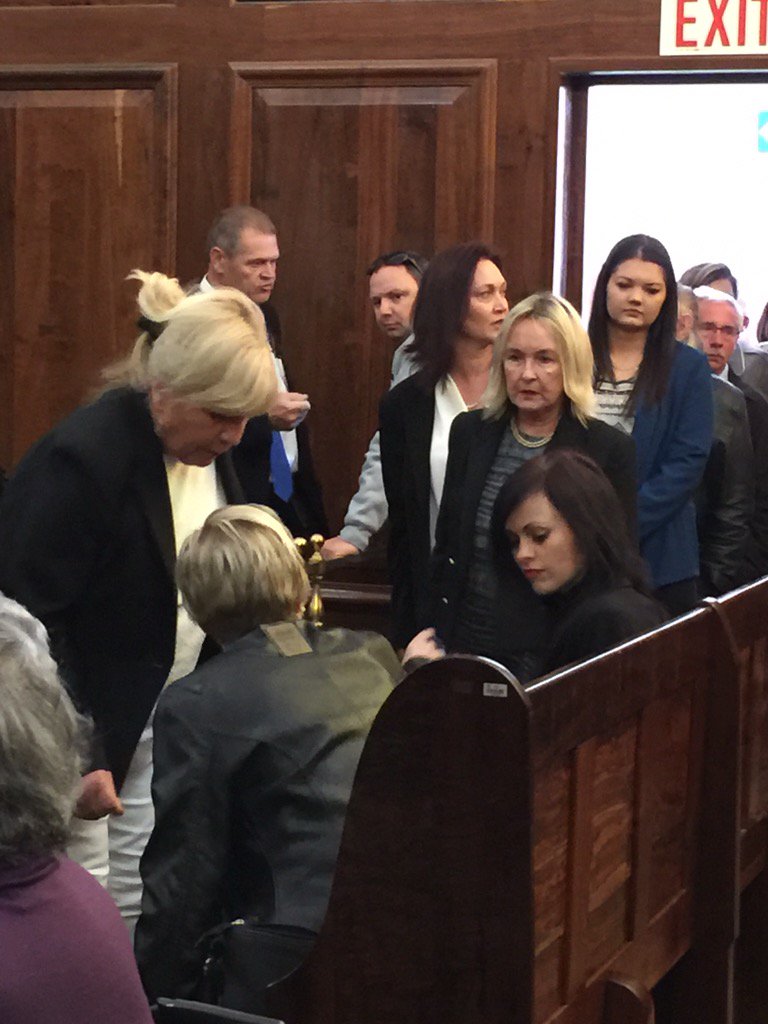 Speaking to Sky News Reeva's mother said the paralympian's original sentence had been too short.
She said: "He killed her and he's been in jail for 11 months and it's too short a time for taking someone's life.
"And even though I don't want to hurt him in any way, he has to face the truth … it's justice for Reeva."
Two weeks since he was released on parole, Oscar Pistorius's lawyers are back in court to try to keep their client from returning to jail.
Read the full story ›
Advertisement
Slain model Reeva Steenkamp's mother has said she does not want revenge against her killer Oscar Pistorius.
Read the full story ›
The family of Reeva Steenkamp has said they intend to keep the memory of their slain daughter alive by establishing a charity in their her name, adding that the early release of Oscar Pistorius "makes no difference" to them.
Speaking to ITV News via Skype on behalf of the Steenkamp family, Tania Koen said they are not focusing on Pistorius' release into correctional supervision, instead putting "all their energy" into the Reeva Rebecca Steenkamp Foundation.
It makes no difference to the Steenkamp 's lives whether Oscar Pistorius was released earlier or later...their daughter is still not coming back.

They are focusing all their energy on the the Reeva Rebecca Steenkamp Foundation to continue with the good work she would have done had seen been still alive.
– Tania Koen, family spokesperson
Oscar Pistorius will "strictly adhere" to the parole conditions of his correctional supervision, his family have said in a statement.
Anneliese Burgess - a spokesperson for the Pistorius family - read out a prepared statement on their behalf:
It's very important for the family to emphasise that Oscar's sentence hasn't been shortened or reduced.

He is simply entering the next phase of his sentencing now. He willl serve this under the strict conditions that govern correctional supervision.

The family will support Oscar as he serves out the remainder of the five-year sentence handed down by the trial judge and he will strictly adhere to the conditions set by the parole board and community corrections.
– Anneliese Burgess, Pistorius family spokesperson
The decision to release Oscar Pistorius into correctional supervision took into account the interests of "all parties concerned", a prison spokesperson has said.
Manelisi Wolela, Department of Correctional Services Spokesperson said:
The responsibility of managing the actual placements following the decisions that were taken by the parole boards is the responsibility of the local management of the correctional centre concerned.

We believe that they have, whatever that they do they have to take into account the interests of all parties concerned including the victims, the offender himself or herself, as well as the Department of Correctional Services.
– Manelisi Wolela
Load more updates