Former Academy Award winner Liza Minnelli has become a viral hit - for missing out on the most retweeted selfie in history.
The Cabaret star, seen in an electric blue trouser suit, stood up to join the star-studded picture at the Oscars but was crowded out by taller actors.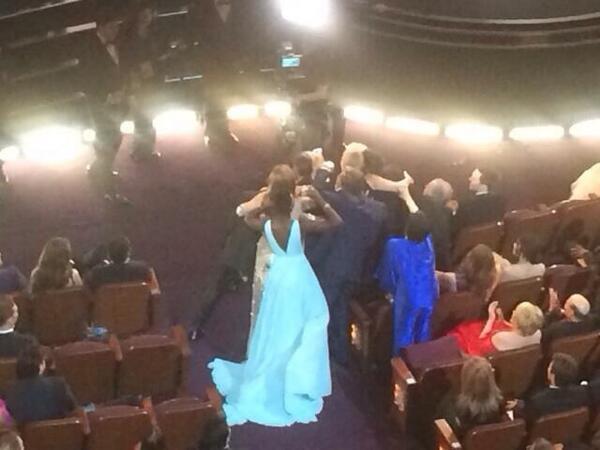 The image of her failed attempt was shared widely on Twitter, though still well below the number of times the record-breaking Ellen DeGeneres selfie was retweeted.
Host DeGeneres later took a photo with the veteran star, who was crowned Best Actress in 1973, during the ceremony to make amends.
12 Years A Slave director Steve McQueen was the talk of Tinseltown after delivering the longest acceptance speech of the night upon winning the Best Film award.
Taking over from the film's producer Brad Pitt on stage, the British film-maker unveiled an A4 sheet of paper with a list of people to thank and apologised for boring the audience.
Watch his and all the other main acceptance speeches, including Best Actor Matthew McConaughey, Best Actress Cate Blanchett, Best Director Alfonso Cuaron, Best Supporting Actor Jared Leto and Best Supporting Actress Lupita Nyong'o:
Advertisement
History was made at the Oscars as the world's most retweeted Twitter post was recorded after host Ellen DeGeneres got Bradley Cooper to take a star-studded selfie.
The front row A-listers were also treated to a pizza delivery between the awards in the notoriously long ceremony.
Media mogul Harvey Weinstein joked about how his involvement in one of the sketches from this year's Oscars cost him $200.
Host Ellen Degeneres ordered in pizza for guests, which Weinstein offered to chip in for.
"It cost me $200! She didn't give it back! She put it in her pocket! I'm serious - she didn't give any of that money back."
Best Supporting Actor winner Jared Leto has told Daybreak how his portrayal of a transgendered woman was the "role of a lifetime".
Benedict Cumberbatch was already caught up in the Oscar "party pandemonium" before he went on to photobomb U2 on the red carpet.
The British actor halted a pre-show interview as a huge roar went up for another star arrival at the Dolby Theater and declared: "This place is crazy."
12 Years A Slave star Lupita Nyong'o, who went on to claim the best supporting actress award, and her director, Steve McQueen, also gave their pre-show thoughts, along with Philomena star Steve Coogan.
Advertisement
Football legend Sir Alex Ferguson has arrived at the Vanity Fair Oscar after-party.
He told Daybreak's Ross King his favourite film out of the nominees was Best Film winner 12 Years A Slave, but also praised Captain Phillips, which starred Tom Hanks.
Congratulations to British director, Steve McQueen, after his film "12Years a Slave" won the award for Best Picture at the #Oscars.
Steve McQueen's 12 Years a Slave was named Best Picture at the 86th Academy Awards, but who else was honoured with an Oscar?
Read the full story ›
Steve McQueen's 12 Years a Slave has won the Oscar for Best Picture.
Load more updates