The Oscar for Best Short Live Action Film has gone to Stutterer's Benjamin Cleary and Serena Armitage.
The other nominations were:
Ave Maria
Day One
Everything Will Be Okay (Alles Wird Gut)
Shok
Actors, directors, singers and comedians all took to Twitter to praise Chris Rock for his "hysterical" opening monologue.
Read the full story ›
Advertisement
Amy - the biopic on the life of Amy Winehouse - has won the Oscar for Best Documentary Feature Film.
Asif Kapadia and James Gay-Rees collected the award.
The other nominations were:
Cartel Land

The Look of Silence

What Happened, Miss Simone?

Winter on Fire: Ukraine's Fight for Freedom
The Oscar for Best Documentary Short Film has gone to Sharmeen Obaid-Chinoy for A Girl in the River: The Price of Forgiveness.
The film followed a girl who survived an honour killing by her father, who shot her in the head and threw her body in a river.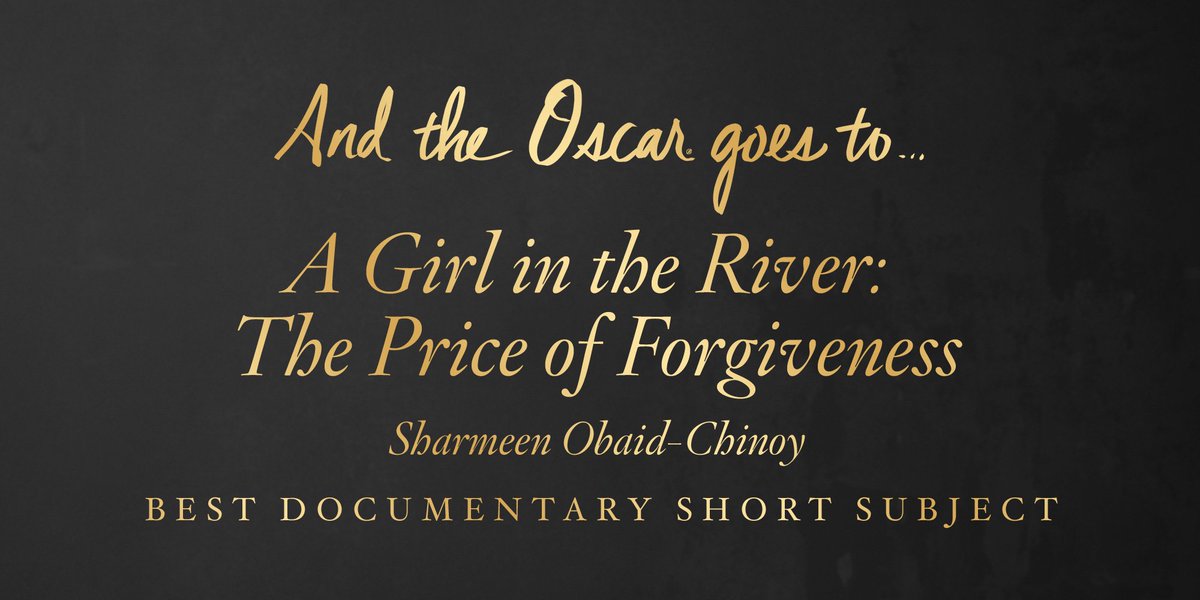 The other nominations were:
Body Team 12
Chau, beyond the Lines
Claude Lanzmann: Spectres of the Shoah
Last Day of Freedom
Oscars host Chris Rock used the opportunity of having some of the highest paid actors in the world to sell his daughters' Girl Scout Cookies.
"Are you going to deny my princesses some cookies?" he asked the audience to much applause.
"Get that money girls, make that money", Rock said as the girls handed out the biscuits to stars including Kate Winslet and John Legend.
"Leo [DiCaprio], you made $30 million, come on!" he joked.
The Oscar for Best Supporting Actor has gone to Mark Rylance for his role in Bridge of Spies.
The other nominations were:
Christian Bale, The Big Short
Tom Hardy, The Revenant
Mark Ruffalo, Spotlight
Sylvester Stallone, Creed
Advertisement
Host Chris Rock kicked off the Oscars by welcoming the audience to "the White People's Choice Awards".
Read the full story ›
The Oscar for Best Animated Feature Film has gone to Inside Out.
The award was 'presented' by Toy Story characters Woody and Buzz Lightyear, which are marking 20 years since the release of the first film.
Pete Docter and Jonas Rivera collected their trophy, with Docter seizing the chance to encourage the audience and those watching to follow their dreams.
You can make stuff. Make films. Draw. Write. It will make a world of difference.
– Pete Docter
The other nominations were:
Anomalisa
Boy and the World
Shaun the Sheep Movie
When Marnie Was There
The Oscar for Best Animated Short Film has gone to Bear Story by Gabriel Osorio and Pato Escala.
The award was 'presented' by characters from the Minions.
The other nominations were:
Prologue
Sanjay's Super Team
We Can't Live without Cosmos
World of Tomorrow
The Oscar for Achievements in Visual Effects has gone to Ex Machina.
Andrew Whitehurst, Paul Norris, Mark Ardington and Sara Bennett picked up the award.
The other nominations were:
Mad Max: Fury Road
The Martian
The Revenant
Star Wars: The Force Awakens
Load more updates