Ellen had also told everyone to retweet her Oscars selfie, but Iain told ITV News: "I thought she said 'rebuild' it ...in LEGO!"
He said: "I started building the morning after the Oscars, and after a roughly 12 hour stint, it was finished."
Homer Simpson joined in with the parodies of Ellen Degeneres' Oscars selfie, with the character's official Twitter account posting this picture:
The ugly true story of that Oscar® selfie can finally be told! Let's break Twitter again. Look for Bart. http://t.co/tdfr3Juhff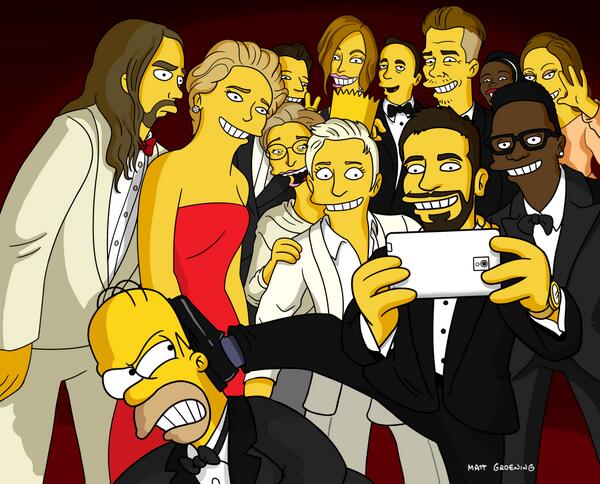 He was quickly picked up by Hollywood star Kevin Spacey, who had his own revelation about Degeneres' snap.
The actor wrote "U think @HomerJSimpson had it bad? I was standing on @JohnStamos [actor] head!".
Advertisement
Award-winning actor John Travolta fluffed his lines at the Oscars when he struggled to pronounce the name of singer Idina Menzel as he introduced her performance.
The Grease star apologised to the singer for calling her "Adele Dazeem" and said he regretted the mistake.
Despite the mispronunciation, Menzel seemed unaffected as she performed the Oscar-winning song Let It Go from the Disney hit Frozen.
An estimated 43 million people were watching the Oscars on Sunday night and Travolta has been mocked on social media since the gaffe.
Travolta's mispronunciation sparked the creation of a Name Generator where you can "Travoltify" your name.
Twitter has responded with a host of spoofs following Oscar host Ellen DeGeneres' record-breaking celebrity selfie.
Read the full story ›
Meryl Streep, who won an Oscar for her portrayal of Margaret Thatcher, will be part of the first major film to be shot in Parliament.
Commercial film-makers have always been denied entry, forcing producers to build replicas of the home of British politics.
But MPs have allowed Suffragette, which follows the struggle for women to get the vote, to be shot in the historic chambers over the Easter recess in a bid to raise revenue.
Streep, who played Lady Thatcher in biopic The Iron Lady, will reportedly play another dominant figure in 20th Century politics, feminist trailblazer Emmeline Pankhurst.
British stars Carey Mulligan, Helena Bonham Carter and Ben Whishaw also have leading roles.
Nottingham composer Steven Price has won a Best Original Score Academy Award for his work on the blockbuster Gravity.
He has already won the Original Music award for his score in the film at the British Academy of Film and Television Arts awards held two weeks ago.
The 36-year-old thanked his family in his speech, joking: "Mum, Dad, Jenny sorry I made so much noise while I was growing up."
Speaking backstage after the ceremony he said: "My house was full of music, my main memories are of the record player at home, it was all Beatles and Stones and we danced around the living room, that started me off on instruments and I've done nothing else ever since."
Best Original Score was one of seven oscars for Gravity, a film starring American actors Sandra Bullock and George Clooney but produced in the UK.
Advertisement
More than 14.7 million tweets about the Oscars were made around the world during the 86th Academy Awards ceremony, according to Twitter UK.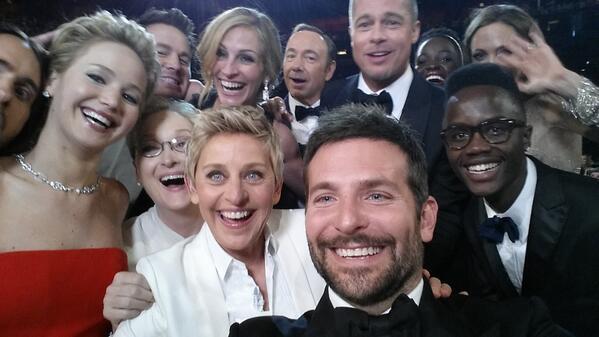 Host Ellen DeGeneres' star-studded selfie has now gained 2.4 million retweets and been favourited more than 1.1 million times, breaking the Twitter record.
Former Academy Award winner Liza Minnelli has become a viral hit - for missing out on the most retweeted selfie in history.
The Cabaret star, seen in an electric blue trouser suit, stood up to join the star-studded picture at the Oscars but was crowded out by taller actors.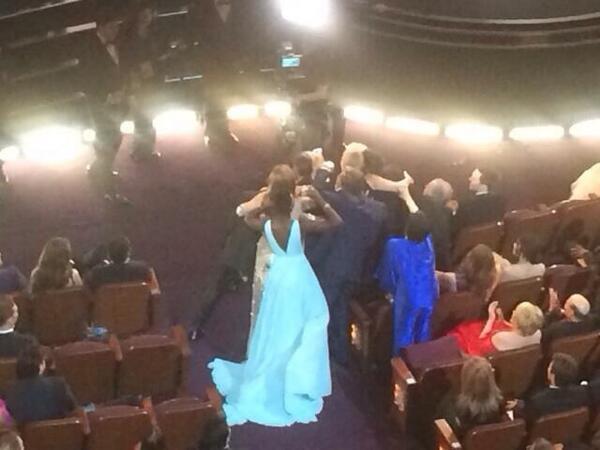 The image of her failed attempt was shared widely on Twitter, though still well below the number of times the record-breaking Ellen DeGeneres selfie was retweeted.
Host DeGeneres later took a photo with the veteran star, who was crowned Best Actress in 1973, during the ceremony to make amends.
12 Years A Slave director Steve McQueen was the talk of Tinseltown after delivering the longest acceptance speech of the night upon winning the Best Film award.
Taking over from the film's producer Brad Pitt on stage, the British film-maker unveiled an A4 sheet of paper with a list of people to thank and apologised for boring the audience.
Watch his and all the other main acceptance speeches, including Best Actor Matthew McConaughey, Best Actress Cate Blanchett, Best Director Alfonso Cuaron, Best Supporting Actor Jared Leto and Best Supporting Actress Lupita Nyong'o:
History was made at the Oscars as the world's most retweeted Twitter post was recorded after host Ellen DeGeneres got Bradley Cooper to take a star-studded selfie.
The front row A-listers were also treated to a pizza delivery between the awards in the notoriously long ceremony.
Load more updates