Oscars shock and recriminations as La La land was incorrectly announced as the best picture instead Moonlight after winning card mix-up.
Read the full story ›
Advertisement
Moonlight has been awarded the best picture Oscar after La La Land was handed it in error.
The coming-of-age drama "Moonlight" is the winner of the best picture Academy Award.
The film won after the end of the awards ceremony was plunged into chaos after "La La Land" was mistakenly announced as the best picture winner.
Emma Stone has won the best actress in a leading role Oscar for La La Land.
The 28-year-old who has already received a Golden Globe and Bafta for her role in the hit musical, beat Isabelle Huppert, Meryl Streep, Natalie Portman and Irish-Ethiopian star Ruth Negga to the prize.
In her acceptance speech she praised her fellow nominees, saying it was "an honour" to stand alongside them.
Stone thanked Chazelle and Gosling, saying of her co-star: "Thank you for making me laugh and for always raising the bar and for being the best partner in this crazy adventure."
Casey Affleck has won the Oscar for best actor in a leading role for Manchester By The Sea.
The 41-year-old beat fellow actors Ryan Gosling, Denzel Washington, Andrew Garfield and Viggo Mortensen.
Affleck was hugged and kissed by his brother, Batman star Ben Affleck as his name was called and received a standing ovation as he made his way to the stage.
The actor was tearful as he made his acceptance speech, saying: "This means so much to me, thank you. One of the first people who taught me how to act was Denzel Washington and I just met him tonight for the first time."
He thanked the film's director, Kenneth Lonergan saying: "Without this part and (your) writing I wouldn't be here for sure. Man, I wish I had something bigger and more meaningful to say. I'm proud to be a part of this community in general."
Affleck ended his speech by thanking his parents for "mostly believing in me" and added: "Ben, I love you."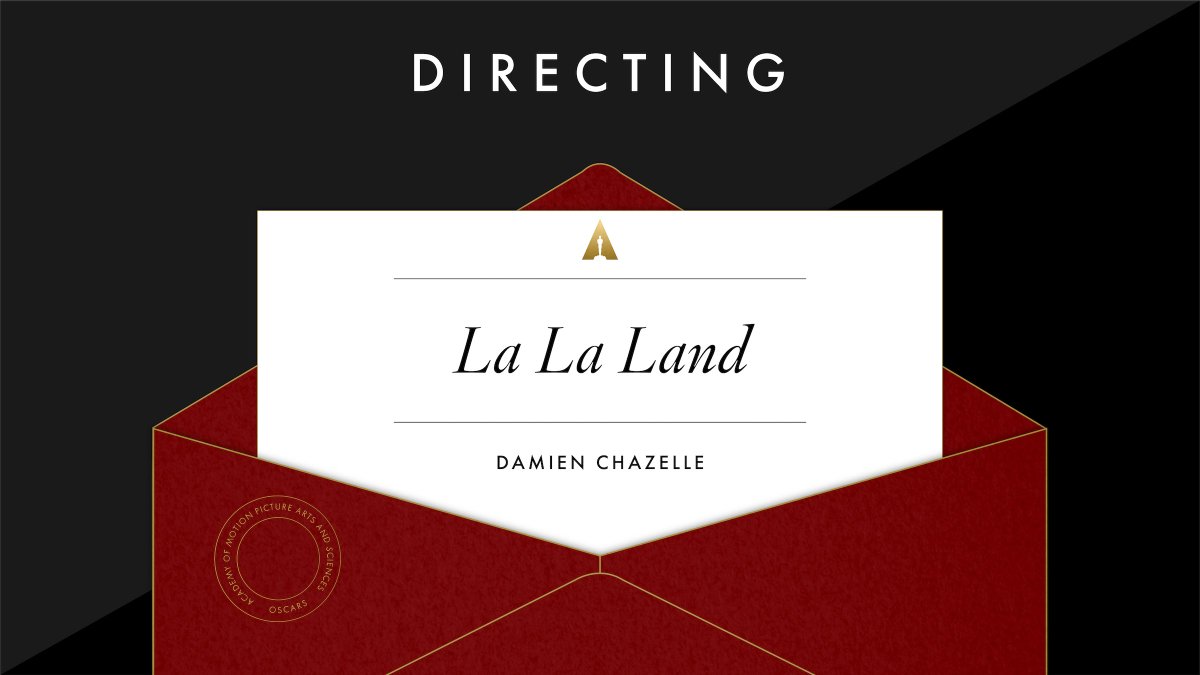 Damien Chazelle, 32, has become the youngest film-maker to win the best director Oscar for La La Land.
Collecting his statue on stage at the Dolby Theatre he said: "Thank you so much, this is such an honour. I first want to thank my fellow nominees. I was honoured and floored to be in your company.
"Thank you for what incredible film-makers you are and for inspiring me with your work."
Chazelle also paid tribute to his film's stars Emma Stone and Ryan Gosling for bringing his film to life, as well as his composer Justin Hurwitz for "riding with this and carrying this dream forward".
Advertisement
Jimmy Kimmel tweeted Donald Trump as he presented the Oscars.
The chat show host told the star-studded audience he was worried about the US President because he had not yet tweeted anything about the ceremony.
He wrote on his Twitter account: "Hey @realDonaldTrump u up?"
He followed it up with "@realDonaldTrump #Merylsayshi" - a reference to actress Meryl Streep after Trump called her "overrated".
The Syrian war documentary "The White Helmets" has won the short documentary Academy Award.
The Netflix film focuses on the rescue workers who risk their lives to save Syrians caught up in civil war.
Director Orlando von Einsiedel urged the audience to stand up to demonstrate their support for a quick end to the Syrian civil war, which prompted a standing ovation.
Von Einsiedel also read a statement from the group's founder in which he thanked the academy for the recognition and stating that the organisation had saved 81,000 lives.
One of the film's cinematographers, 21-year-old Syrian Khaled Khateeb was unable to attend Sunday's ceremony after his entry into the United States was blocked by the US administration.
The tourists had no idea they were about to be dropped off at the star-studded ceremony to meet A-listers.
Read the full story ›
Meryl Streep wore a blue Elie Saab dress to the Academy Awards following much controversy about her outfit for the prestigious event.
Earlier the actress accused designer Karl Lagerfeld of ruining her Oscar night by falsely accusing her of being paid to wear a dress by another designer to the ceremony.
All the attention was on the Hollywood veteran, 67, after she fell out with Chanel's head, Karl Lagerfeld who labelled her "cheap" for supposedly demanding money to wear one of his dresses.
Streep denied the claim and accused Lagerfeld of "defaming" her. As she stepped on to the red carpet in the beautiful Elie Saab gown, the actress took a stumble before steadying herself.
In a statement Mr Lagerfeld admitted he had "misunderstood that Ms Streep may have chosen another designer due to remuneration" and said he regretted the controversy.
Ms Streep is up for Best Actress for her role as an eccentric opera singer in the comedy Florence Foster Jenkins. She has already won three Oscars.
Load more updates