Oxfam has tweeted an image of the Isle of Wight in its call for a ceasefire in Gaza: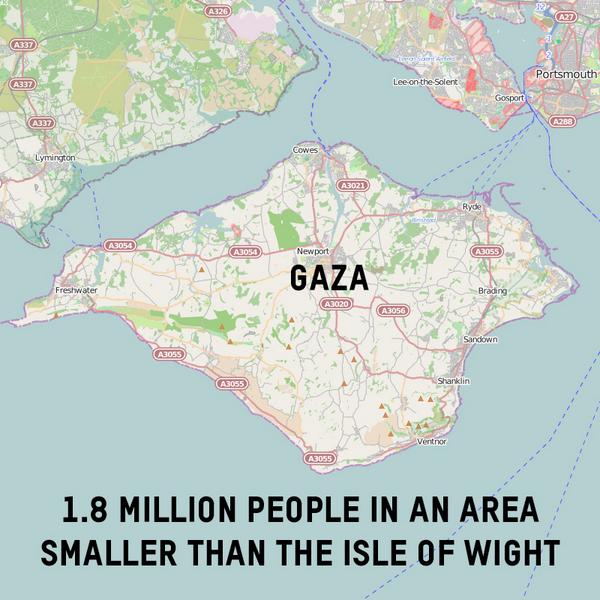 A former anti-fraud chief for Oxfam admitted scamming the charity out of nearly £65,000.
Edward McKenzie-Green, from Chipping Norton, Oxfordshire, pleaded guilty at the Old Bailey to making £64,612.58 in payments from Oxfam to fictitious firms between February and December 2011.
A charge against the man's father for allegedly helping him launder more than £35,500 was dropped.
Edward Green, 62,of Scott Crescent, Cumbernauld, Glasgow, was accused of moving £35,571.75 fromhis bank account into a bank account in the name of EdwardMcKenzie-Green by electronic transfer.
Mr Green, who was excused from attending court today, denied a charge of transferring criminal property between April 1 2011 and March 31 2012.
Advertisement
Actress Scarlett Johansson has hit back after she was criticised by Oxfam for becoming the face of SodaStream.
Read the full story ›
Oxfam said the amount of food that is wasted when one billion people go to bed hungry at night "is nothing short of a scandal."
Oxfam's head of economic justice policy Hannah Stoddart said: "It is a damning indictment of a food system that places greater importance on corporate profits than ensuring everyone has enough to eat.
"It's great news that the biggest supermarket in Britain is taking tentative steps to tackle the problem, but we need urgent action like greater regulation and investment from governments worldwide to fix the system."
Oxfam said its team in India is "ready and on high alert" as Cyclone Phailin prepares to make landfall.
Oxfam India wrote on Twitter:
The charity said it was procuring materials such as tarpaulins and chlorine tablets for 5,000 households and has contingency stocks of water, purifiers and sanitation materials ready for deployment.
A new potential vaccine for malaria will only have an impact if it is made affordable to people in poor countries, Oxfam's health policy adviser Anna Marriott has warned.
She said previous cases show that companies can make drugs affordable to African governments, which can then provide treatments free of charge to poor people.
Marriott also stressed that the impact would be limited unless deployed alongside other tools, such as mosquito nets, better diagnosis and healthcare infrastructure.
"We cannot let excitement [about a possible vaccine] ... divert attention away from the need to invest in these prevention and treatment methods," she added.
Advertisement
Oxfam has said it is "appalled" that the number of Syrian refugees has reached two million, adding that the humanitarian response is "stretched to the limit".
Enough is enough. A generation of Syrians is paying too high a price in this conflict. They have been seriously let down by the international community, which has failed to prioritise a political solution to the conflict.

That must change. World leaders - especially President Obama and President Putin - must ensure the long-promised peace talks take place as soon as possible.
– Claire Seaward, Syria Response Campaign Manager, oxfam
Oxfam's Director of UK Poverty, Chris Johnes, has warned that welfare reforms could tip even more people into food poverty:
These shocking figures show that a perfect storm of spiralling living costs, lack of decent, secure jobs and benefit changes are making it impossible for many people to feed themselves or their families.

It's clear there is a massive hole in the safety net when so many more people are being forced to rely on emergency food handouts.

We are worried this could be just the tip of the iceberg as changes to the welfare system already in the pipeline could rip apart the safety net with devastating consequences for those who rely on it.
– Chris Johnes, oxfam
Oxfam's humanitarian coordinator for the Middle East, Pauline Ballaman, has described the dismal conditions facing thousands of Syrian refugees.
Speaking to ITV News, she warned their hardship will only worsen in the months ahead unless more funds can be raised.
Oxfam says that some 670,000 people have left Syria since the crisis began in March 2011 but numbers have risen recently. In Jordan alone, the number of people crossing daily trebled in the past week.
The cold weather has seen an increase in the number of those suffering respiratory infections and pneumonia, according to the aid agency, which is distributing mattresses, blankets, heaters and gas oil to help new arrivals.
Load more updates