Around 20,000 tonnes of material is seen in the video as workers continue the recovery operation.
Read the full story ›
MD of Coleman and Company, the Didcot demolition firm, has released a statement after former employees said they saw incident coming.
Read the full story ›
Advertisement
Fraudsters have been posing as Money Saving Expert founder Martin Lewis to con elderly and vulnerable people out of thousands of pounds.
Read the full story ›
A 16-year-old boy is being questioned by police after being arrested on suspicion of taking part in a bank robbery.
The teenager, from Oxford, is in custody after being arrested on Friday. He is being held in connection with a robbery at a branch of Lloyds in London Road, Headington, Oxford, on January 23rd, Thames Valley Police said.
Reports at the time said two men with their faces covered and dressed in blue boiler suits stole cash from the branch, and one is believed to have had a firearm.
No one was injured. Thames Valley Police are appealing for witnesses and information.
David Cameron has come under fire after writing to his local council criticising "significant cuts to frontline services".
Read the full story ›
The Ministry of Defence confirms the fatality occured today at St David's Barracks in Oxfordshire.
Read the full story ›
Advertisement
Two men have died following a light aircraft crash at an airfield.
The pilot, in his 60s, and his passenger, in his 50s, suffered fatal injuries at Enstone Airfield in Oxfordshire last night.
Thames Valley Police said they were called to reports of a microlight crash at around 7.20pm. Both victims' next of kin have been told, but their identities have not been disclosed.
The Air Accidents Investigation Branch has been told about the incident and officials will be carrying out an investigation.
A beautiful and historic Oxfordshire manor house with "the finest view in England" is being offered for free – but there is a catch.
Read the full story ›
Police say it is a "serious blessing" that more people were not killed in the 40-car pile-up on the M40.
One person was declared dead at the scene following the crash near Oxfordshire in foggy conditions this morning.
Chief Inspector Henry Parsons, head of Thames Valley Police's roads police team, said the crash was an "extraordinary" and unusual accident.
"It is a horrible scene and ultimately one person has lost their life and several are seriously injured as a result. It is awful, whatever way you dress it up," he said at the crash scene.
The scale of the damage after a 40-car pile up on the M40 has been seen in an aerial picture released by police.
M40 nbound road closure still in place J9-10, pls avoid area, and pls do not drive in hard shoulder. http://t.co/pZMb3n2Vnp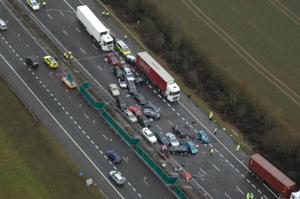 Load more updates