One of the buildings that police believe was targeted by in an arson attack overnight has burst back into flames after strong winds fanned the dying embers of last night's blaze.
ITV News Correspondent Dan Rivers reports that fire crews have returned to tackle the fire and has tweeted this image from the scene.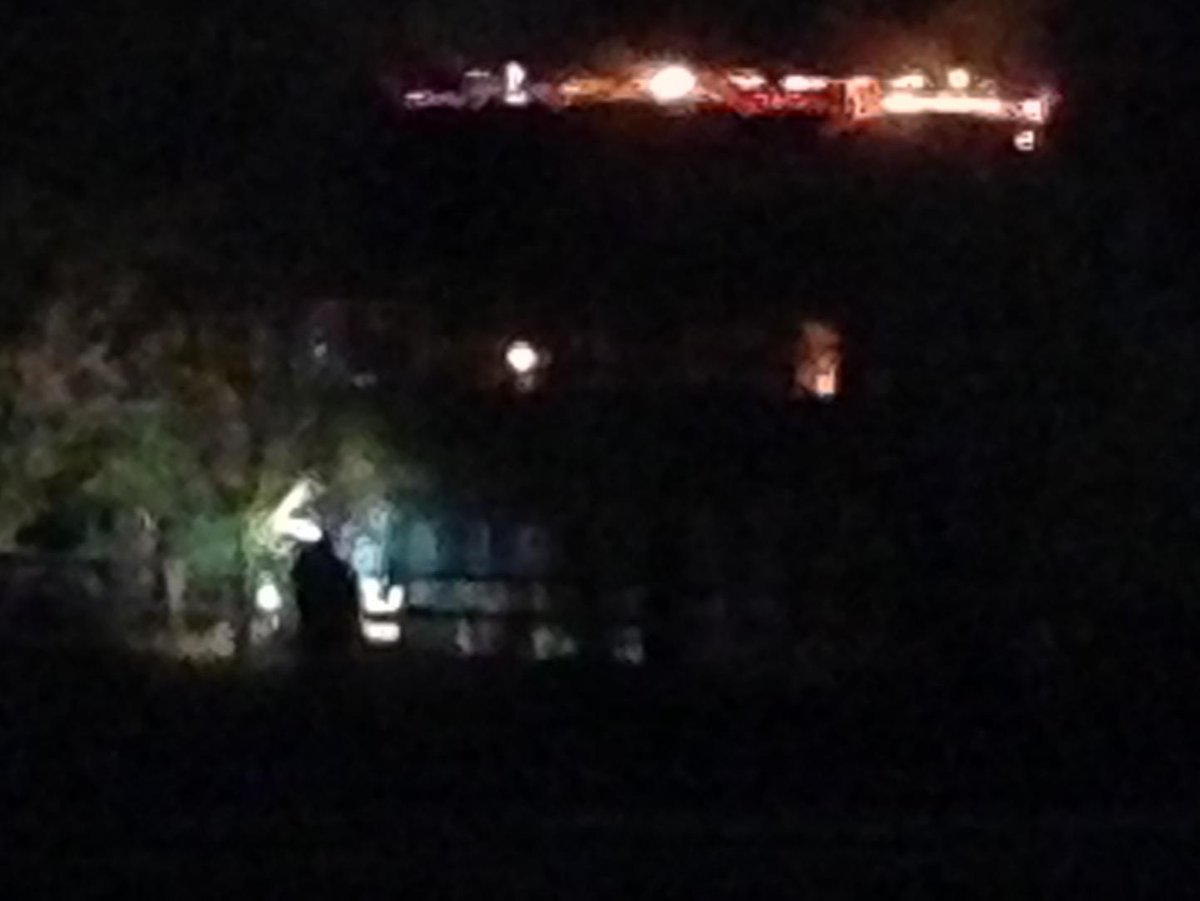 Just to clarify council building is now ablaze again after wind reignited embers. Fire engines now arriving back on scene.
Three major fires which broke out in Oxfordshire in the early hours of this morning are now under control and being dampened down, the fire service said.
Advertisement
The British Red Cross has said its volunteers are offering "practical and emotional support" following a devastating spate of suspected arson attacks in Oxfordshire.
Around 30 residents in Roke Marsh have been evacuated to a nearby village hall as the police and fire service investigate.
Our volunteers are giving practical and emotional support to evacuated Rokemarsh residents after recent Oxfordshire fires
Eyewitness Ian Negus has described seeing "30-40ft flames" coming from the South Oxfordshire Council building.
"I could hear popping, cracking and hissing," Mr Augus told ITV News.
"There was 30-40ft flames getting higher and higher, I just could not believe it.
"The centre of the building was on fire."
A resident evacuated from his property in South Oxfordshire following a suspected arson attack has described the "horrific" scene.
Simon Williams was among 30 people who were evacuated from nearby properties in Roke Marsh following a fire at a thatched cottage.
He told ITV News: "There was flames flying over the fence, and embers flying into the garden and onto our property.
"There were strong winds in the middle of the night so it was absolutely horrific."
Police have confirmed they are searching the home of an arrested man in connection with a spate of suspected arson attacks.
Advertisement
An 80-year-old woman was inside a thatched house in Oxfordshire when it burst into flames.
The elderly woman managed to get out of the house safely and is now helping police with their inquiries, Thames Valley Police said.
Police believe the fire is linked to two other suspected arson attacks at a council building and funeral parlour.
A 47-year-old local man has been arrested.
Gas canisters have been discovered at the scene of all three fires in South Oxfordshire, police have confirmed.
Superintendent Andy Boyd said canisters were also found in the car which is believed to have crashed into the council building before a fire.
Thames Valley Police are giving an update on their investigation into the three fires in Oxford from 1:30pm today:
Update: This live broadcast has now finished
The co-owner of a funeral home says he believes his business was the victim of "mistaken identity", after it was targeted in a spate of suspected arson attacks.
They probably thought the home was a gatehouse to the council.

I've got no idea why they set fire to the council building.
– Alistair Cox, from Chadwick Howard Funeral Service
Sandra Chadwick, a partner at the funeral home, said the business had been unaffected by the blaze, which only damaged its offices.
I can confirm, though, that no funerals have been cancelled and no bodies of the deceased have been damaged.
– Sandra Chadwick
Load more updates