"It's all Malala, Malala, Malala," said one teacher in the Nobel Peace Prize-winner's hometown, angry at the 'neglect' that remains
Read the full story ›
A British man has been shot and injured in a Pakistani prison where he was awaiting a death sentence under the country's blasphemy laws.
The charity Reprieve said Mohammad Asghar, from Edinburgh, had been shot but no information was available about his condition.
He was arrested in 2010 in Rawalpindi, near the capital Islamabad, for claiming to be the Prophet Mohammed in letters sent to various officials, according to prosecutor Javed Gul. He was later sentenced to death.
However, a lawyer who defended Mr Asghar said he suffers from mental illness and the case was really a property dispute.
A Foreign Office spokesman said: "We are urgently looking into reports that a British national has been injured in prison in Pakistan."
Advertisement
A group of Taliban militants responsible for shooting Malala Yousufzai, a teenage activist targeted for her campaign against the terrorist group's efforts to deny girls education, have been arrested, Pakistan's army said.
Taliban activists claimed responsibility for shooting Malala in 2012 for her advocacy of women's right to education but no one had been arrested until now.
Two other schoolgirls were also injured in the attack.
The Pakistani army's head of press Asim Bajwa told reporters 10 attackers had been identified and arrested.
Malala survived the attack after being airlifted to Britain for treatment and was nominated for the Nobel Peace Prize last year.
Pakistan's national PTV channel and its English-language PTV World service were taken off the air after protesters stormed its headquarters in central Islamabad.
"They have stormed the PTV office," a news anchor said just before the screen went blank.
"PTV staff performing their journalistic duties are being beaten up."
Another TV channel, Express, showed images from inside the building, with protesters, some wearing gas masks, massing inside the channel's newsroom but there were no signs of violence.
At least six people were killed when an IED hit a school van in the Tangi area of Bajaur Agency in north west Pakistan early on Tuesday morning.
Imran Khan has addressed crowds in the Pakistani city of Gujranwala after shots were allegedly fired at his vehicle during a march earlier.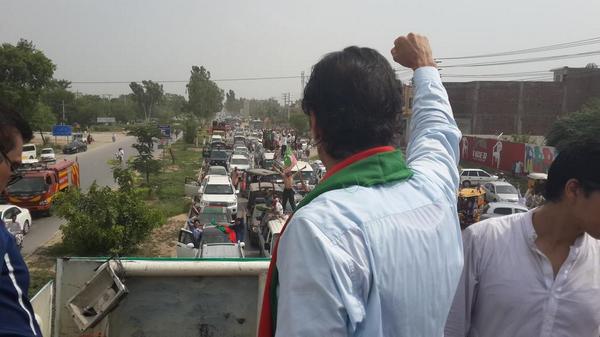 Advertisement
The Deputy Leader of Imran Khan's Tehreek-e-Insaf opposition party has appeared to criticise Pakistani police for failing to protect marchers in Gujranwala.
The party claims leader Imran Khan was shot at during protests in the city, and says police did not intervene when his convoy was attacked by a stone-throwing mob.
It is the responsibility of Punjab Police, DPO and Administration to provide safety to our Marchers

We call our workers to remain peaceful. Do not respond Stones with Stones. PTI workers Respond with Peace
– Shah Mehmood Qureshi
Pakistan opposition leader Imran Khan claims 300-to-400 people threw stones and fired on a protest march in the city of Gujranwala.
Four were injured during the clashes, which took place at a protest against Prime Minister Nawaz Sharif.
300-400 ppl threw stones & fired on our Azadi March in Gujranwala with police aiding & abetting them. 4 workers injured.
I want 2 make it clear 2 Sharif govt that they can do what they want,we will not stop r Azadi March. I will deal with them when we reach Isl
Mr Khan urged the immediate resignation of Mr Sharif following the alleged attacks.
PM Sharif should have his resignation ready His Badshahat & Gullu Butt style governance is over.Nation has spoken.
Clashes have broken out after shots were fired on Pakistan opposition leader Imran Khan during a march, his spokesperson claims.
Khan was not hurt, though his vehicle was hit by the shots, the spokesperson said.
A post on the Pakistan Tehreek-e-Insaf (PTI) Facebook page read:
Sorry, this content isn't available on your device.
Pakistani police said Muzammil Bibi, 20, was attacked by three men in a field in the impoverished Layyah area of densely populated Punjab province.
According to police, she resisted the rape and the attackers strangled her. Officers say they have arrested three individuals who have confessed to the crime.
Load more updates