Overhead metro railway lines can be seen swaying in Rawalpindi, northern Pakistan, after a magnitude 7.5 earthquake hit hundreds of miles away across the border in Afghanistan.
Sorry, this content isn't available on your device.
The moment a powerful earthquake struck in north-eastern Afghanistan was reported on the Ariana TV Network by a newsreader who was forced to leave his desk as the tremors hit Kabul.
Advertisement
Pakistani officials now say at least 62 people have died after an earthquake in a remote part of neighbouring Afghanistan rattled much of the region.
Abdul Latif Khan, a senior official at the Provincial Disaster Management Authority, told AP that the quake has killed 46 people in the northwestern Khyber Pakhtunkhwa province.
Another official, Mussarrat Khan, says 16 people died in tribal regions near the border with Afghanistan. Officials say more than 400 people were wounded.
"More [deaths] are expected," Kyber Pakhtunkhwa's chief minister Pervez Khattak told state TV.
At least 70 people have now been confirmed killed in the two countries.
A powerful earthquake that struck in a remote region of north-eastern Afghanistan has killed over 50 people.
The death toll is expected to rise even further as communications were down in much of the rugged Hindu Kush mountain range area where the quake was centred.
Landslides have been triggered near the northern Pakistan town of Gilgit following a powerful earthquake across the border in Afghanistan.
Photographs - posted to the My Gilgit-Baltistan Facebook page - appear to show large landslides tearing down steep valley sides near the town.
At least 12 people have been killed in Pakistan following an earthquake that struck in northeastern Afghanistan earlier today, Reuters has reported, citing officials in the country.
Shockwaves from the Afghan quake were felt in northern India and in Pakistan's capital Islamabad, where people ran out of buildings in panic.
According to the USGS, the quake was 213 km (132 miles) deep and centred 254 km (158 miles) northeast of Kabul in a remote area of Afghanistan in the Hindu Kush mountain range.
Advertisement
At least 17 people have been killed and 55 injured in a powerful earthquake that hit north-eastern Afghanistan according to early reports and the toll may yet rise, officials have said.
The Pakistan Red Crescent relief agency has dispatched an emergency team to the Neelum Valley in Kashmir after reports of landslides following a powerful earthquake in the region.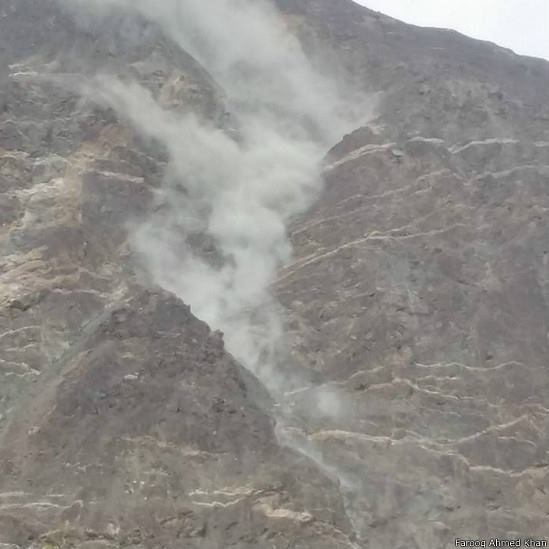 Hundreds of people wait in the street in Delhi after a magnitude 7.5 earthquake struck hundreds of miles away across the border in northeastern Afghanistan.
Twelve schoolgirls have been killed in the Afghanistan city of Taloqan trying to escape the powerful earthquake that struck the region, a disaster official has said.
"They fell under the feet of other students," said Abdul Razaq Zinda, provincial head of the Afghan National Disaster Management Agency, who reported heavy damage in the Takhar region.
Load more updates