Gunmen disguised as police guards stormed the international terminal in Karachi, set off explosions and killed 18 people. All 10 gunmen died in the battle.
The Pakistan Taliban claimed responsibility for the attack, saying the assault was revenge for army airstrikes on their strongholds near the Afghan border and the the killing of Hakimullah Mehsud, the Taliban chief who died in a drone strike last November.
Pakistan military and police units have finished their security operation and have declared Karachi airport safe, according to local media.
Advertisement
Pakistan security officials have said that all 10 gunmen and at least 18 people have been killed in a five-hour assault on Karachi airport, the Associated Press have reported.
Pakistani officials say 18 now dead in Karachi airport attack, as well as all 10 attackers: http://t.co/q1be92Cz63
Rizwan Akhtar, the paramilitary Rangers chief, says all 10 "terrorists" who attacked the Jinnah International Airport have been killed.
The death toll now stands at 18 people and 10 gunmen.
Taliban spokesman Shahidullah Shahid said that the assault was revenge for the Pakistan army's air strikes in areas along the Afghan border where the insurgents are based.
"We carried out this attack on the Karachi airport and it is a message to the Pakistan government that we are still alive to react over the killings of innocent people in bomb attacks on their villages."
Three foreign fighters blew themselves up and seven others were killed by Pakistan's security forces during the attack on Karachi airport, a paramilitary spokesman said.
Rizwan Akhtar, the regional head of the paramilitary Rangers, said in televised remarks: "Three militants blew themselves up and seven were killed by security forces. The militants appear to be Uzbek."
Pakistan security forces have relaunched the operation at Karachi airport after gunfire resumed, AFP reports citing a parliamentary spokesman.
Advertisement
The death toll in the terror attack at Karachi airport has risen to 11, including nine security force members, with at least 20 other people injured, according to a Pakistan news agency.
A military spokesman said all ten terrorists had been killed and the international airport had now been cleared, Inter Services Public Relations reported.
The spokesman added: "The fire visible in pictures was not a plane but a building - [the flames are] now extinguished. All vital assets are intact."
"Terrorists were confined to two areas and eliminated. Weapons and live ammunition including RPGs and rockets were recovered. Militants were wearing big packs," he added.
At least nine people have been killed and 16 injured after a gun and grenade battle broke out at a terminal in Pakistan's Karachi International airport, ITV News understands.
Pakistani television station Dawn News has posted a picture which appears to show flames surrounding airplanes at Karachi's Jinnah International Airport following a deadly terror attack.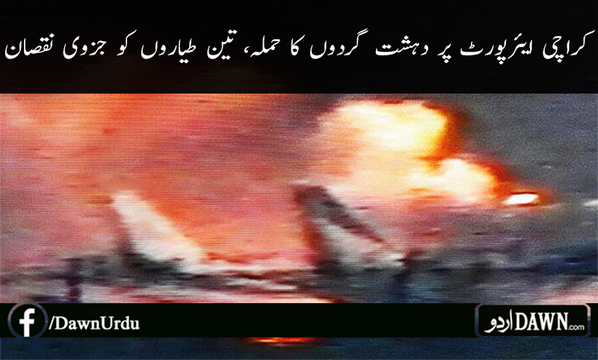 The night sky was lit up by a fire at Karachi International airport following a gun attack that killed five people and injured 10.
Smoke billowed from the airport in the aftermath of the attack.
Load more updates