Kelly Gallagher and guide Charlotte Evans have won Great Britain's first ever gold medal at the Winter Paralympics with victory in the women's visually-impaired super-G in Sochi.
Jade Etherington and guide Caroline Powell won bronze.
David Cameron was among a host of names congratulating Britain's Jade Etherington, after the the British skier won the women's visually impaired downhill:
Proud of Jade Etherington, who won silver in the women's visually impaired downhill in Sochi. #GoParalympicsGB.
A host of others took to the social network to tweet their thanks. Eventually, Etherington herself tweeted, though her celebrations were understated:
We've won a Downhill medal!!!!!!! It's Silver :))))
Advertisement
Jade Etherington and her guide Caroline Powell crowned their first season racing together by winning Great Britain's first Paralympic medal on snow in 20 years in Sochi.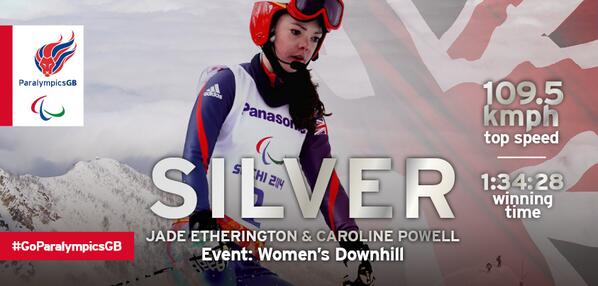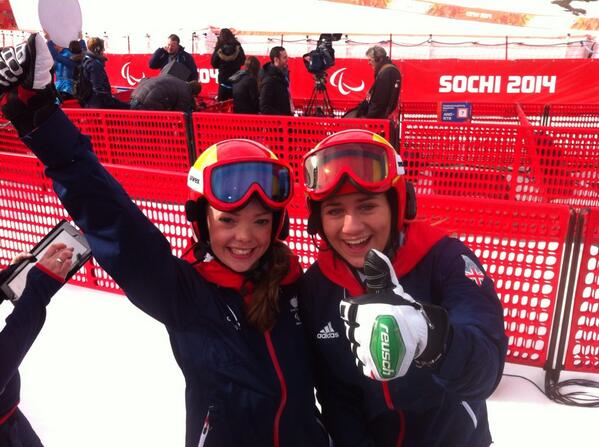 Etherington, who celebrates her 23rd birthday on Sunday, is visually impaired and communicates with Powell down the course via radio.
The pair became the first British women ever to win a Paralympic skiing medal, despite the short time they've been racing together.
It was only last April that they first got to know each other, August they first skied competitively together and January this year they first competed as a pair in a downhill.
A Ukrainian athlete was greeted by rapturous applause as he took part in the opening ceremony to the Paralympic Games in Sochi.
Mykailo Tkachenko was the only athlete from Ukraine's team of 31 to participate in the ceremony.
Russia's President Vladimir Putin told the Ukrainian Paralympic chief that sports events must not be affected by politics, Interfax reports citing the Kremlin.
Ukraine's Paralympic chief said the country would pull out of the Games if Russian troops invade.
"I am very afraid that despite the world's wishes and my call that the irreversible will happen during the Paralympics. I declare: we will pull out of the 11th Paralympic Games in Russia that very second if the thing we fear and which we are against...happens," Valeriy Sushkevich said.
Advertisement
Ukraine's Paralympic chief has asked Russian President Vladimir Putin to ensure peace during the Winter Games.
"I repeated my one request, the one and most important request, that before and during (the Games) there will be peace," Valeriy Sushkevich said.
Channel 4 News presenter Krishnan Guru-Murthy has tweeted:
BREAKING : Ukraine to stay in the Paralympics and raise their flag "for peace" - there will be amazing atmosphere when they walk in tonight
The boot Heather Mills was made to wear to comply with International Paralympic Committee Olympic guidelines caused her "intolerable pain", her management company has said.
The IPC ruled that Mills' new adaptive equipment had not been ratified and she would not be able to compete in the skiing event in 2014 Sochi Paralympic games unless she reverted back to using the approved equipment.
The ex-wife of Paul McCartney subsequently abandoned her plans to compete and withdrew from the selection process - a decision the British Paralympic Association described as "sad".
Mills' management company said the former model was "forced to wear a purely cosmetic, non-relevant full boot cover over her prosthetic leg, adding unnecessary weight and causing intolerable pain", according to the BBC.
The International Paralympic Committee refuted the suggestions and insisted all athletes had to abide by the same rules.
The authority reiterated that only approved adaptive equipment can be used in events.
Heather Mills' alleged outburst left the head of the Paralympic alpine skiing committee "extremely shocked and upset", according to a spokesman for the sporting authority.
"Heather's aggressive behaviour and verbal abuse has left Sylvana [Mestre] extremely shocked and upset," said Craig Spence, the International Paralympic Committee's Director of Communications, in a statement.
"Para-athletes are role models and an inspiration to billions of people around the world. This disgraceful outburst is not what we expect from any athletes competing in our competitions and will not be tolerated."
The IPC said the incident involving Mills and Mestre was witnessed by a number of people, and insisted Ms Mestre was just trying to enforce the rules and offer the former model a solution to the issue.
"There can be no excuse for such aggressive and intimidating behaviour towards such a highly respected and experienced official within the Paralympic Movement."
Load more updates