Army units have reportedly been sent to secure the scene of a fatal shooting in northern Paris.
Images posted to social media show the men sealing off the streets surrounding the police station where the incident took place.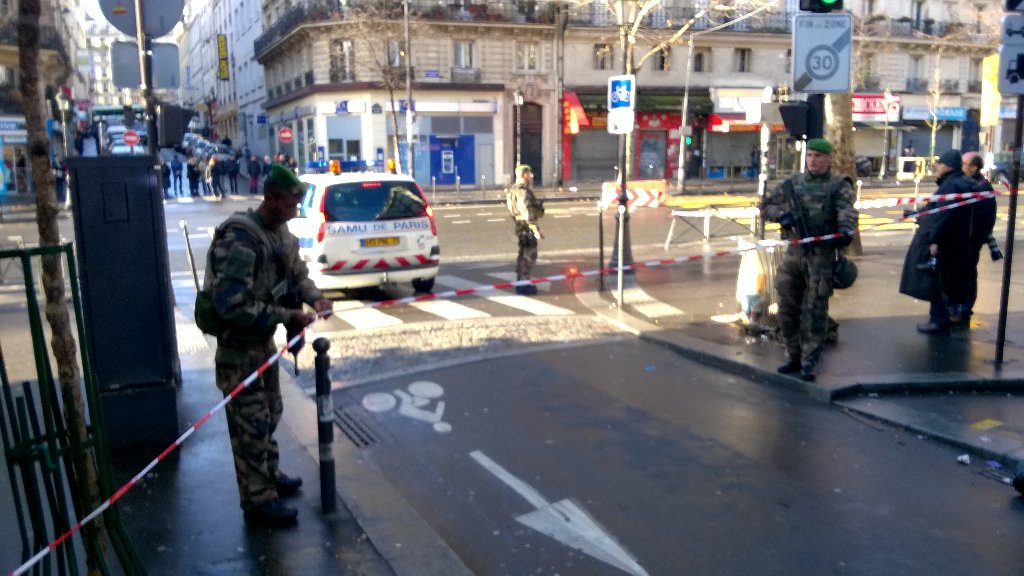 Police are reportedly using dogs to search the scene of a fatal shooting in northern Paris for explosives.
A journalist from French newspaper Liberation posted this image to Twitter, that appears to show a police dog handler and his animal nearby.
Un chien formé à la détection d'explosifs de la police scientifique arrive pour des analyses https://t.co/dOT9s9KKxE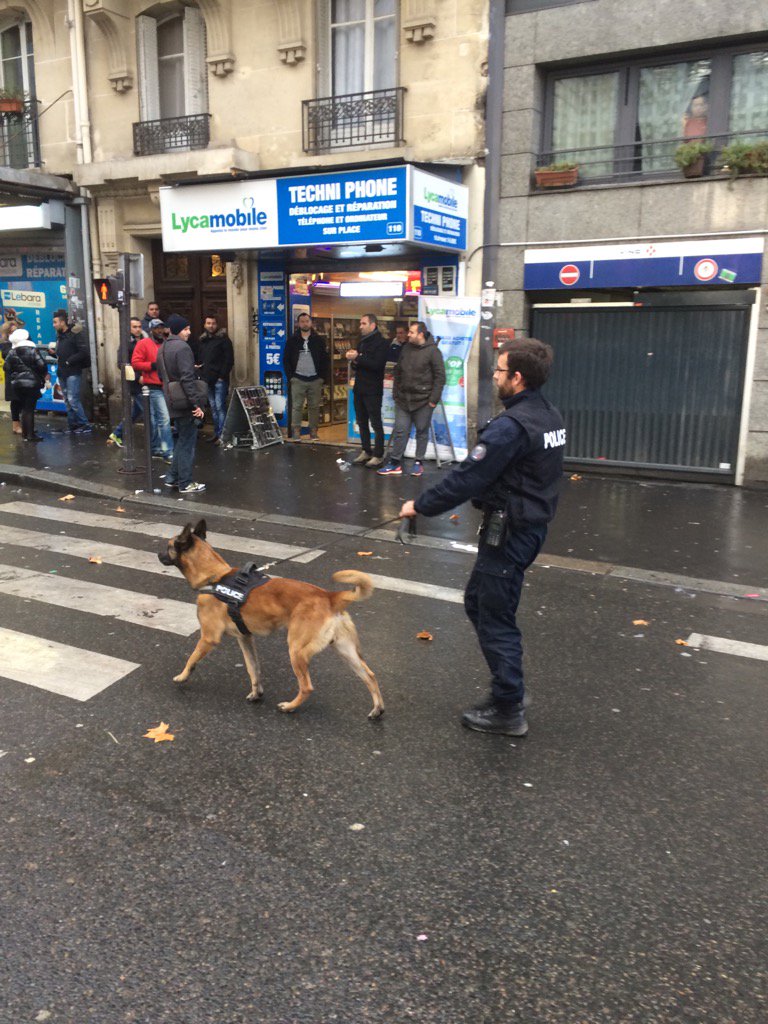 Advertisement
The man shot dead outside a Paris police station earlier today was wearing a "fake" suicide explosive vest, a police union source has told Reuters.
"The man did have a belt, but it was a fake. The bomb-disposal unit confirmed it was a fake," the police union source said.
Reports of the attack came just after President Francois Hollande concluded a sombre speech at police headquarters to mark the anniversary of the killings at satirical magazine Charlie Hebdo's offices on 7 January 2015.
Paris police are investigating shooting of a knife-wielding man at a police station in the north of the city as potential "terrorism", according to officials.
A knife-wielding man who attempted to attack a Paris police station may have been wearing a suicide belt and shouting "Allah Akbar", a French interior spokesperson has said.
The man was shot dead by police as he tried to enter the station.
Images on social media, apparently of the scene, show a bomb-disposal robot examining a prone body outside the police station.
Follow ITV News for the latest on this story.
Advertisement
A man has reportedly been shot outside a police station in northern Paris, according to the AFP news agency.
#BREAKING Man shot outside police station in northern Paris: police
French broadcaster iTele also reports that the man attempted to enter the station on the 18th arrondissement with a knife and was shot dead by officers.
The shooting comes on the anniversary of the Charlie Hebdo terror attacks in the French capital.
France has held ceremonies marking a year since the attack at the offices of Charlie Hebdo and three days of mayhem in Paris.
Read the full story ›
Brussels police have arrested a 22-year-old man in connection with the Paris attacks in November, federal prosecutors said.
The man, named as Ayoub B, was arrested during a search of a house in Brussels on Wednesday.
He has been charged with terrorist murder and participation in a terrorist organisation, the prosecutors added.
The suspect is the tenth to have been arrested in Belgium since the attacks on November 13, which killed 130 people in the French capital.
Samy Amimour, who was born in Drancy, a north-eastern suburb of Paris, is believed to be the first Paris attacker to be buried.
Read the full story ›
Load more updates