The WAVE Trauma Centre, which works to support victims of Northern Ireland's so-called Troubles, said it has suspended a part-time worker pending further investigations into the Paris incident.
As this matter is subject to an investigation by the Metropolitan Police it would not be appropriate to comment further at this stage.
– WAVE Trauma Centre
A former policeman who is one of the three Chelsea fans police are looking to speak to about the alleged racist attack on a black man in Paris has apologised for his involvement.
Richard Barklie, 50, an ex-Royal Ulster Constabulary officer, has insisted he is not a racist.
He said through is lawyer tonight that he denies singing any offensive songs and that he was travelling alone. Barklie, who is currently a director with the human rights organisation the World Human Rights Forum, admitted his involvement in an "incident" that resulted in Souleymane S being "unable to enter part of the train".
He also said he wanted give police an account that would explain the "context and circumstances" of the situation and insisted he has never been part of any "group or faction" of Chelsea fans. His lawyer said:
Pending formal engagement with police, our client is anxious to put on record his total abhorrence for racism and any activity associated with it.

As someone who has spent years working with disadvantaged communities in Africa and India he can point to a CV in human rights work which undermines any suggestion he is racist.

He did not participate in racist chanting and singing and condemns any behaviour supporting that. He accepts he was involved in an incident when a person now known to him as Souleymane S was unable to enter a part of the train.

He has an account to give to police which will explain the context and circumstances as they prevailed at that particular time. In the meantime pending that he wants to put on record his sincerest apologies for the trauma and stress suffered by Mr Souleymane
– Kevin Winters, solicitor for Richard Barklie
Mr Barklie's solicitor also said his client was willing to help police with their enquiries.
Advertisement
The victim of an alleged racist attack by Chelsea fans on a Paris Metro train has snubbed the Premier League club's invitation to attend a match at Stamford Bridge.
Manager Jose Mourinho asked if he wanted to attend a game against French champions Paris St Germain on March 11 after expressing his disgust at the fans' behaviour.
But the man, known only as Souleymane, told French newspaper Le Parisien: "I appreciate Mr Mourinho's invitation, but I can't get my head around being in a stadium at the moment."
In the days after the attack, in which Souleymane was pushed off the train as racist abuse was allegedly chanted, he said he was now afraid to ride the Metro.
Police investigating allegations of racism by Chelsea fans on the Paris Metro have identified three men they wish to speak, Scotland Yard say.
It comes after CCTV images of the three men were released on Friday.
Footage showing a black man being pushed off a train in Paris emerged after Chelsea's 1-1 draw with Paris Saint-Germain on Tuesday.
The alleged victim of the racist attack has reportedly declined an invitation from the club to attend a match at Stamford Bridge.
Chelsea fans came together at a match against Burnley today to unite against racism, it follows the incident in Paris where a black man was allegedly pushed off a Metro train by chanting fans.
ITV News Correspondent Neil Connery reports:
A Man City fan holds up a banner at the Etihad urging the authorities to jail the Chelsea fans guilty of racially abusing a black man on the Paris Metro on Tuesday.
Advertisement
The Metropolitan Police are re-appealing for the public's help to identify two men pictured on CCTV following a racist incident involving Chelsea fans in Paris.
Officers now believe they have identified a third man who they had previously released footage of.
Police in London are supporting their colleagues in Paris as the investigation continues.
Chelsea fans at Stamford Bridge displayed a sign showing their feelings on the recent racist incidents in Paris and London.
Jose Mourinho was greeted with a banner reading "Black or White, we're all Blue".
The electronic advertising normally seen around the match was also replaced with signs saying "Support Chelsea. Support Equality."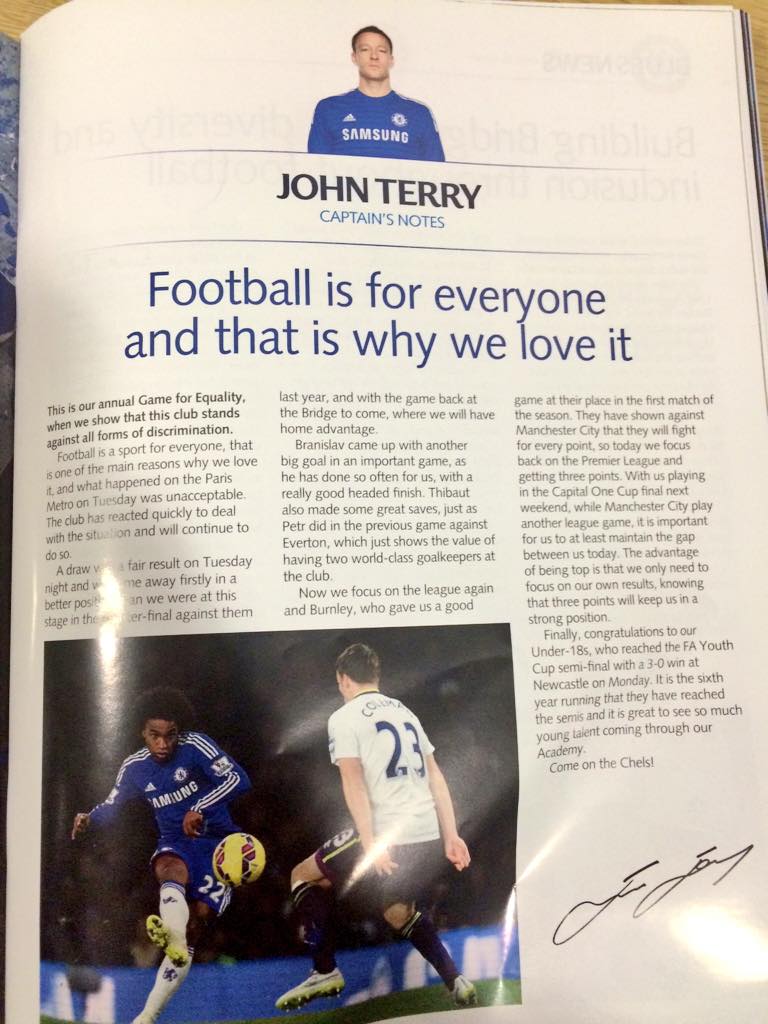 John Terry has used his programme notes to condemn the racist incident involving Chelsea fans in Paris, writing:
"Football is a sport for everyone, that is one of the main reasons why we love it, and what happened on the Paris Metro on Tuesday was unacceptable.
"The club has reacted quickly to deal with the situation and will continue to do so."
In September 2012, Terry was banned for four matches by the FA and fined £220,000 for racially abusing Anton Ferdinand.
An anti-racism film has been shown to Chelsea fans ahead of the clash against Burnley at Stamford Bridge today.
It comes as police investigate two alleged racist incidents involving Chelsea fans.
ITV News' Rags Martel reports: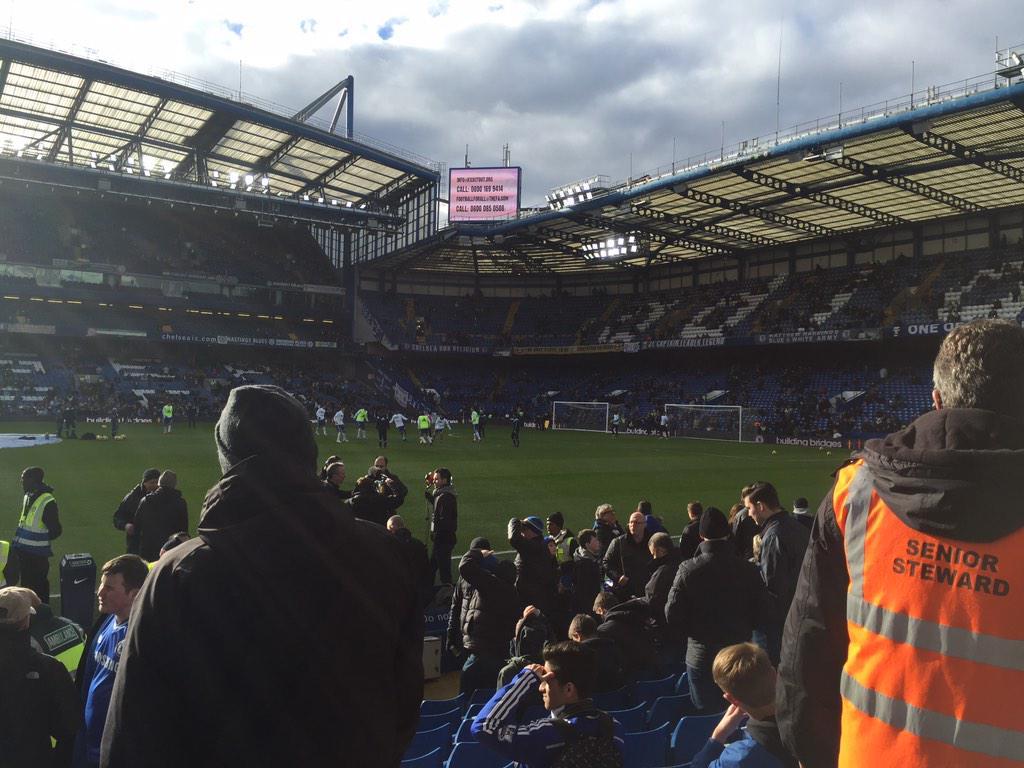 Load more updates