Prosecutors, politicians and police officers are declaring the capture of Salah Abdeslam as a great victory in the fight against IS.
Read the full story ›
Paris attacks suspect Salah Abdeslam has been formally charged with terrorist murder, the Belgian prosecutor has said.
Another man, Monir Ahmed Alaaj, was charged alongside him with the same offence. A third man faces trial for being a member of a terrorist organisation and aiding and abetting criminals
A woman detainee named only as Djemila M,was charged with aiding and abetting but released, the prosecutors said in a statement. A second woman was released without charge.
Advertisement
Interpol has advised its member states to be extra vigilant at border controls in the wake of the arrest of Paris terror suspect Salah Abdeslam.
The police organisation believes the arrest of Abdeslam could encourage accomplices to flee Europe.
Whilst it is too soon to speculate in which direction the investigation will proceed, anyone linked to Abdeslam will be concerned that their location could be revealed and attempt to run to try and avoid detection.

It is now vital that countries continue to cooperate and make thorough checks against the information available to them to avoid suspects slipping through the net.
– Jurgen Stock, Interpol Secretary General
Paris terror suspect Salah Abdeslam is co-operating with Belgian police but will refuse extradition to France, his lawyer said.
Sven Mary told reporters in Brussels: "He is cooperating with Belgian justice.
"France is asking for his extradition. I can tell you that we will refuse the extradition to France."
Paris terror suspect Salah Abdeslam has been discharged from hospital after being injured in a gunfight which ended with his arrest, Agence France-Press reports.
Citing the Mayor, AFP said Abdeslam had left Saint Pierre hospital in Brussels, Belgium, where he had been taken for treatment.
Abdeslam was the prime suspect in investigations into the string of co-ordinated attacks across Paris in November which killed 130 people.
He was injured and arrested during a raid on an apartment block in Molenbeek district.
French president François Hollande has said he will ask that Abdeslam is deported to France to face charges.
The arrest of Paris terror attack suspect Salah Abdeslam could be a major intelligence coup and its importance "cannot be overstated", according to a top US counter-terrorism expert.
Adam Schiff, the US' Ranking Member of the House Permanent Select Committee on Intelligence, said in a statement that Abdeslam's arrest could help intelligence agencies to understand "how ISIS directs and coordinates its attacks on the West".
The importance of Abdeslam's capture cannot be overstated.

He may be the only remaining member of the team that directly participated in terrorising, and has been called the logistical chief for the group because he reportedly booked cars and hotel rooms, and ferried suicide bombers to their destinations.

His interrogation can also help us understand how ISIS directs and coordinates its attacks on the West.
– Adam Schiff
Abdeslam was arrested outside of Brussels on Friday after four months on the run and is the prime suspect behind a series of co-ordinated attacks in Paris last November which killed 130 people.
Advertisement
The French president Francois Hollande has said that investigations had revealed a growing number of people linked to the Paris terror attacks last November.
He said the security threat level remains very high at a joint press conference with the Belgian prime minister after key suspect Salah Abdeslam was detained by police during raids in Brussels.
We must catch all those who allowed, organised or facilitated these attacks and we realise that they are a lot more numerous than we thought earlier and had identified.
– Francois Hollande
Belgium's federal prosecutor said a total of five people were arrested during a four-hour police operation, including Paris attacks suspect Salah Abdeslam.
A spokesman for the prosecutor's office said in addition to Abdeslam a second suspect linked to the Paris attacks had been detained.
Three other people, all of whom were members of the family that had sheltered Abdeslam, were also arrested, he added.
He confirmed Abdeslam was "slightly injured" during the raid and had been taken to hospital.
The Belgian prime minster, Charles Michel, has posted a picture of himself receiving congratulations from US president Barack Obama after the arrest of Paris terror attack suspect Salah Abdeslam in raids tonight.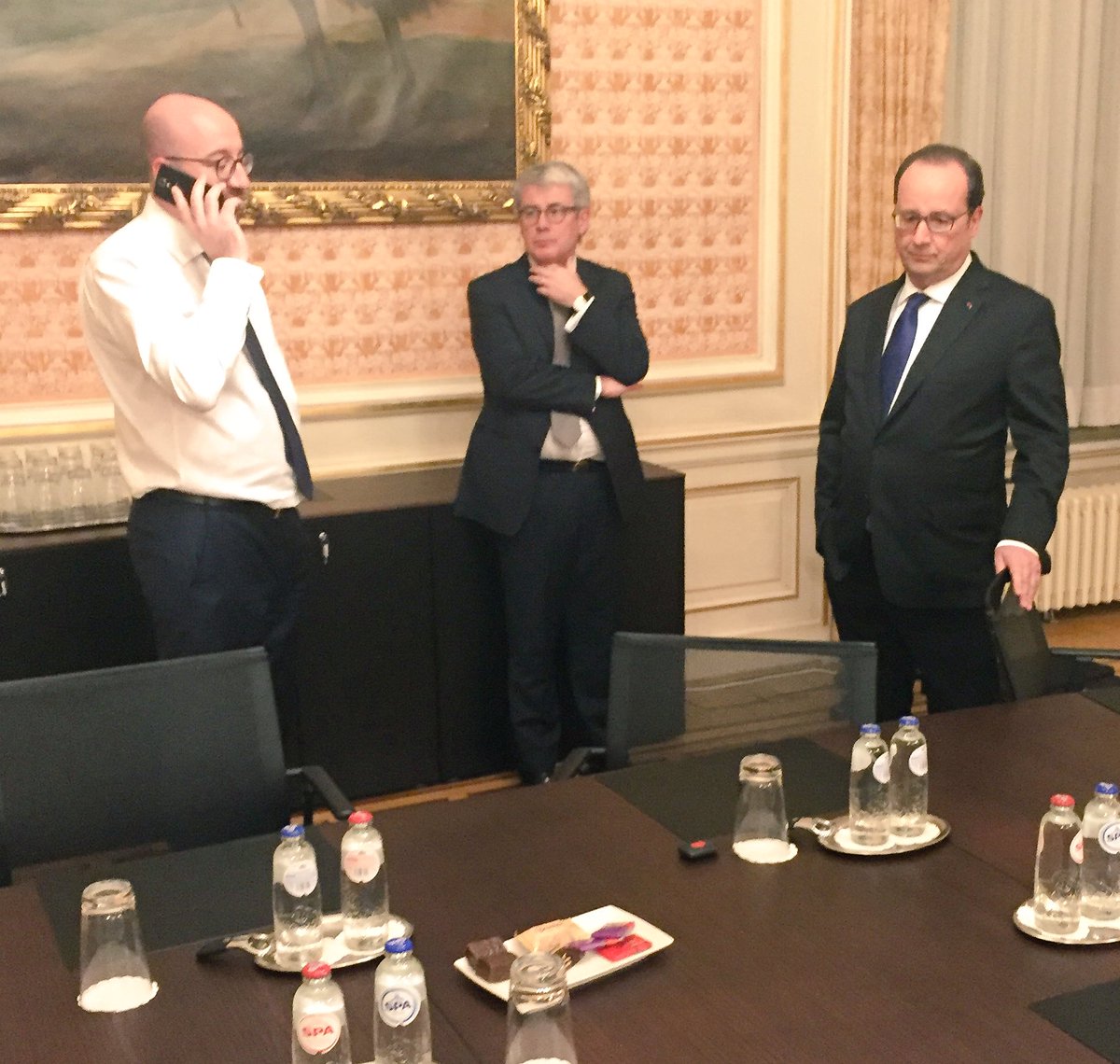 Broken glass can be seen near where Paris attacks suspect Salah Abdelsam was arrested in the Molenbeek area of Brussels.
Forensic officers could be seen searching buildings in the street and taking photographs.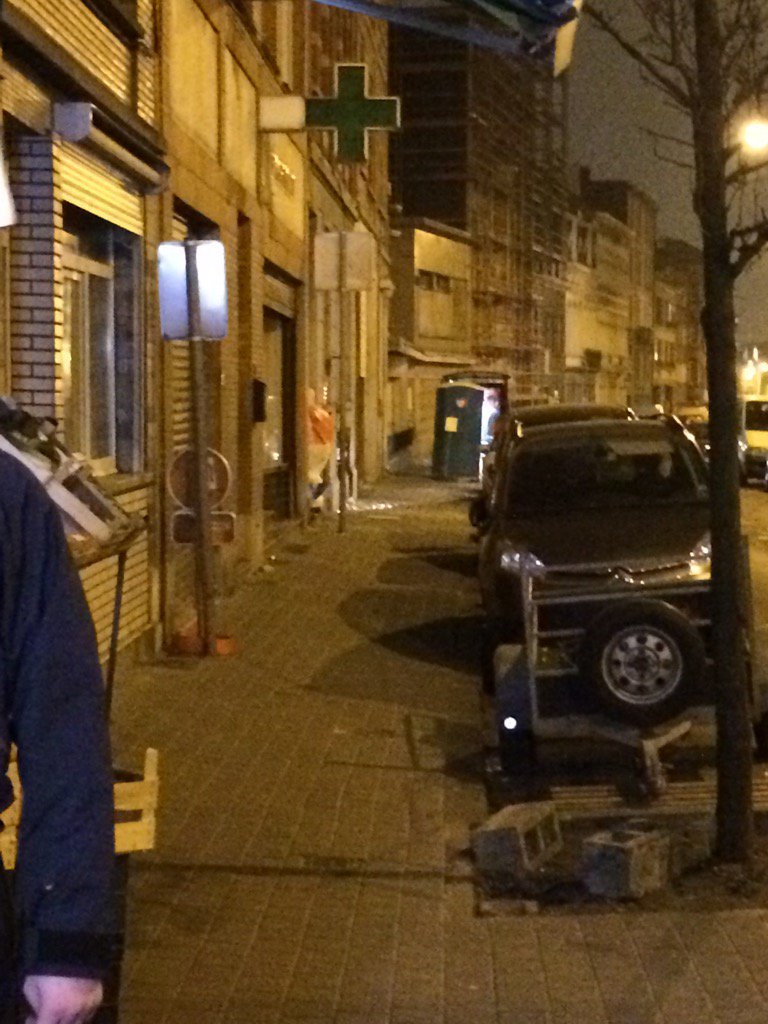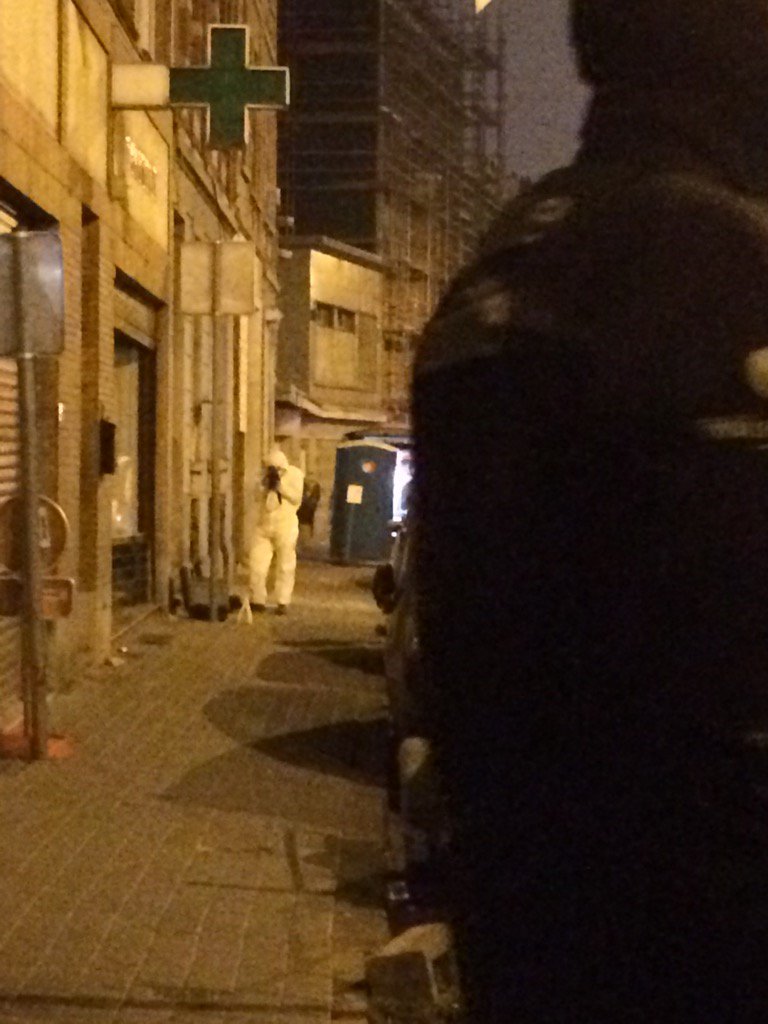 Load more updates