Police in Paris have made a fresh appeal for information relating to the suicide bombers who blew themselves up at the Stade de France during a series of terrorist attacks on the French capital.
The Police Nationale posted a picture of one of the unidentified bombers on Twitter asking any witnesses with information to contact them.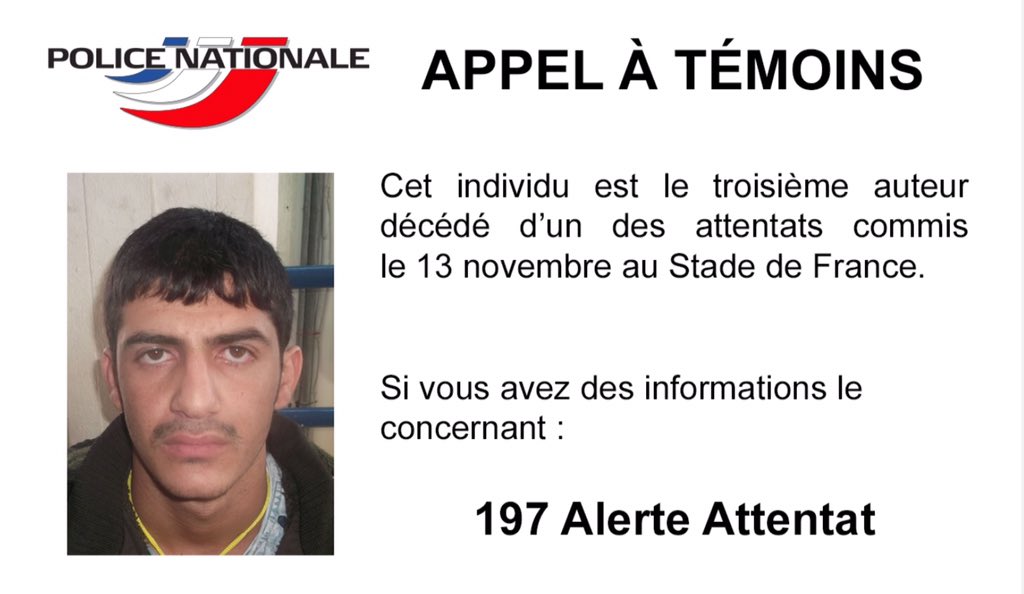 It follows a similar Twitter post by Police on Friday calling for information about another unidentified man who is also believed to have been one of the Stade de France suicide bombers.
Armed police were patrolling the Spurs ground at White Hart Lane for this afternoon's clash against West Ham.
It comes amid heightened security following last week's terror attacks in Paris, which left 130 people dead.
Advertisement
The brother of Paris attacks suspect Salah Abdeslam has said he would rather see him in "jail rather than in a cemetery".
Read the full story ›
The Chancellor has said the government will only call a vote on UK military action in Syria when it is "confident that we are going to win".
Read the full story ›
Labour's shadow chancellor has said the notion of any UK intervention in the Syria conflict has to be looked at in a "very considered way".
Read the full story ›
Lead singer tells of fans being killed in the band's dressing room, as he speaks for the first time about the attacks.
Read the full story ›
Advertisement
Blasted to destruction, whole walls and floors were blown to pieces, masonry and glass shattered during a seven hour siege of a top floor flat in St Denis, Paris.
Exclusive pictures taken inside the terrorist hideout show the devastation wrought by 5,000 rounds of ammunition, at least twenty grenades a suicide bomb.
ITV News' Sue Saville reports:
Sorry, this content isn't available on your device.
Footage captured by ITV News shows the moment before a suspect was taken into a Saint-Denis flat that previously raided by police.
Read the full story ›
First pictures from inside Saint-Denis flat which police raided in the wake of last Friday's terror attacks on Paris emerge.
Read the full story ›
Load more updates