Chelsea fans at Stamford Bridge displayed a sign showing their feelings on the recent racist incidents in Paris and London.
Jose Mourinho was greeted with a banner reading "Black or White, we're all Blue".
The electronic advertising normally seen around the match was also replaced with signs saying "Support Chelsea. Support Equality."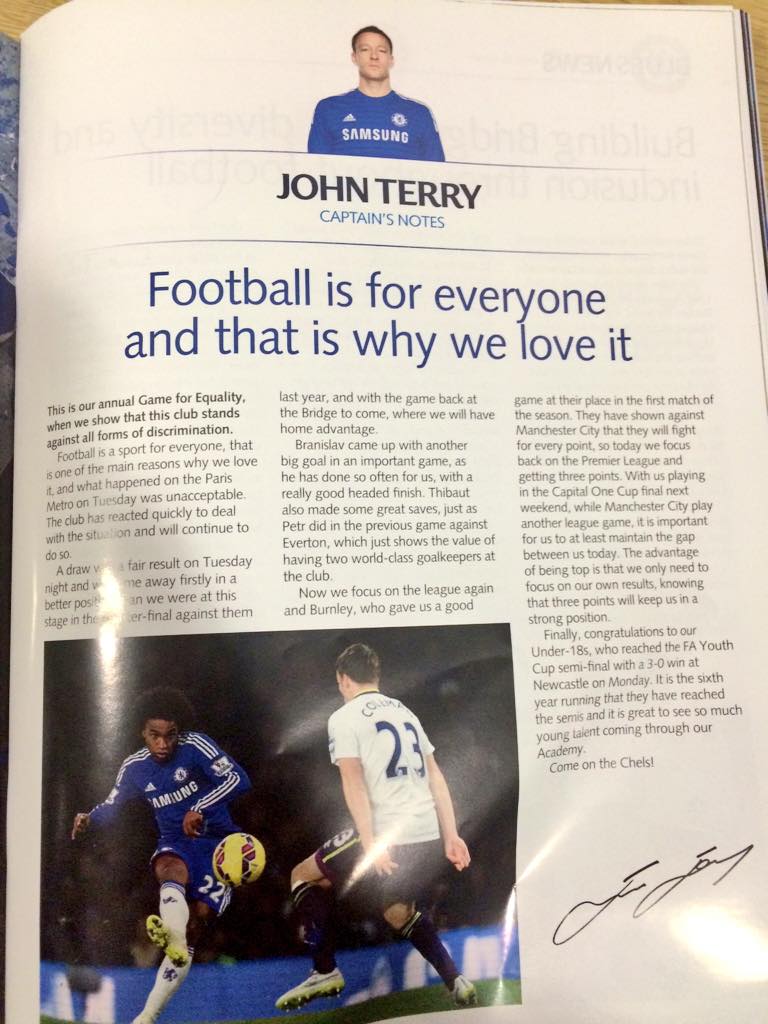 John Terry has used his programme notes to condemn the racist incident involving Chelsea fans in Paris, writing:
"Football is a sport for everyone, that is one of the main reasons why we love it, and what happened on the Paris Metro on Tuesday was unacceptable.
"The club has reacted quickly to deal with the situation and will continue to do so."
In September 2012, Terry was banned for four matches by the FA and fined £220,000 for racially abusing Anton Ferdinand.
Advertisement
An anti-racism film has been shown to Chelsea fans ahead of the clash against Burnley at Stamford Bridge today.
It comes as police investigate two alleged racist incidents involving Chelsea fans.
ITV News' Rags Martel reports: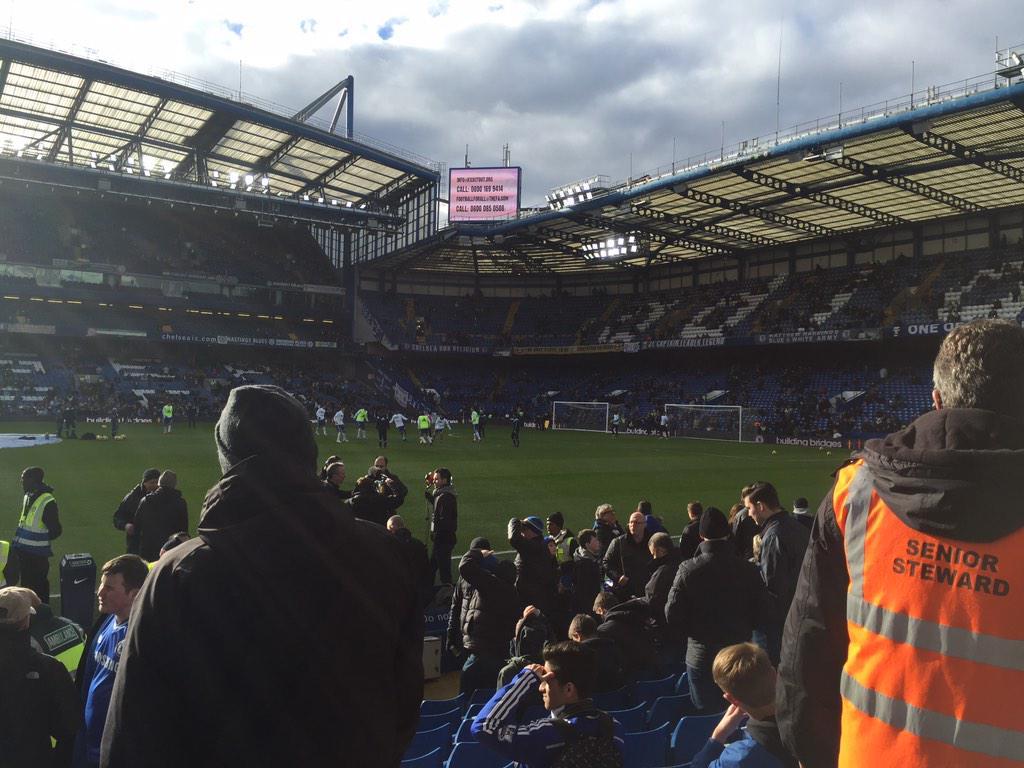 Police are investigating racist chanting at St Pancras Station by men believed to be Chelsea supporters returning from Paris.
The alleged incident comes after a number of Chelsea fans are said to have racially abused a black man on a Paris metro train.
British Transport Police said the men chanted as they walked through the station on Wednesday evening.
"The racist chanting was reported by a member of the public who was disgusted by the behaviour of the men who had travelled on the 18.40 service from Paris Gard du Nord," Superintendent Gill Murray said.
"The men shouted as they walked through the station having alighted from the train a short time earlier.
"If you travelled on the train from Paris or were at the station and have information which can assist our investigation I would urge you to get in touch as a matter of urgency."
French president Francois Hollande has today spoken to the victim of the Paris Metro incident, according to Le Parisien newspaper.
Mr Hollande praised the 33-year-old, known only as Souleymane, and reportedly thanked him for the dignity he had shown in his public remarks over the incident.
Police have released three images of men they believe were involved in an allegedly racist incident on the Paris Metro.
Five Chelsea fans have been banned from Stamford Bridge over the incident already after a black man was pushed off a Paris train in an apparently racially-motivated incident involving Chelsea supporters on Tuesday.
The Metropolitan Police said in a statement: "The three men are thought to be Chelsea Football Club fans who were travelling to the match against Paris Saint-Germain, at Parc des Princes."
Anyone who believes they may know the men are asked to contact the MPS on 101 or call Crimestoppers anonymously 0800 555 111.
Advertisement
Chelsea have said that two more people have been banned from Stamford Bridge as a result of ongoing investigations into the incident on the Paris Metro.
In a statement Chelsea said: "If it is deemed there is sufficient evidence of their involvement in the incident, the club will issue banning orders for life."
A further two people have been suspended from Stamford Bridge after the incident on the Paris Metro... http://t.co/YP9RWTQeUU
Three people had already been suspended over the incident on Tuesday.
The black man who was pushed off a Paris Metro train by Chelsea fans chanting a racist song said the incident is the club's "responsibility".
The man, identified only as 33-year-old Souleymane, said he not yet received any contact via his lawyer from the Premier League club after he was left "humiliated" on Tuesday evening.
He told BBC Radio 5 Live Drive:
For me, it's a humiliation. I was humiliated in my country. I was humiliated in front of my family, humiliated in front of my mother and father.

Of course it's Chelsea's responsibility. It's their supporters.

They (the fans) didn't say Paris, they said Chelsea. Chelsea should call my lawyer. And they haven't done that yet. It's their supporters. The director general of PSG has called my lawyer but Chelsea haven't contacted my lawyer.
– Souleymane
Chelsea have said they are "appalled" and have apologised to the victim, while manager Jose Mourinho said he was "ashamed" of the fans involved. The club have suspended three people from its Stamford Bridge ground and are helping police in the UK and Paris.
Chelsea have issued an apology to the black man who was racially abused by club supporters on the Paris Metro on Tuesday night
Read the full story ›
Jose Mourinho and Chelsea feel "ashamed" about the racist incident involving fans in Paris, but he refuses to be connected with culprits
Read the full story ›
Load more updates