When the Queen arrives for the State Opening of Parliament in June she won't be wearing her crown, dress in robes or arrive in a carriage.
Read the full story ›
Advertisement
Politicians have taken umbrage with former Labour representative George Galloway's description of himself on Facebook as an MP.
Read the full story ›
Conservative MP Rory Stewart has been elected the new chair of the House of Commons Defence Select Committee, taking over from fellow Tory James Arbuthnot.
Mr Stewart, who represents the Cumbria constituency of Penrith and The Border, has served in the army and the diplomatic service, along with running a charity in Afghanistan.
The House of Commons Speaker has criticised the "histrionics and cacophony of noise" during Prime Minister's Questions, saying it puts MPs off contributing.
John Bercow, who is responsible for maintaining order in the Commons, said Parliament was "spray painting its own shop window" by appearing to generate higher decibel levels than Deep Purple.
He said that despite recognising that behaviour must improve, the party leaders had yet to make a specific commitment to help do so.
BBC Radio 4's PM programme said Mr Bercow told them that "seasoned parliamentarians" boycotted PMQs out of embarrassment and that some female MPs did not want to take part in the session.
Meryl Streep, who won an Oscar for her portrayal of Margaret Thatcher, will be part of the first major film to be shot in Parliament.
Commercial film-makers have always been denied entry, forcing producers to build replicas of the home of British politics.
But MPs have allowed Suffragette, which follows the struggle for women to get the vote, to be shot in the historic chambers over the Easter recess in a bid to raise revenue.
Streep, who played Lady Thatcher in biopic The Iron Lady, will reportedly play another dominant figure in 20th Century politics, feminist trailblazer Emmeline Pankhurst.
British stars Carey Mulligan, Helena Bonham Carter and Ben Whishaw also have leading roles.
Advertisement
A road next to the Houses of Parliament has reopened following a security alert which saw officers stop traffic with a police cordon.
A Met Police spokeman said the cordon was initially in place while officers responded to reports of suspicious package.
Parliament on lock down. Nobody allowed in or out and police lines are up. Chasing details.
Police car and police lines around St Stephen's Green - no traffic allowed to pass parliament http://t.co/MIQ8VLW2PO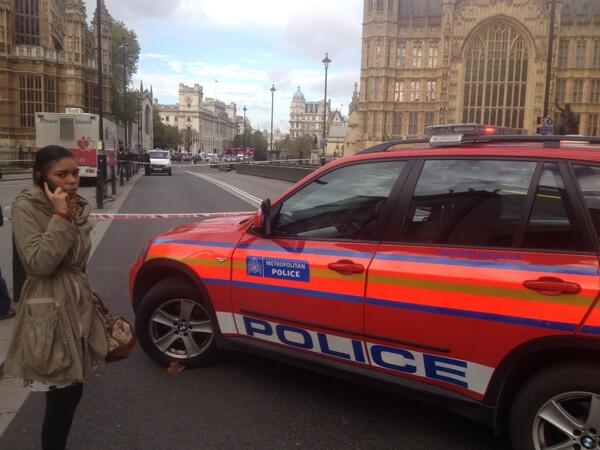 Load more updates