The passenger jumped off the jet bridge at Madrid Airport in a major security breach.
Read the full story ›
Group of four Britons are set to be released after apparently admitting trespassing - but relatives say they were forced to plead guilty.
Read the full story ›
Advertisement
A small plane has made a miraculous emergency landing amid traffic on a large motorway in the Bronx, NBC New York has reported.
The New York Fire Department said three of four people on board the plane suffered injuries in the unexpected landing near East 233rd Street, but none was life-threatening.
The aftermath of the landing was photographed by a nearby driver as emergency services attended to the plane and its passengers: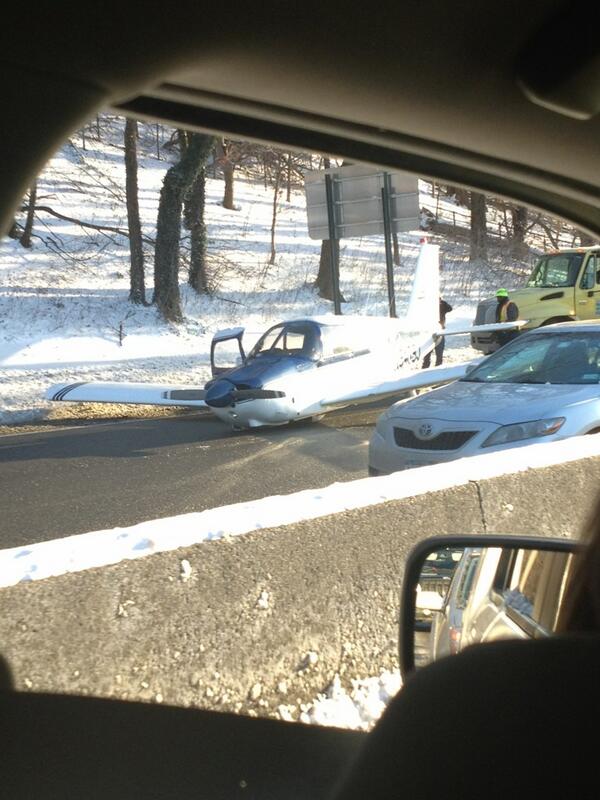 The Civil Aviation Authority (CAA) said safety is its "number one priority" after a poll by the pilots' union Balpa showed more than a half had fallen asleep while in flight.
A CAA spokesman said: "We think the new European flight-time limitation regulations maintain the UK's current high safety levels, and will actually increase safety for UK passengers travelling on some other European airlines.
"The changes will give the CAA far greater access to airline data to help us oversee fatigue risk management. We will shortly begin working with UK airlines over the introduction of the new system."
The pilots' union Balpa said the flight time proposals being considered by the European Parliament "are flawed in many areas".
Balpa claims that under the rules, pilots will be:
Legally allowed to land an aircraft after having been awake for 22 hours
Operating longer haul flights with only two crew members rather than three
They could also be forced to work up to seven early starts in a row
The general secretary of pilots' union Balpa told Daybreak that tiredness is "a real problem" for its members.
Jim McAuslan said there have been accidents worldwide "with fatigue as the main cause":
Advertisement
More than half of pilots have fallen asleep on the flight deck, according to a survey by pilots' union Balpa.
The union asked 500 commercial pilots about tiredness ahead of a European Parliament vote next Monday on new EU rules on flying hours.
UK pilots' organisation Balpa said last month's incident "comes as no surprise", adding that it had "repeatedly warned the CAA of the risk of both pilots falling asleep, including in a letter to each member of the CAA board last year".
Balpa general secretary Jim McAuslan said: "British pilots want to make every flight a safe flight and tiredness is the biggest challenge they face.
"As the regulator responsible for UK flight safety, the CAA has been far too complacent about the levels of tiredness among British pilots and failing to acknowledge the scale of the under-reported problem.
"In fact, the CAA and Government are backing EU cuts to UK flight safety that will increase tiredness among pilots and the risk of dangerous incidents."
The CAA said today: "We understand that Balpa are not happy with the proposals but we think overall it is a good package and not much different to what we have now."
Both pilots on an Airbus passenger plane were asleep at the same time with the UK-operated aircraft flying on autopilot.
One of the pilots indicated in a report to the UK's Civil Aviation Authority (CAA) that the pair nodded off after both had only five hours sleep in the previous two nights.
Details of last month's incident, on August 13, come at a time when UK pilots' organisation Balpa is unhappy at proposed European changes to flight-time regulations.
This was a serious incident but an isolated one. I think lessons will be learnt from this. We are circulating this report within the industry.

We don't know why the pilots had had so little sleep before this flight. They were taking it in turn to have rest periods, with the one always checking the autopilot and it looks as if both fell asleep at the same time.
– CAA spokesman
Details of the incident, logged by the CAA as a mandatory occurrence report, were obtained by a news agency which had asked for incidents of pilot fatigue.
The CAA did not say which airline was involved nor where the aircraft, an Airbus A330, was travelling.
Footage has emerged of a decidedly scary airport landing when a pilot was forced to land a Ryanair plane sideways in reported 70mph gales.
Read the full story ›
Load more updates