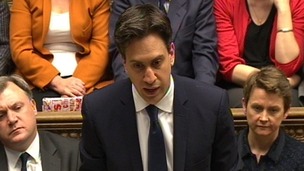 Ed Miliband refused to engage in the usual abuse-hurling during PMQs - a change in strategy for the Labour leader?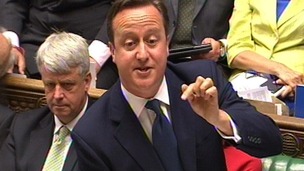 It was a score draw at a rowdy Prime Minister's Questions today as Ed Miliband gave as good as he got from David Cameron.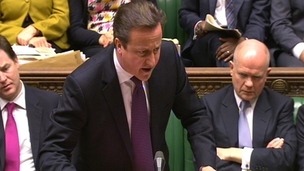 A technical blip during Prime Minister's Questions today led to tweeters claiming that the Prime Minister swore at an MP.
Live updates
Clegg criticises EU referendum
The Labour leader Ed Miliband is asking the Prime Minister to give guarantees that he will recommend that Britain should leave the European Union if he does not get the settlement he wants.
David Cameron responded saying: "I want Britain to be part of a reformed and successful European Union."
Labour MP Ann Clwyd, who revealed that her husband of 50 years "died like a battery hen" in hospital, asked David Cameron in PMQs what he planned to do about the "increasing complaints about nurses who fail to show care and compassion to their patients."
Ms Clwyd told the BBC's World at One programme he was treated with "coldness, indifference and contempt" by nurses.
Advertisement
The Labour leader Ed Miliband accused David Cameron's cabinet of being "at each other like rats in a sack".
Mr Cameron countered that Mr Miliband worked in a Government in which the Prime Minister couldn't be in the same room as the Chancellor.
Leveson urges new press rules
The former Defence Secretary Liam Fox asked the Prime Minister whether he would address the issue of access to justice as well as press regulation.
He said he that anyone should have the ability to use the existing libel and defamation laws and not just the rich.
The Prime Minister said people "should be able to rely on a good regulatory system" to stop abuses happening before they reach court.
The Prime Minister and Ed Miliband are arguing about the figures relating to the Government's work experience scheme.
Mr Miliband claimed that unemployed people stand a better chance of getting a job if they are not on the scheme.
Leveson urges new press rules
David Cameron has said that the status quo in the media industry is "unacceptable and needs to change".
Speaking during Prime Minister's Questions, he said he hopes the house can work "across party lines" on the issue.
The Labour leader Ed Miliband agreed that it was an all-party issue.
Advertisement
Williams: 'Church lost credibility'
The Prime Minister confessed he was "personally sad" at the Church of England General Synod's decision not to allow women bishops.
He said the Anglican Church has its own processes which should be respected, but added that it needs a "sharp prod".
The Prime Minister and Labour leader Ed Miliband have clashed over the recent by-election in Corby, which the Conservatives lost to Labour, and the Police and Crime Commissioner election in Humberside that Labour's former Deputy Prime Minister John Prescott lost.
Dorries' second Bushtucker trial
Laughter broke out during Prime Minister's Questions today as MPs joked about Nadine Dorries' decision to join the I'm A Celebrity cast.
No 10 confirms it will be that Nick Clegg will stand in for David Cameron at PMQs on Wednesday as he is on a trip to the Gulf.
Load more updates
Back to top