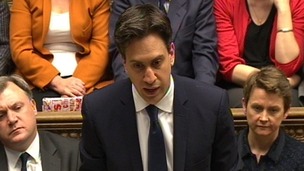 Ed Miliband refused to engage in the usual abuse-hurling during PMQs - a change in strategy for the Labour leader?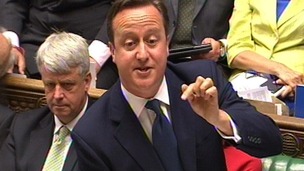 It was a score draw at a rowdy Prime Minister's Questions today as Ed Miliband gave as good as he got from David Cameron.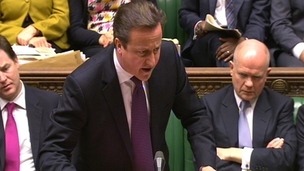 A technical blip during Prime Minister's Questions today led to tweeters claiming that the Prime Minister swore at an MP.
Live updates
Leveson urges new press rules
David Cameron has said that the status quo in the media industry is "unacceptable and needs to change".
Speaking during Prime Minister's Questions, he said he hopes the house can work "across party lines" on the issue.
The Labour leader Ed Miliband agreed that it was an all-party issue.
Williams: 'Church lost credibility'
The Prime Minister confessed he was "personally sad" at the Church of England General Synod's decision not to allow women bishops.
He said the Anglican Church has its own processes which should be respected, but added that it needs a "sharp prod".
Advertisement
The Prime Minister and Labour leader Ed Miliband have clashed over the recent by-election in Corby, which the Conservatives lost to Labour, and the Police and Crime Commissioner election in Humberside that Labour's former Deputy Prime Minister John Prescott lost.
Dorries' second Bushtucker trial
Laughter broke out during Prime Minister's Questions today as MPs joked about Nadine Dorries' decision to join the I'm A Celebrity cast.
No 10 confirms it will be that Nick Clegg will stand in for David Cameron at PMQs on Wednesday as he is on a trip to the Gulf.
Unemployment falls to 2.59m
Ed Miliband's first question at PMQs is on unemployment figures. He says that although the figures have fallen overall, in the long term they are rising.
David Cameron acknowledges there is a problem but the Government's work programme is helping to tackle that.
Advertisement
There was a bit of light relief during Prime Minister's Questions when Ed Miliband teased David Cameron about the revelation he used to sign off texts to former News International chief Rebekah Brooks with "LOL" meaning "lots of love".
Mr Miliband suggested Mr Cameron could send a message to the new French president, Francois Hollande.
"I'm sure a text message and LOL will go down very well," he said.
Mr Cameron replied: "At least as Prime Minister, I know how to use a mobile phone, rather than throw it at people who work for me."
The Prime Minister was refering to claims that Gordon Brown had on occasion thrown mobile phones in anger.
A recap of Prime Minister's Questions
Unemployment figures
The Prime Minister said the fall in unemployment figures are good but that the Government is not being complacent.
The Economy
Mr Cameron stressed the need for reforms in Europe to boost growth as the eurozone crisis continues to cast a shadow over the continent's economies.
Labour leader Ed Miliband said the reality is that the UK is in "a double-dip recession made in Downing Street"
Police cuts
Ed Miliband criticised David Cameron over cuts to police budgets and reductions in front-line officers.
The Prime Minister defended the cuts and said Labour does not have the courage to cut the police budget.
The first Prime Minister's Questions in a number of weeks saw heated exchanges between the PM and Labour leader Ed Miliband.
Miliband, borrowing from BBC's satirical The Thick of It series, branded George Osborne's planned new tax measures the "omnishambles budget."
Cameron fired back, accusing Miliband of "giving one person a job opportunity: [by-election winner] George Galloway."
The comment solicited an icy glare from Galloway.
Nurses reject NHS reforms
The Prime Minister repeated a familiar refrain that Ed Miliband is concentrating on the politics and not the "substance" of the Health and Social Care Bill. He said: "We all know what he's against but isn't it time we all knew what he's for"
Load more updates
Back to top