A 13 year-old boy has been arrested on suspicion of wounding and carrying a bladed weapon after an incident at a school.
West Mercia Police said the boy had been arrested following an incident at The Chase Technology College in Malvern, Worcestershire.
The boy, who has not been named by police, remains in custody at Worcester Police Station and is being supported by specially trained officers.
A school where a pupil attacked a teacher and a 13-year-old female student with a knife will open as normal tomorrow.
In a statement on its website, The Chase Technology College in Malvern, Worcestershire, confirmed the pair had received minor injuries in the incident involving a bladed object this morning but had not required medical treatment.
It added that the school would be open on Tuesday and would continue to operate normally.
Advertisement
Worried parents are gathering at the gates of The Chase Technology College to collect their children.
Read the full story ›
A school has released a statement on its website after a 13-year-old pupil attacked a teacher and a pupil with a knife.
The statement said: "There has been an incident at the school, which has now been dealt with.
"Everyone is safe and there is no cause for concern.
"Parents should not be alarmed by the presence of police at the site. This is a precaution and the situation is fully under control."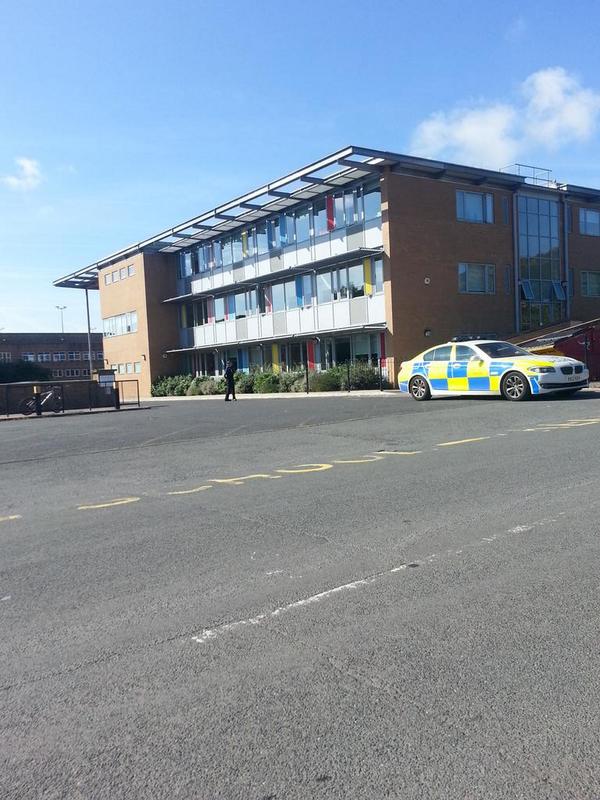 In a further statement on their website, the college said:
"We are continuing to work with local police who remain at school as a safety measure. Parents can be reassured that pupils are not being allowed to leave school during lunch break. The school day is continuing as normal and will close at 3pm.
"The school will continue to update this website as information is made available."
West Mercia Police have warned members of the public not to approach the teenage suspect and to call 999 it they see him.
The 13-year-old is described as being white, 5ft 3in tall, with short, spiked hair and wearing glasses.
He was last seen wearing dark grey trousers, a grey hooded jumper and may have a dark-coloured scarf covering his face. He was also carrying a dark rucksack, police said.
Police investigate assault at school in Malvern, we're searching for a suspect please see attached link for more info http://t.co/FjVhXLZaDM
Police believe a 13-year-old student at a Malvern school attacked a fellow pupil and a teacher with a blade today.
Emergency services were called to The Chase Technology College at 8.45am this morning.
Officers are searching for the suspect, who is believed to also be a student at the school. He inflicted minor injuries on the male teacher and the 13-year-old female student.
The suspect is white, about 5ft 3inches tall, with short spiky hair and glasses. He was last seen wearing dark grey trousers, grey hooded jumper and may have a dark scarf covering his face. He was also carrying a dark rucksack.
Police are warning the public not to approach the suspect, but to call 999 instead.
Advertisement
Sending police officers out to investigate every single report the emergency service gets is "a bad use of resources", the Warwickshire Police Crime Commissioner has said.
Ron Ball told Good Morning Britain, Warwickshire Constabulary investigated every call they received, but looked into some from the desk and then prioritised officers to the most pressing cases.
Police need "the tools to do the job" if they are going to investigate every crime which is reported, a watchdog has told Good Morning Britain.
HMIC's Thomas Winsor said police did prioritise violent crimes but needed to be "properly supervised, properly lead and given the tools to do the job," if they were going to investigate more low level criminality.
Austerity has forced police to use their time more efficiently and this has meant prioritising calls from victims of alleged crimes, the Association of Chief Police Officers said.
President Sir Hugh Orde said:
We accept that the public has a natural expectation to have a positive and supportive experience of interacting with the police service when they have been a victim of crime.

The reality of austerity in policing means that forces must ensure that their officers' time is put to best use and this means prioritising calls.

In some instances, this may mean that a report of a crime where the victim is not in imminent danger or the offender is not still in the immediate vicinity will be dealt with over the phone or by other means than the deployment of an officer to the scene. This is not an abdication of forces' duty of care to victims.
– Sir Hugh Orde
Some 17 police constabularies in England and Wales have such a disinterested mindset towards some crimes they "failed to identify vulnerable callers", a watchdog has found.
Her Majesty's Inspectorate of Constabulary (HMIC) found:
A total of 37 out of 43 forces in England and Wales used a system in which a call-handler assessed whether an officer should attend the scene of an incident.
But in some forces, call-handlers could not accurately describe what amounted to a risk or threat.
Attendance rates at crime scenes in the year to November 30 2013 varied widely between forces from 39% in Warwickshire to 100% in Cleveland.
This means that nearly two-thirds of crime scenes in Warwickshire were not attended by a police officer.
And in 17 forces, the Inspectorate found police community support officers (PCSOs) were being asked to investigate crimes beyond their role profile and training.
Load more updates