Labour would reverse cuts to the police planned for next year if it wins power in May, shadow home secretary Yvette Cooper has said.
The party would also scrap police and crime commissioners (PCC) to pay to protect women's refuges.
In every part of the country refuges and services for women and children suffering from domestic violence are being closed due to the callous attitude of this Government.

Theresa May's failure to act means victims are being left with no support and being abandoned.

Refuges provide vital support for women and children. Local specialist services that have a track record of successfully helping women and children need our support and that's what we will do.
– Yvette Cooper
Officers investigating the deaths of two babies at a London hospital are now looking into the death of a third baby in a Cambridge hospital.
The current focus of the investigation is on the production of intravenous (iv) feeds and police say they are not investigating the health trusts involved.
The families have been notified of the investigation.
Police said: "We are aware of a small number of other babies who received this feed, and are working with relevant agencies to speak to those families."
Police were already looking at the deaths of two babies at Guy's and St Thomas' NHS Foundation Trust.
The third baby died at the Rosie Maternity Hospital, part of Cambridge University Hospitals.
Advertisement
A former investigating officer with the Metropolitan Police has told ITV News there could be 'questions to answer' over the police's response to Alice Gross' disappearance.
Colin Sutton said: "The criticisms seem to be that first the investigation didn't really identify Alice being missing as a potential crime and it was dealt with rather slowly. And secondly that the connection between her and the missing Latvian man was not made earlier."
Mr Sutton added: "If things don't go well there may well be questions asked as to why things didn't move on apace much more quickly."
A 13 year-old boy has been arrested on suspicion of wounding and carrying a bladed weapon after an incident at a school.
West Mercia Police said the boy had been arrested following an incident at The Chase Technology College in Malvern, Worcestershire.
The boy, who has not been named by police, remains in custody at Worcester Police Station and is being supported by specially trained officers.
A school where a pupil attacked a teacher and a 13-year-old female student with a knife will open as normal tomorrow.
In a statement on its website, The Chase Technology College in Malvern, Worcestershire, confirmed the pair had received minor injuries in the incident involving a bladed object this morning but had not required medical treatment.
It added that the school would be open on Tuesday and would continue to operate normally.
Worried parents are gathering at the gates of The Chase Technology College to collect their children.
Read the full story ›
Advertisement
A school has released a statement on its website after a 13-year-old pupil attacked a teacher and a pupil with a knife.
The statement said: "There has been an incident at the school, which has now been dealt with.
"Everyone is safe and there is no cause for concern.
"Parents should not be alarmed by the presence of police at the site. This is a precaution and the situation is fully under control."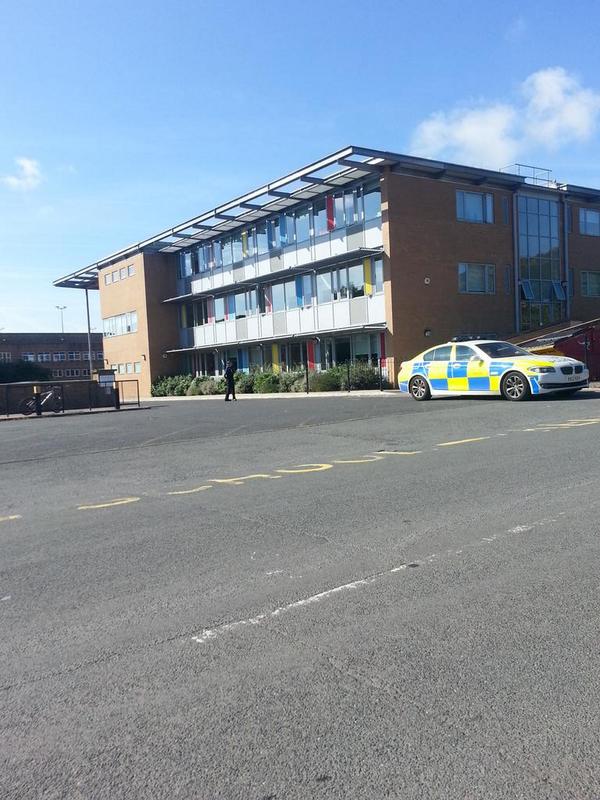 In a further statement on their website, the college said:
"We are continuing to work with local police who remain at school as a safety measure. Parents can be reassured that pupils are not being allowed to leave school during lunch break. The school day is continuing as normal and will close at 3pm.
"The school will continue to update this website as information is made available."
West Mercia Police have warned members of the public not to approach the teenage suspect and to call 999 it they see him.
The 13-year-old is described as being white, 5ft 3in tall, with short, spiked hair and wearing glasses.
He was last seen wearing dark grey trousers, a grey hooded jumper and may have a dark-coloured scarf covering his face. He was also carrying a dark rucksack, police said.
Police investigate assault at school in Malvern, we're searching for a suspect please see attached link for more info http://t.co/FjVhXLZaDM
Police believe a 13-year-old student at a Malvern school attacked a fellow pupil and a teacher with a blade today.
Emergency services were called to The Chase Technology College at 8.45am this morning.
Officers are searching for the suspect, who is believed to also be a student at the school. He inflicted minor injuries on the male teacher and the 13-year-old female student.
The suspect is white, about 5ft 3inches tall, with short spiky hair and glasses. He was last seen wearing dark grey trousers, grey hooded jumper and may have a dark scarf covering his face. He was also carrying a dark rucksack.
Police are warning the public not to approach the suspect, but to call 999 instead.
Sending police officers out to investigate every single report the emergency service gets is "a bad use of resources", the Warwickshire Police Crime Commissioner has said.
Ron Ball told Good Morning Britain, Warwickshire Constabulary investigated every call they received, but looked into some from the desk and then prioritised officers to the most pressing cases.
Load more updates