TV weatherman accuses police of being slow to act after he was left to wrestle "violent and abusive woman" who attacked daughters' nursery.
Read the full story ›
Barney escaped a crash which killed his owner on Monday and fled the scene to safety.
Read the full story ›
Advertisement
Pupils at four schools in Cornwall were evacuated this morning after a series of bomb threats at around 8am.
Police are not releasing the names of the schools in the Truro, St Ives and Penzance areas as they investigate.
At around 8am today, Tuesday, January 26, 2016, four secondary schools in Truro, St Ives and Penzance, received calls suggesting a potential security threat.

As a result, all four schools self-evacuated.

By 9am, following police attendance and immediate enquiries, there was quickly found to be no threat and no risk to any children or staff.

Enquiries are continuing into the matter.
– Devon and Cornwall police
The calls were made at around the same time six schools in the West Midlands and four schools in London received similar threats.
A West Midlands Police said there was "no credible threat" to schools in the region and linked them to hoax threats made to two schools in Sandwell and Dudley last week.
Bomb threats were made to six schools in the West Midlands this morning in what police believe to be a series of hoaxes.
West Midlands Police is investigating the threats but said in a statement that "intelligence experts insisted there was no credible threat".
At least one school - Oldbury Academy in Sandwell - send pupils home and has said it will remain closed until tomorrow.
OA will remain closed for today and will reopen on Weds 27th Jan. Check the website for further info https://t.co/OtmIZKH5Fx
Police forces could be lead by fire chiefs with no crime-fighting experience in a government effort to boost collaboration between services.
Read the full story ›
Advertisement
Police have been criticised after entering people's unlocked homes and tweeting pictures from inside.
Read the full story ›
A woman has been arrested on suspicion of Syria-related terrorism offences, West Midlands Police said on Wednesday.
The 28 year old was detained at an address in Coventry by counter-terror officers.
Following the arrest, police searched three addresses in the Foleshill and Radford areas of the city.
A West Midlands Police spokesman said: "The woman will be questioned throughout the day at a local police station. The arrest was pre-planned and intelligence led and there is no risk to public safety."
Thousands of anti-Islam protesters have marched through the streets of Leipzig, Germany.
Members of far-right group Pegida (Patriotic Europeans against the Islamisation of the West) joined a demonstration by their Leipzig sister movement Legida.
Holding banners and shouting slogans including "Merkel needs to go", the event was organised in protest over the mass violent and sexual assaults which took place in Cologne on New Year's Eve.
The attackers have been widely described as looking of "Arabic" and "north African" descent.
A rival anti-Pegida rally was held at the same time - and according to ITV News deputy news editor Zoe Kalus, who was in Leipzig, that outnumbered the Legida rally.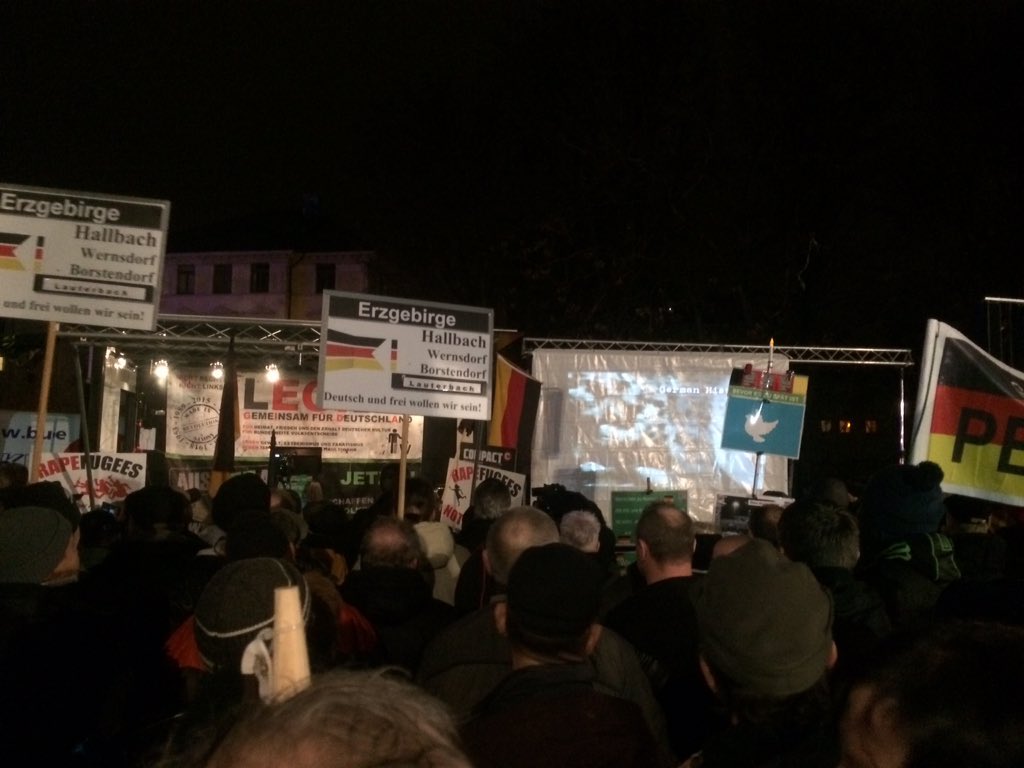 The German interior minister has said the fact that people of foreign descent were behind much of the violence in Cologne on new year's eve should not be kept quiet but neither should it lead people to general suspicion towards all refugees and migrants.
Thomas de Maiziere described the violence as "completely unacceptable" and said it was urgent that new tougher legislation be agreed to punish the perpetrators, saying Germany could not afford long, divisive debates about changes to the law.
Load more updates