India's capital, New Delhi, has the worst air quality of any city in the world, according to figures published by the World Health Organisation.
The WHO measured the average levels of harmful particles known as PM2.5s to try to gauge which urban areas had the most dangerous pollution levels.
Indian cities occupied the top four places on the global list, and 13 out of the top 20 dirtiest cities.
There were three Pakistani cities in the top 20, along with the Qatari capital, Doha and cities in Iran, Turkey and Bangladesh.
The UK's governing body for cycling has said high levels of air pollution in some British cities are further evidence of the need to expand cycling.
It follows a study from the World Health Organisation that found nine British cities and towns had unsafe levels of air pollution.
Martin Key, campaigns manager for British Cycling, said: "With almost daily news stories about worrying levels of air pollution, it is clearer than ever that more cycling is the answer to many of the problems we face in Britain today."
"If local and national government put sustained and targeted investment into improving our roads and making them fit for cycling, we will without doubt create healthier, happier communities and more pleasant places to live," he added.
Advertisement
The World Health Organisation has warned that air pollution is "getting worse".
Only 12% of residents in cities that reported on air pollution were living in areas that comply with the WHO's guidelines.
The WHO estimates that in 2012 air pollution was responsible for the deaths of 3.7 million people around the world.
Although several British cities have been named as breaching safe air quality levels, cities in countries such as India, China and Pakistan have much higher levels of pollution.
Dr Flavia Bustreo, WHO's assistant director-general for family, children and women's health, said many cities were now "so enveloped in dirty air that their skylines are invisible".
London, Birmingham and Leeds are among nine British towns and cities which have come under fire for breaching safe levels of air pollution
The World Health Organisation (WHO) also named Chesterfield, Nottingham, Sheffield, Southampton, Stoke-on-Trent and Thurrock as having problems with levels of dangerous particles called PM10s.
However some areas, including Manchester, Bournemouth and Northampton, did not provide data for levels of PM10s.
People living in polluted areas are at greater risk of respiratory disease and other health problems.
Public Health England has said that air pollution was responsible for 25,000 deaths in England in 2010.
The south east, east Midlands,Yorkshire and Humberside, north west and Merseyside and the north east are still suffering from "high" air pollution levels, Defra has warned.
A fresh air mass arriving later today is expected to push the pollution eastwards over the North Sea.
Advertisement
Daybreak's Chief Correspondent Richard Gaisford tweeted from London's Parliament Hill: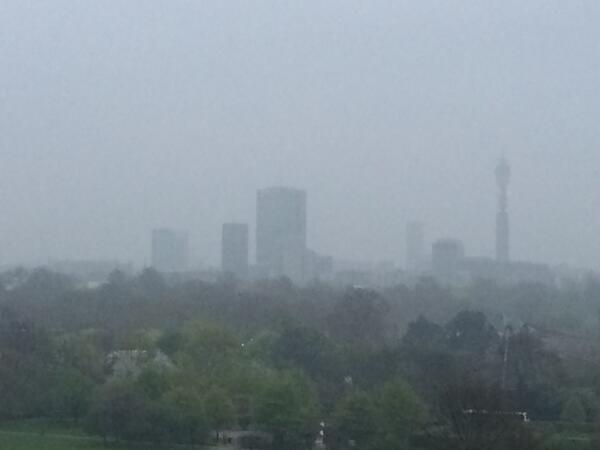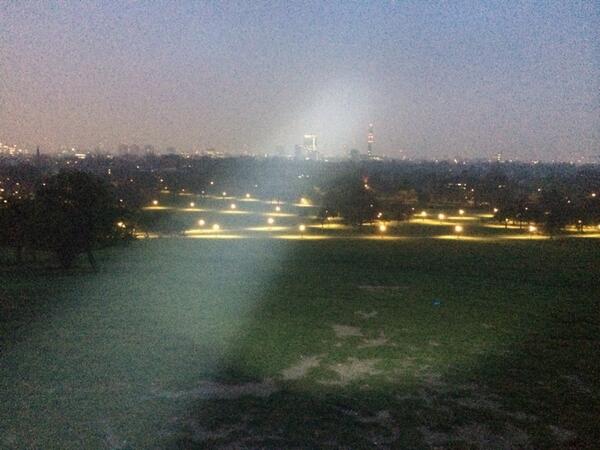 Environmental campaigners have urged politicians not to ignore the cloud of smog that has smothered parts of the UK over the last few days, saying they are "playing with people's lives".
Friends of the Earth's Jane Thomas told Daybreak, "29,000 people a year die prematurely in London alone" from pollution created by emissions.
Air pollution levels remain high across parts of England and Wales but are expected to reduce later today.
The Department for Environment, Food and Rural Affairs (Defra) reports that more than 20 areas from northern England down to the South East are still gripped by high levels of pollution this morning.
But a fresh air mass arriving later is expected to push the pollution eastwards over the North Sea, weather forecasters have said.
Higher numbers of complaints about breathing difficulties are thought to have been brought on by record pollution levels in recent days.
Read the full story ›
Load more updates