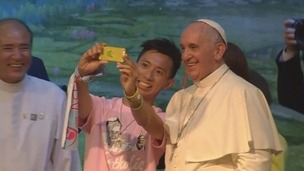 The Pope posed and smiled for a selfie with a young Catholic in South Korea.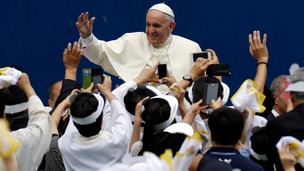 Pope Francis was greeted by cheers and the waving of handkerchiefs as he arrived at South Korea's Daejeon World Cup Stadium to hold a mass.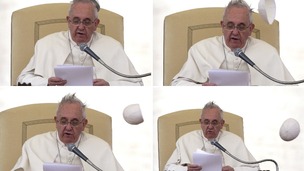 The Pontiff had his cap blown off and his robes tangled by high winds in the Vatican.
Live updates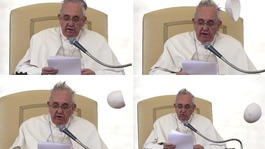 The Pontiff had his cap blown off and his robes tangled by high winds in the Vatican.
Read the full story
Thieves have stolen the blood of Pope John Paul II, the Polish pontiff who led the Catholic Church for 27 years, from a church in Italy, Reuters reports.
A spokeswomen for the remote San Pietro della Ienca church east of Rome said it was broken into over the weekend and a reliquary with the Pope's blood and a crucifix were missing.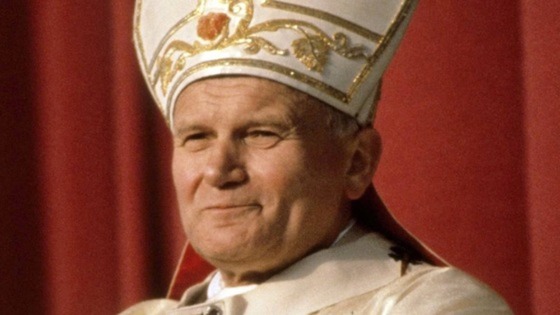 Dozens of police with sniffer dogs have reportedly scoured the area for clues to help their investigation.
Italian Catholic magazine Famiglia Cristiana has called it "a sacrilegious theft that was probably commissioned by someone".
Nothing else was stolen and Franca Corrieri, who helps looks after the church, said thieves probably would have had time to take other objects during the night-time theft.
Advertisement
Pope Francis has announed he will visit Holy Land sites in Jordan, Israel and the Palestinian Territories in May - his first trip to the area as pontiff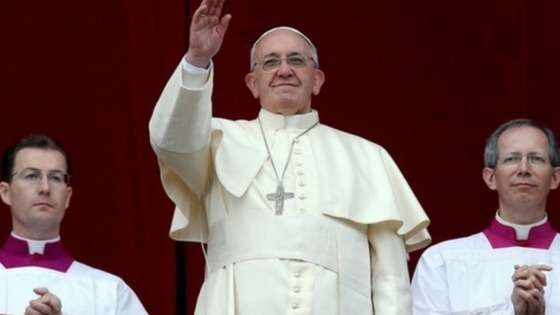 The May 24 to 26 trip to Amman, Bethlehem and Jerusalem will mark the 50th anniversary of a landmark trip there by Pope Paul VI in 1964, the first by a pope in modern times. Pope John Paul II visited in 2000 and Benedict XVI went in 2009.
Syrian President Bashar al-Assad has sent Pope Francis a private message, the Vatican said on Saturday, without disclosing its contents.
According to Reuters, it was the first known time Assad has sent a direct message to the pontiff since the start of Syria's civil war in 2011. Pope Francis has made numerous appeals for an end to the conflict, the latest on Christmas Day.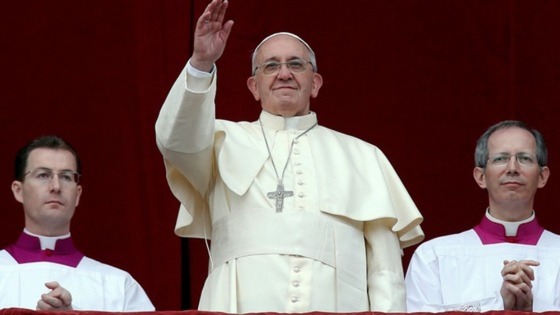 Vatican sources said the message likely included the Syrian government's position ahead of peace talks due to start on January 22 under UN auspices in Geneva. According to the Syrian presidency Twitter account, Assad called for peace through dialogue.
The Vatican said a delegation headed by Joseph Sweid, a Syrian minister of state, held talks in the Vatican with the pope's secretary of state, Archbishop Pietro Parolin and his foreign minister, Archbishop Dominique Mamberti.
"The delegation brought a message from President Assad for the Holy Father and illustrated the position of the Syrian government," a statement said.
Pope given Sunderland shirt
The Sunderland chaplain who presented a red and white striped shirt to Pope Francis said the pontiff was "delighted to keep it" and took the gift back to the papal apartments.
Father Marc Lyden-Smith said the Pope was aware of the Wearside club's struggles and told him: "They not do too well at the moment."
"I said no, no, Holy Father. They are bottom of the Premier League. We need you to pray."
"Very diplomatically, he said: 'I pray for all footballers that they reach their potential.'"
"I'd like to think that he'll be wearing [the Sunderland shirt] on Sunday afternoon," the chaplain added.
Winless Sunderland face fierce local rivals Newcastle United in Wear-Tyne derby this Sunday.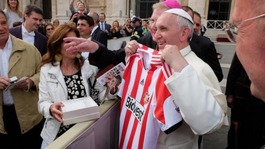 Sunderland fans have been hoping for some divine inspiration after Pope Francis was pictured posing with their club's shirt.
Read the full story
Advertisement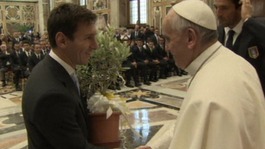 Pope Francis has welcomed the Italian and Argentine football teams to the Vatican ahead of Wednesday's friendly between the sides.
Read the full story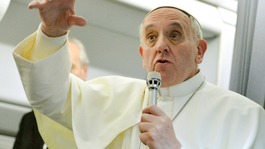 Pope Francis said that gay people should not be judged or marginalised and should be integrated into society.
Read the full story
Pope 'won't judge' gay priests
While admitting that the Pope's change in tone about gay priests is a "small step" that "does matter," Richard Lane from gay rights group Stonewall told ITV News there was much more to be done.
A next step would be a "strong statement against the harassment and persecution of gay people around the world [from the Pope]," Mr Lane said.
"He's got an unprecedented position at the Church with over a billion people so for him to make that statement would be incredibly significant."
Pope 'won't judge' gay priests
Gay rights group Stonewall told ITV News it is baffled by the Pope's comments on gay priests.
While many lesbian, gay and bisexual Catholics will no doubt welcome this change in tone, the Pope's criticism of those who lobby for gay equality sounds baffling when his Church still lobbies ferociously worldwide against gay people's basic human rights.
– Richard Lane, Stonewall External Affairs Officer

Stonewall had objected to a section of the Pope's comments which had followed headline remarks about not wanting to judge priests who are gay:

"The problem is not having this [homosexual] orientation. We must be brothers. The problem is lobbying by this orientation, or lobbies of greedy people, political lobbies, Masonic lobbies, so many lobbies. This is the worse problem," he had said.
Load more updates
Back to top