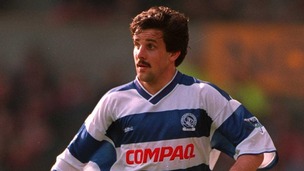 The Merlin Premier League book was then thrown into the sea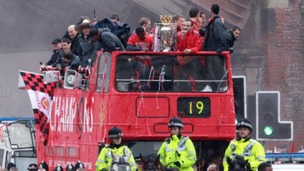 Manchester United stage title celebration two days after the City compete in the FA Cup Final.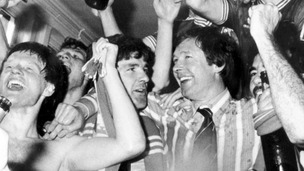 Here are five of Britain's most successful manager's greatest trophy triumphs.
Live updates
6 bailed in match-fixing inquiry
It is understood that two ex-Premier League stars are involved in a police match-fixing probe, according to a Sun on Sunday investigation.
The newspaper claims that one player claimed another agreed to deliberately earn a booking in a recent Championship clash in return for £30,000.
PM: £5.6bn deals agreed during China trip
David Cameron's visit to China started with a deal to boost the profile of Premier League football and encourage the growth of the game in the country.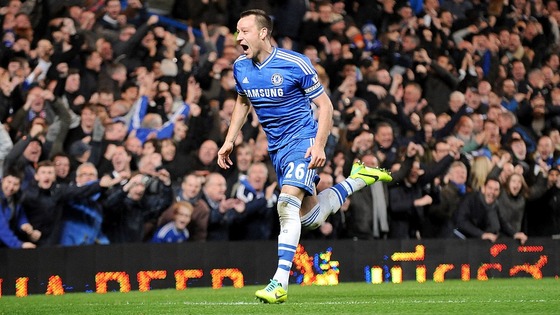 Read: David Cameron desperate to rebuild China relations
English football is becoming increasingly popular in China and the Premier League sees the country as its biggest potential area for growth, at the heart of an east Asian market already worth £200 million in TV rights and merchandising.
Culture Secretary Maria Miller, Premier League chief executive Richard Scudamore and former England and Chelsea defender Graeme Le Saux were in Beijing at an event to mark the deal with the Chinese Super League (CSL).
The deal will see the Premier League work with clubs like Beijing Guoan and Shanghai Shenhua to promote and develop the game, while the CSL will support the promotion and marketing of Premier League clubs in China.
Advertisement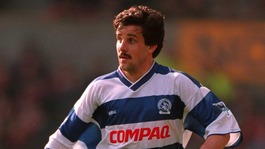 Arsenal and Manchester United have begun battling it out in their Premier League clash. A minute's silence was observed at the beginning of the match at Old Trafford to mark Remembrance Sunday.
Follow the big match on the ITV Football website.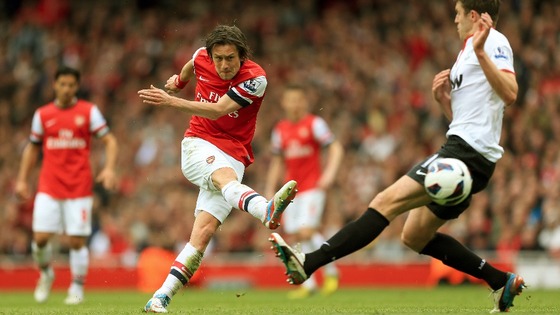 Arrests after flare hits linesman
Two men, aged 25 and 27, have been arrested after a flare hit a linesman during the Premier League match between Aston Villa and Tottenham Hotspur at Villa Park, West Midlands Police have said.
Television replays showed a missile being fired from the away section after Andros Townsend's first-half opening goal in Spurs' 2-0 away win.
Arrests after flare hits linesman
An assistant referee has been struck by a flare fired from the away section during the first half of the Premier League match between Aston Villa and Tottenham Hotspur at Villa Park.
David Bryan was hit by the flare as Spurs fans celebrated the game's opening goal, which was scored by England winger Andros Townsend in the 31st minute.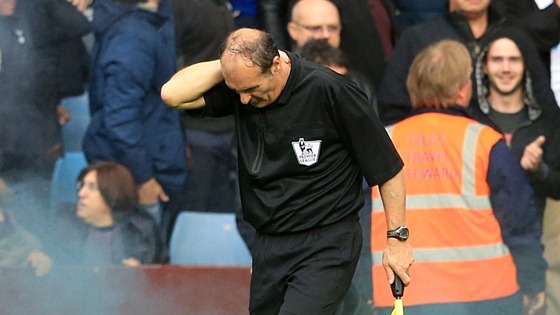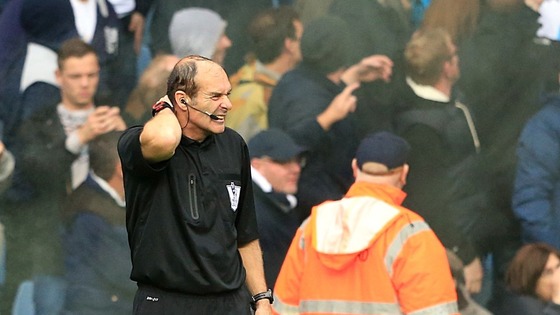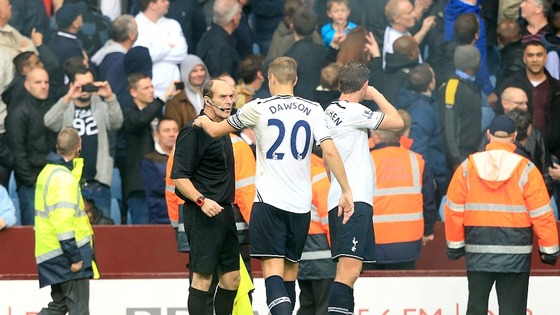 Advertisement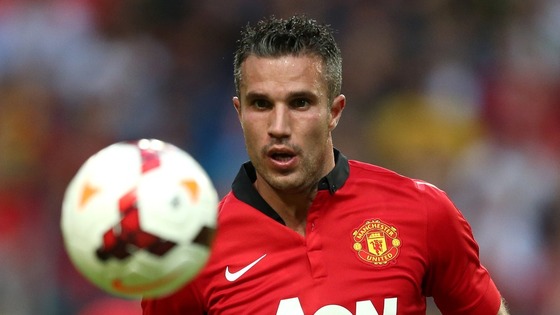 A challenge to the old order is expected as the new Premier League season kicks off - but off the pitch, with BT Sport taking on Sky for first day ratings.
The new contender paid £738 million for the rights to show 38 top-flight games a season for the next three years and has landed the first game of the 2013/14 season: the 12:45 kick off between Liverpool and Stoke City.
Sky has responded with a day of free football, with shows that normally go out on Sky Sports 1 being shown instead on Sky2 and Pick TV for free, including the later game between Swansea City and Manchester United.
BT hopes to break Sky's grip on armchair sports fans by enabling its broadband customers to watch the Premier League action for free.
It announced this week it had tripled its number of viewers to three million by signing a deal with Virgin Media.
Tottenham Hotspur have a new American manager, but White Hart Lane boss Andre Villas-Boas need not worry as Coach Ted Lasso is merely a fictitious character in an NBC advertising campaign.
The US TV network is using the all-American Lasso, played by comedian Jason Sudeikis, to help promote its football coverage ahead of tomorrow's Premier League kick-off.
And although Lasso's tactical knowledge is sketchy, he does trump Villas-Boas by managing to get Gareth Bale on the training pitch.
Read each club's Premier League preview on the ITV Football site
New York City subway trains have been kitted out with the colours of English football clubs ahead of the start of the new Premier League season this weekend.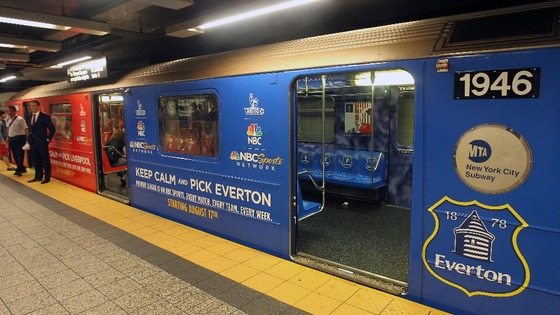 US TV network NBC has splashed out on the eye-catching advertising campaign to promote their Premier League coverage, after paying £161 million for US broadcast rights.
Merseyside rivals Liverpool and Everton are among the clubs featured on the train network's carriages, along with north London duo Tottenham and Arsenal.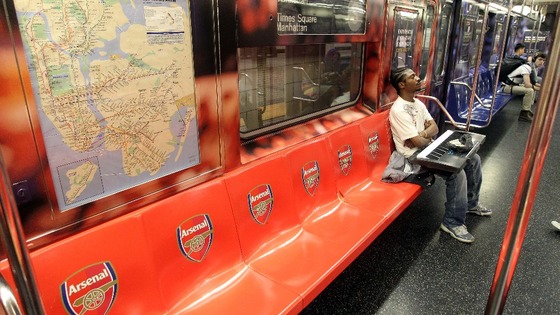 Champions Manchester United and neighbours Manchester City are also included in the campaign, with subway commuters urged to pick a team to support for the new season.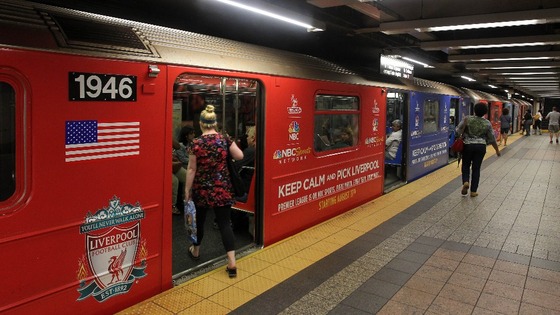 The 2013/14 Premier League season begins tomorrow, with Liverpool's match against Stoke City kicking off the action at Anfield at 12.45pm.
Read each club's Premier League preview on the ITV Football site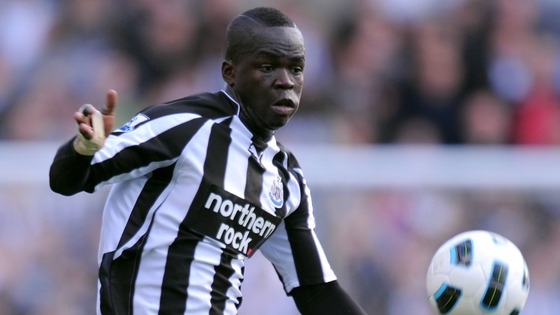 A Premier League star will contest charges that he used a false Belgian driving licence, and four other motoring offences, a court heard today.
Newcastle United midfielder Cheick Tiote, 27, is accused of using a false document as a form of ID "to establish personal information" about himself in December.
The Ivory Coast international is also charged with committing fraud by using the allegedly false document to get a UK licence, also in December.
In addition, he is accused of making a false statement to obtain insurance in September 2011 by allegedly claiming that he held a full driving licence without endorsements.
He is further charged with driving his Chevrolet, with the personalised plate T10 TEV, in Newcastle in February without a licence or insurance.
Load more updates
Back to top