Police are treating the death as suspicious and a post-mortem examination is due to be carried out.
Read the full story ›
The English Defence League (EDL) will hold a rally in Preston today, with a counter demonstration also planned in the city.
In publicity for the rally the EDL said that Preston, which has a large Asian population, is "another creeping Sharia city".
It is the group's first rally of the year and the numbers expected at the march are not known.
Vicar of Preston, Father Timothy Lipscomb, is supporting the counter event, which emphasises diversity, with multi-faith prayer, church choir singing, street artists and local mosques providing free hot food.
A heavy police presence is expected in the city centre where both events are taking place.
Both groups have been warned of arrest under the Public Order Act if those attending either event leaves the designated areas for their demonstrations.
The right to peacefully protest is a sign of a healthy democracy and we have a collective duty with our partners to facilitate that, but we will not tolerate any law-breaking.

Preston is proud to be a diverse and understanding city where people respect each other and get on well, and we are asking people to bear that in mind if they are planning to demonstrate.

Our role is about fair and balanced policing - we're here to keep the peace, treat people with respect and dignity and uphold the law.
– Lancashire police statement
Advertisement
Liam Hewitson, 22, died from his injuries after he was attacked by his dog Trigger while alone at his home in Preston.
Read the full story ›
A 22-year-old man, named on a Facebook tribute page as Liam Hewitson, has died after he was attacked by a dog in Preston, Lancashire, police said.
Officers say he was treated by paramedics but died of his injuries earlier today.
The dog, which apparently to belong to Mr Hewitson, has been put down by vets. Police haven't yet revealed the breed of dog.
Groups of youths left bunches of flowers at the scene.
One young man, who said he was the victim's cousin, said "he had an epileptic fit".
Two bouquets of flowers had been tied to a nearby lamppost as police cars lined the street.
Detective Inspector Jane Webb, from Preston CID said: "This is a tragic incident in which a man has sadly died.
"Enquiries are on-going to establish the exact circumstances and my thoughts very much remain with his family who are being supported by specially trained officers at this time."
A 99-year-old dementia sufferer was dropped into a scalding hot bath by a care worker who had been in a "bad mood", a jury has been told.
Read the full story ›
Chesterfield and Preston have both been charged by the FA for failing to ensure their players conducted themselves in an orderly fashion.
Read the full story ›
Advertisement
Sir Tom Finney always played with pride for Preston North End. Today Preston proudly said goodbye to its favourite son.
Read the full story ›
Preston North End fans said an emotional farewell to Sir Tom Finney this afternoon as thousands gathered in the stands at the club's stadium to watch his funeral service.
The ceremony was broadcast live to Deepdale from Preston Minster, where hundreds of guests - including some of British football's great and good - united to pay their respects.
Sir Tom Finney's coffin has left Preston Minster after a service attended by 600 invited guests, including the football legend's former England colleagues Sir Bobby Charlton and Jimmy Armfield.
Thousands more watched on outside and at Preston North End's Deepdale stadium as a town paid tributes to one of the nation's greatest-ever players.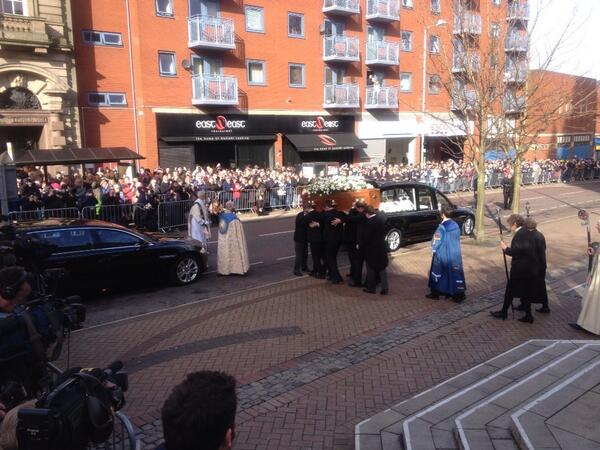 Fellow footballing icon Jimmy Armfield is among the speakers at Sir Tom Finney's funeral in Preston today, describing him as "the classic case of the local boy done good".
The former Blackpool right-back is paying tribute alongside a number of figures from the game, including Sir Bobby Charlton and the current Preston North End staff.
Crowds have amassed at Preston's Deepdale stadium to watch the service, while thousands are also lining the streets to pay their respects.
A floral tribute from FIFA, the international football federation, offers a tribute to a player described as one of the game's greatest.
Load more updates