In a rare interview, the Duke of York has spoken about his ex-wife Sarah Ferguson, his family and being shot at during the Falklands War.
Read the full story ›
In a series of firsts, the Duke of York became the first major royal to take and publish their own selfie and to write their own tweet.
Read the full story ›
Advertisement
Prince Andrew and former wife Sarah Ferguson arrive together at memorial for Sir David Frost at Westminster Abbey http://t.co/Hlq1A4Vc3X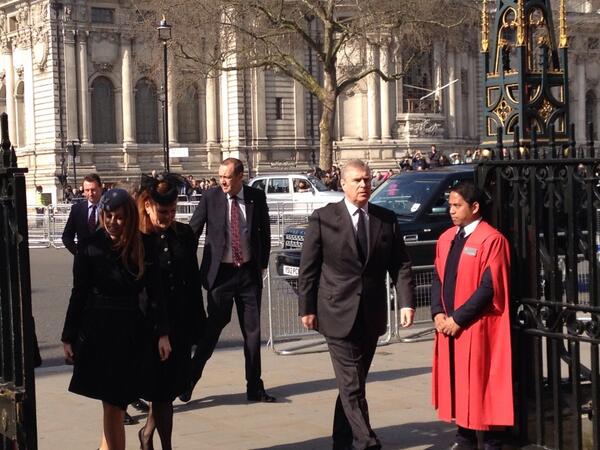 Former US Secretary of State Hillary Clinton has been presented with this year's Chatham House Prize in recognition of her contribution to international diplomacy.
The central London institute also commended Mrs Clinton for her work towards gender equality and opportunities for women and girls.
The annual prize is awarded at Banqueting House in Whitehall to the statesperson deemed to have made the greatest contribution to improving international relations in the previous year.
The Duke of York was challenged by police at Buckingham Palace less than 48 hours after a break-in at the Queen's London residence.
The Metropolitan Police confirmed a man was ordered to verify his identity by two officers in the palace's gardens at around 6pm on Wednesday.
The confrontation came after an intruder had scaled a fence and got inside the palace on Monday night, before being arrested by police.
Prince Andrew has joined Twitter under the account name The Duke Of York.
The Prince wrote "Welcome to my Twitter account - AY" as his first tweet today:
Welcome to my Twitter account - AY
The account, which has been verified by Twitter, already had 444 followers within 40 minutes of Prince Andrew's first tweet being published.
Advertisement
The Duke of York, Prince Andrew, paid his father Prince Philip a visit in hospital today.
Philip was admitted to the London Clinic a week ago for exploratory abdominal surgery.
Prince Andrew waved to the photographers waiting outside but did not give an update on his father's health.
A hand-written note by Baroness Thatcher gives some hints about how she grappled with her response to the Duke of York's deployment as part of the Falklands task force.
The note, prepared after April 2, 1982, possibly in preparation for a speech or press conference, shows that the Prime Minister settled on a brief but broadly supportive position.
"If asked about Prince Andrew it is the express wish of The Queen, the Duke of Edinburgh, and of [Prince Andrew himself, that if the Invincible sails he sails with her," she wrote.However, this is followed by several sentences obscured by felt tip.
The deleted passage begins "I should not withhold consent".This itself has been amended to "I cannot withhold consent" before again being crossed out.The words which follow are difficult to decipher but end: "our courage are priceless assets which our Royal Family has (sic) themselves in abundance."
Lady Thatcher prepared the note for her own consumption and at that time had no reason to believe it would ever be made public.It is not therefore thought the crossing out represented any significant change of heart, simply her desire to ensure she delivered the correct message.
The Duke of York will abseil down the Shard skyscraper in London for charity today.
Other participants include Ffion Hague, the wife of Foreign Secretary William Hague, and leading businessmen and women.
The Shard is the tallest building in Europe, and its viewing galleries will be open to the public in February next year.
The Duke of York is set to abseil down The Shard, the tallest building in western Europe, in a bid to raise money for charity.
Read the full story ›
Load more updates